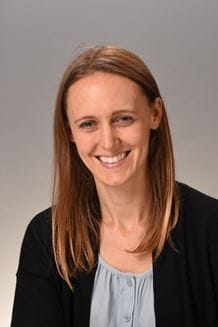 Read Bio
Christine Bourey, MPH, PMHNP
Specialist
My Specialties: Psychiatric Mental Health Nurse Practioner, Board-certified, Fellowship Trained
My Areas of Focus: Gay and Lesbian Issues
Languages:
Gender: Female

Legacy Health Partners
Legacy Medical Group-Maternal-Fetal Medicine
300 N. Graham, Suite 100 Medical Office Building 3, Legacy Emanuel Medical Center campus
Portland, OR 97227
503-413-1122
Legacy Medical Group-Midwifery
2800 N. Vancouver Ave., Suite 255 Medical Office Building 1, Legacy Emanuel Medical Center campus
Portland, OR 97227
503-413-4500
---
About Me:
Christine Bourey, MPH, PMHNP is a psychiatric nurse practitioner with the Legacy Emanuel Midwifery and Maternal Fetal Medicine clinics. She works with medical providers, women, and their families to support women's emotional wellness during pregnancy and postpartum. Christine first trained as a certified nurse midwife after experiencing the limitations of maternal health care globally. During this training, however, she discovered a passion for psychological care for women exposed to trauma. She subsequently trained as a psychiatric nurse practitioner and completed a fellowship in integrative (holistic) and integrated (mental health care in medical settings) healthcare. Passionate about global health, Christine remains active in public health research, in which she considers the intersection of mental and sexual/reproductive health and prevention of intimate partner violence. In her free time, she enjoys meditation, exercise, and travel.
Education:
Bachelor of Arts: Santa Clara University
Bachelor of Science: Santa Clara University
Bachelors of Science in Nursing: Emory University
Clinical Fellowship: VA Greater Los Angeles Healthcare System
Masters of Public Health: Emory University
Master of Science in Nursing: Emory University
Post Graduate Certificate: Vanderbilt University
Hospitals Served: Legacy Emanuel Medical Center