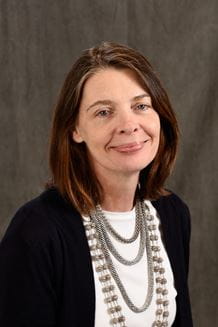 Read Bio
Therese Tuohy, PhD
Specialist
My Specialties: Genetics, Board-certified
My Areas of Focus:
Languages:
Gender: Female
Legacy Genetic Services
Good Samaritan Building 3 1130 N.W. 22nd Ave., LL, Suite 10
Portland, Oregon 97210
503-413-6534
---
About Me:
Therese earned a PhD in Molecular Genetics at Trinity College Dublin, then completed postdoctoral training at the University of Cincinnati and joined Legacy Good Samaritan in 2016. She worked for several years on the molecular genetics of colorectal cancer predisposition at the Huntsman Cancer Institute, and has won several honors and awards for her work, with publications in over 35 peer-reviewed articles in scientific journals and books. She became a board certified genetic counselor in 2002 and has served on the research faculty of the graduate program in genetic counseling at the University of Utah. She is an active member of the National Society of Genetic Counselors, and a diplomate of the American Board of Genetic Counseling. She evaluates patients for inherited predisposition to cancer and is committed to identifying and reducing patients' risks of cancer and disease, using ever-evolving improvements in genetic technology with fun discussions of what it all means.
Education:
Masters of Science: University of Cincinnati
Doctorate: Trinity College
Year I Started Practice: 2005
Hospitals Served: Legacy Good Samaritan Medical Center