Legacy offers 3-D mammograms
Legacy offers 3-D mammograms to all patients because they can reveal more, so cancers are found earlier and more often. Our 3-D technology can find more suspicious tissue without more radiation.
A study published in the Journal of American Medical Association (JAMA) suggested that 3-D mammography:
Finds 41% more invasive breast cancers
Finds 29% more breast cancers of all types
Results in 15% fewer false alarms
Breast screenings can save your life
If you have a family history of breast cancer, have dense breasts or other risk factors, 3-D mammography is one of our best tools in detecting cancer early when it can be most easily treated. Thanks to 3-D mammography, breast cancer surgeon Nathalie Johnson is also a breast cancer survivor. Her 3-D mammogram found the cancer her 2-D mammogram missed. She shares her story in this video.
Convenient Locations
Legacy Health has nine convenient mammogram locations staffed by some of the top specialists. We have a doctor and location that is perfect for you.
Call 503-414-5666 for an appointment today!
Did you know?
We recommend annual screening mammograms for all women.
Why?
Because one in eight women gets breast cancer.
Nearly all survive if it's caught early.
Regular mammogram testing is the best way to catch it early.
Nearly every major medical association with expertise in breast cancer recommends screenings should start at age 40.
Want to know more?
Know the truth about mammograms. Read Mammo Mythbusters. Learn more about breast density and it's impact on cancer risk.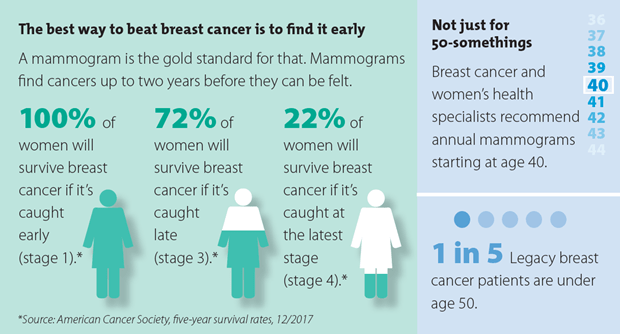 Service you can trust
The Legacy Health Breast Centers are staffed by some of the top specialists and our mammography services have earned numerous quality distinctions:
Our breast health centers are designated Breast Imaging Centers of Excellence by the American College of Radiology.
Through a rigorous application process and onsite survey, our breast health centers are accredited by the National Accreditation Program for Breast Centers.
Certified through the Mammography Quality Standards Act (MQSA)