Mental Health
Reducing your child's anxiety as the new school year looms
August 30, 2018
Transitions or change, for most people, can often be difficult. For children and teens, the dreaded yet exciting shift from summer to the new school year can cause an extreme increase in anxiety, especially for those already dealing with mental health issues. Getting back into a routine from a relaxed summer vibe is an adjustment but there are ways to help your child prepare and decrease their anxiety.
Elementary School Age
Talk about what their new schedule will look like, write it out, and create visual cues.
Incorporate aspects of new schedule into a daily routine. For example, shift back into school year bedtime at least a week ahead of time.
Practice walking/driving the route to school.
Engage your child in choosing healthy foods for their lunchbox and make lunches together.
Teach and practice coping skills to help your kids learn to calm their bodies.
Incorporate family traditions like back to school breakfast or back to school shopping.
Talk to your child about school to help them mentally prepare. What are they are looking forward to? What do they hope to accomplish this year? What are their biggest concerns or worries? Encourage them to make a list of things they are excited about to help shift focus away from their worries.
If it's a new school, schedule a tour and meeting with your child's teacher before class starts.
Incorporate exercise into their day, whether it's through sports or an after-school activity.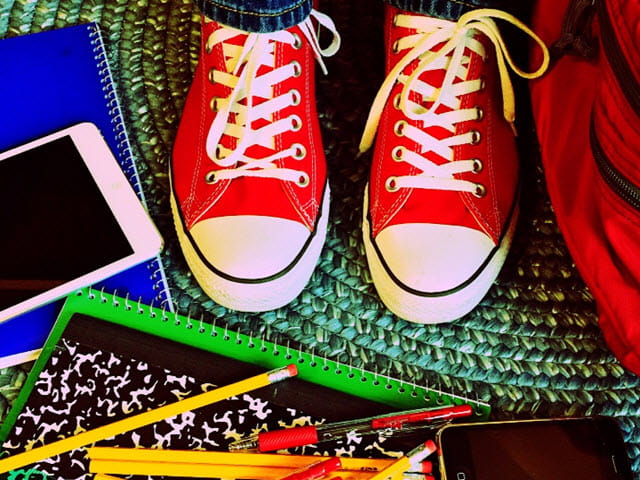 Middle School/High School
Anxious teens tend to forget to eat or do not feel hungry. Make sure they are eating to help with regulation and brain functioning.
Give your teen a planner/calendar so they can stay organized.
Establish a homework routine or schedule. Break homework time into chunks and encourage breaks. Time management skills greatly reduce stress/anxiety.
Teach and practice coping skills (square breathing, muscle relaxation, create a coping list). Help your teen make a list of coping skills that work for them, even if it's as simple as listening to music, going for a walk, taking a shower, or calling a friend.
Agree on a code word or emoji that you can use when they are feeling overwhelmed.
Have direct conversations about anything that might be causing them concern or anxiety but try to focus on things they are excited for in the upcoming school year.
Sleep, sleep, sleep, sleep! Practice turning off or turning in technology at night time.
Take an interest in what classes they are taking, who their teachers are, and what extracurriculars they might be interested in. If you engage your teen in regular conversation they will be more likely to use you as a support when needed.
If your child struggles with anxiety, identify school accommodations such as a meeting with the school counselors.
If your child's anxiety seems too overwhelming or debilitating to manage, schedule an appointment with a pediatrician to discuss appropriate interventions. Click here for help finding a provider.
Sign up for our email newsletter