BE A #GIVINGTUESDAY AMBASSADOR
On November 30, we celebrate #GivingTuesday - a global day of giving fueled by the power of social media and collaboration.
Thank you for being a Legacy Health #GivingTuesday Ambassador! Our Ambassadors are difference makers – as an Ambassador who believes in our work, you can help us reach others; you can spread the word far and wide and secure #GivingTuesday participation from your friends and followers. You can help us positively impact even more lives.
Questions about being a #GivingTuesday Ambassador? Email Kaitie Swengel at kswengel@lhs.org.
DOWNLOAD OUR TOOLKIT!
SIGN-UP TO BE A #GIVINGTUESDAY AMBASSADOR!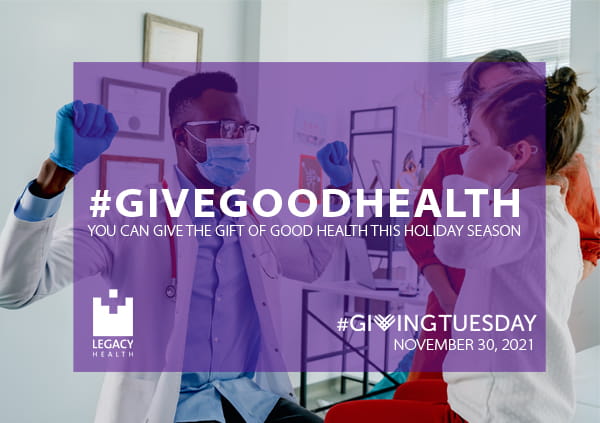 DOWNLOAD IMAGES TO SHARE WITH YOUR SOCIAL NETWORKS!
DOWNLOAD #GIVEGOODHEALTH IMAGES
Legacy Health
Randall Children's Hospital
CARES Northwest
Unity Center for Behavioral Health

$5.3 MILLION SUPPORTED PATIENT CARE
including: cancer care, child abuse intervention programs, in-home hospice, interpretive services & more

3,500+ COMMUNITY MEMBERS
helped through supported patient care
$1.3 MILLION IN DIRECT FINANCIAL ASSISTANCE
for chemotherapy medication, inhalers, insulin & basic living needs, such as rent, utility bills, meal vouchers & hygiene kits ​​​​​​​

1,500+ COMMUNITY MEMBERS IN NEED
helped with recovery and by preventing further complications