What is mammography?
Yearly mammogram testing helps save lives.

Schedule your mammogram
What you need to know
Mammography is the best way to find breast cancer early, before it can be felt, and before it spreads.
A mammogram is an X-ray of the breasts to look for suspicious tissue. Legacy offers reduced radiation, 3-D digital mammogram testing, for the most accurate results with the lowest level of radiation.
If additional screening is needed, we use the advanced, non-invasive technologies of Breast Specific Gamma Imaging (BSGI), MRI and Ultrasound.
What to expect
How to prepare: Before mammogram testing, do not use deodorant, perfume, powders or ointments under your arms or breasts. These may show up as an abnormality on the film. If you wear a two-piece outfit, it will be more convenient to get undressed.
What it's like: You'll stand and place one breast at a time on the flat X-ray plate. The technician will flatten out the tissue between glass plates, using a little compression for the best results. It's quick, but can cause some discomfort. Screening mammograms should last about 20 minutes; diagnostic mammogram, (for a known abnormality) may take longer, around 30 minutes.
Expert review: Your mammogram testing results will be read by an expert, board-certified radiologist. We send the results to your primary care doctor and notify you. If you need more tests, we'll set another appointment as soon as possible, and you'll receive those results the same or the next day.
When to have your first mammogram
Legacy Cancer Institute recommends annual screening mammograms for all women starting at age 40. Why? Because one in eight women gets breast cancer. Nearly all survive if it's caught early. Regular mammogram testing is the best way to do that.
Nearly every major medical association with expertise in breast cancer recommends screening should start at age 40 based on the best available science. Plus, our years of experience screening thousands of women for breast cancer has proven the value in this approach time and again. About 20%, or 1 in 5, of Legacy Cancer Institute's breast cancer patients are under age 50.
Frequently asked questions about mammograms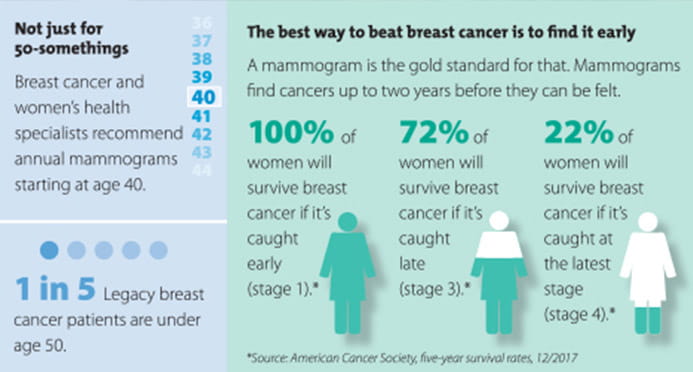 Schedule your mammogram