COVID-19 Vaccine

Updated 2/28/21 – To help alleviate the challenges people have faced in attempting to schedule a vaccine appointment in the Portland metro area, Oregon Health Authority (OHA) has a new process that will begin on March 1st.

This will not affect people who already have an appointment for a vaccine at Oregon Convention Center, Woodburn Health Center, or PDX Red Economy drive-through vaccine sites.

See the details on the changes in Oregon below.

Return to the same place

Though more vaccine locations are opening, please go back for your second dose appointment to the same location as your first. This helps the vaccination sites balance and not waste doses or come short.

Receive updates directly to your email:

Stay informed on the latest COVID-19 vaccine information by signing up for our email updates. Subscribe here.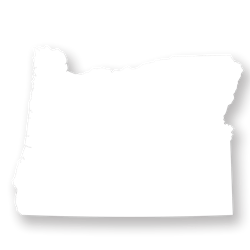 Oregon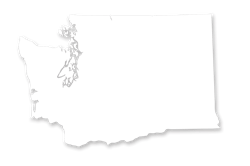 Washington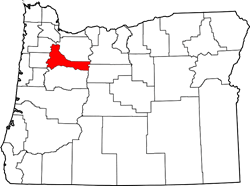 Marion County
New scheduling process
Beginning Monday, March 1st a new registration process will start for people who are eligible for a vaccine in Columbia, Clackamas, Multnomah, and Washington Counties.
1. Go to covid19vaccine.org and go through the eligibility process of the Vaccine Information Tool ("Let's get started" button)
2. If you are looking for an appointment at the Oregon Convention Center, you will end up at getvaccinated.oregon.gov (GVO).
3. At the getvaccinated.oregon.gov, page you can create an account and then they will notify you when appointments are available.
4. Each week OHA will pull a random list from the getvaccinated.oregon.gov database of eligible individuals.
5. All4Oregon will directly reach out to individuals on that list and schedule them for the Mass Vaccination Site at the convention center.
If you need assistance registering your name at www.getvaccinated.oregon.gov, dial 211 for assistance.
When are you eligible? See Oregon Health Authorities sequencing plan for Oregon.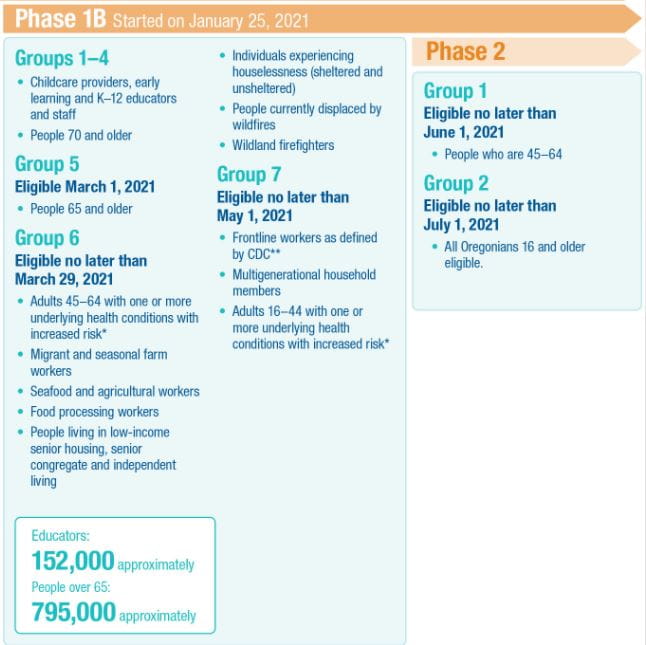 Even though you may be eligible, there is not yet enough vaccine to immediately schedule everyone for vaccinations. There are more than 750,000 people in Oregon aged 65 or older and state health officials estimate it will take until sometime in May to vaccinate older adults who want to be vaccinated.
Oregon Convention Center Vaccination Site

This mass vaccination site is

by appointment only

. For information about vaccine eligibility and to make an appointment, please go to covidvaccine.oregon.gov and to the Vaccine Information Tool section.
A drive through mass COVID-19 vaccination site is open at the Portland International Airport. This site is available by appointment only and administers vaccines for people who receive at-homes services for a medical condition or disability. Use the same Vaccine Information Tool at the OHA website to check your eligibility/make an appointment. (See #1 above)
211 Info

has three new ways to get COVID-19 information in Oregon

Text ORCOVID to 898211 to get text/SMS updates (English and Spanish only)
Email ORCOVID@211info.org
Use the Call Center at 211 or 1-866-698-6155, open 6 a.m.-7 p.m. daily. TTY: Dial 711 and call 1-866-698-6155
Vaccines continue to be limited at this time. Appointments become available based on the supply of vaccines. Vaccine sites are advised of the supply of vaccines every three or four days from the federal government at this time.
Resources:
Mass vaccination site at the Oregon State Fairgrounds is ongoing, based on vaccine availability. Types of vaccinations availability (first dose and second dose) is fluctuating week to week. Check their web page to see the latest information for Marion County.
First, check your eligibility using OHA's Vaccine Information Tool.
Look for the "County" questions.

If you are currently eligible, you will gain access to check for available appointments.

Use this Tip Sheet to help you through the scheduling process.
Resources:
What is your "why"?
Meet Simone Carter and listen to why she decided to get the COVID-19 vaccine.
What is your "why"?
Meet Mayra and learn about her second dose vaccine and why she decided to get the COVID-19 vaccine.
¿CUÁL ES TU MOTIVO?
Conoce a Mayra y entérate acerca de su segunda dosis de la vacuna y del por qué ella decidió ponerse la vacuna contra el COVID-19.
Who is making the decisions?
One critical fact to remember: Legacy Health does not determine vaccine rollout plans. This includes creating the different phases, deciding which individuals get vaccinated and
when
.
Instead, federal and state-level public health agencies and officials have played the central role in determining how, when and why vaccines are to be administered equitably.
The Food and Drug Administration (FDA), for example, took the initial step of granting emergency authorization to use the vaccines after rigorous testing for safety. Two state-wide agencies—Oregon Health Authority and Washington Department of Health—then decided the details of each state's vaccine rollout plans, including distribution phases, sub-phases, and the categories for the individuals comprising them.
The Center for Disease Control and Prevention (CDC) is the federal agency that gave each state the guiding vision for how those phases should be defined and what they should look like. Before guidelines were given to each state, different committees within the CDC—composed of experts from across the country—made recommendations about how vaccines should be used, who should receive them and when. They even discussed the medical ethics involved with making these decisions that will touch all our lives.
These recommendations were then reviewed by CDC and the Department of Health and Human Services (DHHS) before being finalized and released to each state as official guidelines. From there, each state determined their own specific plan. That's why vaccine rollouts differ from state to state.
Click here to visit the CDC's COVID-19 vaccine page. Are the covid-19 vaccines safe?
Frequently asked questions on the vaccine
How does a vaccine work?
Are the COVID-19 vaccines safe?
Simply put: Yes. Many doctors and immunologists have confirmed FDA approval of the vaccines and that they are indeed safe. The FDA requires that vaccines be tested across three different phases before approval for widespread use.
Both vaccines require two doses, or two shots. The Pfizer vaccine is reported to be 95% effective, after the second dose, in preventing COVID-19 among Phase 3 clinical trial participants, while the Moderna vaccine is reported to be 94% effective.
The technology for these two vaccines, mRNA or RNA, is relatively new but has been researched for more than 10 years. Clinical trials for other vaccines using this technology have been successful but this is the first large-scale use of this type of vaccine. These vaccines were tested in large clinical trials, on tens of thousands of people, to make sure they met safety standards. Many people were recruited to participate in these trials to see how the vaccines offer protection to people of difference ages, races, and ethnicities, as well as those with different medical conditions. This data was reviewed and approved by the FDA, CDC and Western States Scientific Safety Review Workgroup before it was cleared to be given to patients. Certainly, there are knowledge gaps but, from what we know, these vaccines are safe and effective.
Remember to follow safety guidelines
As vaccine doses are distributed across the country in a phased approach, it's important to continue to follow safety guidelines.
Stay home when you are sick
Limit group gatherings
Distance yourself from others
Wash hands frequently
Wear your mask
Restrict non-essential travel
These positive steps will save lives. For more information on COVID-19 tests:
Visit Our COVID-19 testing page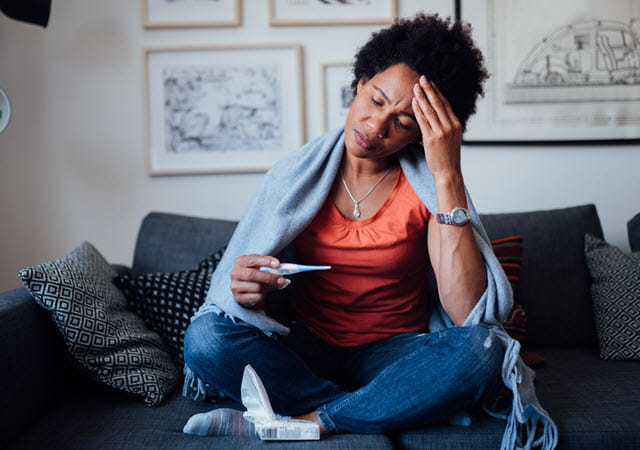 COVID-19 Symptoms
Continue to be aware of the symptoms of the coronavirus, that are not caused by another condition:
Fever or chills
Cough
Shortness of breath or difficulty breathing
Fatigue
Muscle or body aches
Headache
Recent loss of taste or smell
Sore throat
Congestion
Nausea or vomiting
Diarrhea