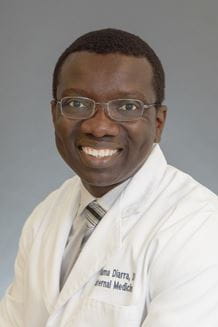 Call to Schedule
Adama Diarra, DO
My Specialties:
Internal Medicine, Board-eligible; Internal Medicine, Board-eligible
My Areas of Focus:
Sports Medicine, Dementia, Hypertension, Diabetes, Obesity Medicine, Metabolism, Preventative Care, Heart Disease
Languages:
English, Interpreters available for other languages
Affiliations:
Meridian Park Medical Center
Where I see patients
Where I see patients
503-525-7515
Monday-Friday, 8 a.m.-5 p.m.
Education:
Residency: Legacy Medical Group-Graduate Medical Education
Internship: Legacy Medical Group-Gradual Medical Education
Medical School: Midwestern Universityp-Arizona College of Osteopathic Medicine
Bachelor of Science: Arizona State University
Associate in Applied Sciences: Estrella Mountain
Year I Started Practice: 2015
Hospitals Served: Legacy Meridian Park Medical Center
Publication: Biochemical and Biophysical Research Communications, JAOA
Patient Rating
Legacy wants every patient to have great care, every time. To help measure and improve patient satisfaction, we send surveys to randomly selected patients after their appointments. We use this feedback from the surveys to improve and enhance the care we offer. Learn more about our surveys & ratings
Average Rating: 5.0 out of 5.0
---
May 12, 2023
Dr Diarra was so kind and sincere with [name removed]. He understands about the disease of Dementia . He spend time with us answering questions. We felt valued with today's complex medical system.
---
May 1, 2023
I feel like I receive the best possible care during my appointments with Dr. Adama Diarra. He knows my challenges and helps me cover all areas of concern. In this visit, he worked hard to make sure I could leave feeling confident that all needs were addressed. He is very personable, a well trained doctor, and I appreciate him so much.
---
Apr 28, 2023
Dr. Diarra is very thorough. He takes time to explain my condition and treatment so I can understand it. He is thoughtful and caring about me and my health.
---
Apr 26, 2023
I don't make medical recommendations.
---
Apr 24, 2023
Doctor and staff very professional, andFriendly
---
Apr 21, 2023
My visits to my care provider are consistently good and I feel they are providing the best care available to me at the time
---
Apr 12, 2023
Dr. Diarra is amazing. Best doctor ever
---
Apr 12, 2023
I was well cared for. I like Dr. Diarra's sense of humor. Puts me at ease. He never seems rushed and is always happy to see me.
---
Apr 12, 2023
Dr Diarra is always polite, courteous, and provides good information. He listens and shows concern about my well-being. I really respect and trust him as my Dr.
---
Apr 12, 2023
One of the best doctors I have had. Always listens and remembers. Can trust him.
---
Apr 10, 2023
Dr Diarra is respectful, answers all questions, recommends importance of care instructions and follow up. He also spends an appropriate amount of time for care, questions and follow up time for next appointment. I respect and would highly recommend him for family and friends
---
Apr 7, 2023
Dr. Diarra is the best doctor that I have had. He takes great care to make sure you understand everything about your health!
---
Apr 7, 2023
This is the best physician and practice I've been to, and I've stayed at the Mayo
---
Apr 7, 2023
I have been extremely happy with my care. Everyone at the clinic is amazing and I have told my husband that once he changes insurance he needs to change to this group. I feel supported and have been impressed with prompt responses to my emails. Love the caring support!!!
---
Apr 5, 2023
Once I'm able to contact and/or visit this office and provider, the service is excellent! (Especially Dr. Diarra). The office seems shorthanded which sometimes delays my ability to communicate. It seems this is related to insufficient staffing, & not a reflection of actual treatment (which is excellent).
---
Apr 5, 2023
Excellent Care Provider
---
Apr 3, 2023
Dr Diarra is super bright (both intelligent and emotionally) and answered all my many questions. He is someone I want to keep seeing for my healthcare because he seems to care about my health. He wouldn't let me go until he checked one more thing because it mattered to him even though time was short.
---
Mar 13, 2023
At our first appointment I was very impressed with Dr. Diarra. He listened and explained everything in language I understood.
---
Mar 13, 2023
Dr. Diarra is an exceptional primary care provider. He is gifted in his ability to communicate empathy, seek out the patients concerns, assure the patient understands what he has heard and what his recommendations are, with careful attention to the patients understanding. He is professional, respectful and inspires patient confidence.
---
Mar 6, 2023
Information about food I should eat or not eat for better health
---
Mar 1, 2023
Dr Diarra and Jen were fantastic. I always feel listened to and know that my questions will always be answered.
---
Feb 27, 2023
Great doctor, listened to me, he asked questions, he spent as much time with me as needed. I felt I was in very good hands.
---
Feb 22, 2023
Dr Diarra is clearly one of the best Doctors I have ever seen. I believe I am listened to and he understands juywhat I need. An excellent provider
---
Feb 15, 2023
When I first met Dr. Diarra almost five years ago, he was, to me, an unknown medical professional. Today he is my trusted health advisor. I have complete faith in him and his ability to help me maintain good health. I would not hesitate to recommend him to a friend or family member. He is the epitome of what a physician should be.
---
Feb 13, 2023
I feel like I am given substantial time from Dr. Diarra at all my visits.
---
Feb 13, 2023
Excellent communication and in person skills. Very knowledgeable on latest medical news that's relevant to me and my issues. Printed out supplementary materials/studies for me to read later. Thorough in his explanation of treatment options.
---
Feb 13, 2023
Excellent care.
---
Feb 8, 2023
He isn't competent. He has me labeled with diagnosis he's added and I don't believe he knows what he's doing. He has completely said two polar opposite things and he has blurted our opinions which have no basis. I feel unable to confront him as he is the dr who prescribes my meds.
---
Feb 8, 2023
Very good He is very easy to talk to.
---
Feb 8, 2023
Best Doctor I have ever seen
---
Feb 6, 2023
I really like Dr. Diarra, and consider it a blessing to have him care for me.
---
Jan 27, 2023
Dr Diarra is very professional and also friendly. He listens to my concerns and discusses options. Very personable. I am totally confident in his abilities. I am in good hands. His MA, Jen is very competent and friendly.
---
Jan 25, 2023
I searched for so long to find a provider where I felt really listened to. I have been to many kinds, but Dr. Diarra really came through and listened to me and came up with reasonable solutions to my health issues. I really feel that he has been my advocate and appreciate him greatly.
---
Jan 23, 2023
My doctor was very informative the staff was very professional
---
Jan 23, 2023
Dr. Diarra spent additional time with me discussing the importance of staying mentally engaged once he learned that I had recently retired from work. I appreciated the information he provided on this subject.
---
Jan 16, 2023
Dr. Diarra is an excellent physician! His interaction with me, as a patient, is exceptional. He never makes me feel rushed, has a great sense of humor, and he is thorough, both in his exam and his notes & after visit summary. He also ALWAYS responds to messages.
---
Jan 16, 2023
No long wait time, conversation on how I'm feeling and what issues I've been having.
---
Jan 13, 2023
Dr. Diarra and MA Brittani were wonderful and went the extra mile for me! I'm so appreciative of their care!
---
Jan 11, 2023
My doctor is very knowledgeable, listens, ask questions, is very patient with me!!
---
Jan 6, 2023
The doctor is always a pleasure. I am totally comfortable with him and I trust him completely. He is very easy to talk with and he listens closely to whatever I tell him. He is always engaging in our conversations so I know that he understands. He is a great doctor.
---
Dec 14, 2022
he is a good doctor, but his schedule is so busy you cannot get to see him. A normal appointment takes two months. Also, because of his extremely tight schedule, it is difficult for him to deal with non-textbook illnesses, where some extra investigation might be required. my case is unusual, so while I got reasonable level, medical care for what would have been a textbook situation, there's still a lot of doubt about what's wrong with me.
---
Dec 14, 2022
Everyone at the office did a great job of listening, responding and caring for my health concerns. They were the best.
---
Dec 12, 2022
Very very good Dr Diarra is a good doctor thank you
---
Dec 12, 2022
Dr. Diarra has been our primary care giver for about 6 years now in our opinion he's the best of the best an wouldn't change a thing.
---
Dec 9, 2022
It was a thorough and complete visit done in a respectful length of time, including the lab blood draw. Dr. Diarra is very thoughtful and thorough in asking questions and answering my questions.
---
Dec 7, 2022
Dr. Diarra is the best! He explains my issues post-operatively better than the surgeon. He is smart, warm, thoughtful & an excellent doctor.
---
Dec 7, 2022
MA forgot to mention the next step of my visit, i.e. Tdap vaccination. They waited until after I used the bathroom to tell me a UA had been ordered. Also appointment took longer than anticipated. I had to return to work and didn't have time to leave urine sample.
---
Dec 5, 2022
I very confident in the care I am receiving from Dr. Diarra. I appreciate the thoughtful way he listens to me and how he presents options for my healthcare.
---
Dec 2, 2022
Dr. Diarra and his team are phenomenal. I'm sure they have a huge caseload of patients to see daily, but they don't rush you, they take their time to make sure they get all information pertinent to your health visit and they make you feel comfortable to share you concerns regarding your health. I absolutely love this Doctor, he is amazing, caring and attentive every time I see him for my 6 month checkup or an additional concern that I have.Dr. Diarra is the Best PCP that I've ever had, and again, his team is awesome too !
---
Dec 2, 2022
I appreciate Dr. Diarra's care for me as a person as well as his medical expertise. I'm glad he is my doctor
---
Nov 30, 2022
Always great!
---
Nov 30, 2022
Dr. Diarra is the BEST Primary Care provider I have ever had!
---
Nov 21, 2022
It was a routine visit so my cholesterol prescription could be renewed.
---
Nov 18, 2022
Dr. Diarra is very personable & allows me adequate time for questions. Excellent bedside manner.
---
Nov 18, 2022
Extremely efficient and thorough service by Dr. Diarra
---
Nov 18, 2022
I felt really understood by Dr. Diarra. He listened closely to my symptoms and worked hard with me to decide how to address them. He was very collaborative with me in making my own decisions about continuing my medication and trying to treat the side effects. I am so glad that he is my doctor.
---
Nov 16, 2022
All good- I really like Dr, Diarra.
---
Nov 16, 2022
Very good and productive discussion of a current medication.
---
Nov 16, 2022
Dr. Diarra was and always is considerate, thorough and patient. He is a wonderful Doctor!
---
Nov 14, 2022
Had a good talk with the doctor about everything, He is a very good doc,
---
Nov 9, 2022
All was positive.
---
Nov 9, 2022
Dr Adama is an excellent Dr. In my opinion and we get along fine.
---
Nov 7, 2022
The provider was very good; although, the front end staff could use additional training. The MA was very good too.
---
Nov 2, 2022
Dr. Diarra is extremely professional and thorough in his medical care. He is an excellent listener and very responsive to my comments and questions. He always patiently and thoroughly explains his responses, especially if it involves any changes in my care or medications.
---
Nov 2, 2022
Very satisfied with Dr. Diarra and his advice anc care.
---
Oct 31, 2022
Dr. Diarra has been the best general dr. I have had. He always listens, doesn't rush & is always proactive in my healthcare. Highly recommend him!
---
Oct 28, 2022
Dr. Diarra was very professional, competent and explained in detail what he was doing. His instructions about after visit procedures and care were clear and understandable.
---
Oct 14, 2022
First visit with Dr. Diarra. He is wonderful. Already had my medical information from my California doctors.
---
Oct 12, 2022
Have had this Dr. since [year removed] for my family. Very kind and professional always.
---
Oct 12, 2022
Dr. Diarra spend a lot of time with me, listened what I gave to say, examined. Did not rush. I'm very pleased with the visit I had with him.
---
Oct 12, 2022
The appointment was good and I feel it went well
---
Oct 5, 2022
The best Doctor I have ever had
---
Sep 23, 2022
Doctor Diarra Dr. Diarra has been my doctor for several years now and he has known how to treat me very well, he listens to me, he is patient with me, he is an excellent doctor and an excellent human being, he never rushes me all the time, he is there listening, giving me answers, worrying about my health
---
Sep 21, 2022
Everyone was friendly& respectful.Online check in meant no waiting
---
Sep 19, 2022
I like Dr. Diarra because he is very personable and gives me confidence that all my concerns about my health are being addressed and monitored.
---
Sep 12, 2022
Major problem is difficulty contacting my provider. I'm always put on how when I call office, and often massage queue is full and I can't leave message. I have to leave message on MyHealth.
---
Sep 12, 2022
He listens and takes excellent care of his patients
---
Sep 12, 2022
Dr. Adama Diarra was great during my visit. I was very anxious at first given my symptoms but he got to the bottom of the issues and made me feel better. He responded to my email that I sent him and his team got me in to see him the very next day. He demonstrates compassion and I have always felt he has my back. Thank you!
---
Sep 9, 2022
I love Dr. D! He is open to my concerns, and I know I'm in good hands. I've told my husband he should go to him, but due to his health insurance he has to go somewhere else. That's how much I admire Dr. D. And he's so darn nice to boot!!!!
---
Sep 7, 2022
Dr Diarra and Bri, his nurse, are wonderful. I felt that they listened to me, made sure I heard what heard what they were saying. I feel very blessed to have found them.
---
Sep 2, 2022
Compassion shown by Dr Diarra and nurse Brea and good listeners
---
Aug 31, 2022
Excellent communication from Dr. Diarra about my medical conditions.
---
Aug 29, 2022
Dr. Diarra is a wonderful & caring human being... plus very intelligent.
---
Aug 29, 2022
Always a great experience. Bri is a delightful, competent person. Dr. Diarra is one of the best doctors I have ever seen.
---
Aug 24, 2022
Doctor Diarra gave me confidence that we may be able to find out what is wrong with me. I have been on disability for 6 months now. I am not able to work anymore. Doctor diarra gave me confidence and hope that we can find out what is wrong with me. He was very alert sensitive it sensitive professional and concerned. This made me feel better . His MA was also very professional and kind and respectful.
---
Aug 22, 2022
Dr. Diarra always listens and I feel he's an excellent doctor! When he asks questions, he pays attention to my answers!!
---
Jul 29, 2022
It was good in general, nothing wrong. The waiting time was practically, the doctor explained and gave a useful information.
---
Jul 29, 2022
Dr Diarra also remembered non-health related things from my personal life. I liked that.
---
Jul 27, 2022
Dr. Diarra is wonderful. When my previous doctor retired, I was lucky enough to be able to choose him as my new provider. He took care of my mother during the last week of her life and was so kind and compassionate with her and with me. My visit yesterday was thorough and professional. He listened to me, recommended I have an endoscopy when I return from vacation, made the referral and sent all my lad results and a letter about the results and his recommendations for resolving some medication problems.
---
Jul 25, 2022
Special thanks to the receptionist who got my daughter a bandage for a small cut on my fingerr.
---
Jul 22, 2022
I always look forward to seeing Dr. Diarra, for his skills and personality. I feel fortunate to have him as my primary care physician. The team at Bridgeport is also professional and friendly.
---
Jul 22, 2022
It was a nice experience understandable, at ease, Kind, Took time to explain and make sure that I understood. When I called in because of my emergency needs. I was able to get in right away.
---
Jul 20, 2022
Very smart, knowledgeable, and insightful.
---
Jul 18, 2022
Great explanation of test results from recent hospital stay. Information provided to help avoid repeat occurrences. I really trust and like Dr Diarra
---
Jul 15, 2022
Dr. Diarra has always been great.
---
Jul 15, 2022
Dr Diarra is always very thorough.
---
Jul 15, 2022
The Dr was amazing at explaining things to me, even brought out manuals to show me how the body works and was very informative.
---
Jul 13, 2022
The check in desk staff and the staff that makes the appointments by phone always are rude. They also seem a bit unprofessional to me. The interactions I've had with them always make me question seeing my doctor. Then I remember that I like him and his attentiveness to my health.
---
Jul 11, 2022
Dr. Diarra listens well.
---
Jul 6, 2022
Dr. Diarra was very helpful and thorough. I was extremely grateful he made time in his schedule to see me, at short notice.
---
Jul 1, 2022
Very caring doctor
---
Jun 29, 2022
I have the best PCP in the whole Portland area. Hey is extremely bright, capable, & caring- truly a diamond in the rough. I am so very blessed to have him. He is the best example of great medical care!
---
Jun 24, 2022
Dr Diarra is great to work with. He listens and also hears what isn't said by my dad. And is respectful when asking questions.
---
Jun 20, 2022
It was all good
---
Jun 13, 2022
I have always been treated well by the staff. I receive excellent care from my provider every visit.
---
Jun 13, 2022
Dr Diarra is pleasant, thorough, thoughtful. I have confidence in his medical decision making. It's always a great experience seeing him.
---
Jun 8, 2022
Dr. Diarra is the best doctor I have ever had. I have had a lot of health issues since [date removed], and Dr. Diarra has been a saving grace. He carefully watches over my care & my meds to make sure I'm safe and healthy. Also, Dr. Diarra's medical assistant Brianna is the sweetest. She is so caring and goes out of her way to make sure you feel comfortable.
---
Jun 8, 2022
Everyone was courteous
---
Jun 6, 2022
I am completely comfortable and happy to have him as my doctor. He is the most understanding, respectful, and caring doctor that I have ever had. I am totally satisfied and pleased to have him as my doctor. I am fully comfortable when I talk with him because he listens and responds in a way that assures me that he understands now and that he remembers our past conversations as well. I find him to be exceptional and just a joy to visit. I trust him and believe that he cares about my health and wants to help me as much as he can. I am blessed to have him as my doctor.
---
Jun 3, 2022
I am very thankful and grateful to have Dr. Diarra as my internist and Legacy as my first choice for hospitals, labs, specialists etc. It Is very Important to me to use providers that are "in-network" with my insurance exclusively.
---
Jun 3, 2022
Dr Diarra is always respectful, easy to talk with and explains issues completely