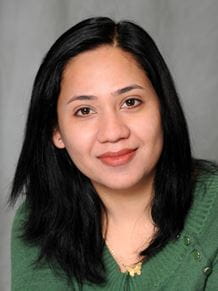 Call to Schedule
Charul Sen, MBBS
My Specialties:
Internal Medicine, Board-certified
Languages:
English, Interpreters available for other languages
Affiliations:
Legacy Health Partners
Where I see patients
Where I see patients
360-487-2729
Monday-Friday, 8 a.m.-5 p.m.
About Me:
Dr. Sen is a primary care doctor at Legacy Medical Group - Salmon Creek Internal Medicine. She received a Bachelor of Medicine/Bachelor of Surgery* medical degree from Lady Hardinge Medical College in Delhi, India. She completed an internship and residency in internal medicine at Legacy Emanuel and Good Samaritan medical centers. She is board-certified in internal medicine. Dr. Sen focuses her practice on wellness and sees patients 18 and older. *MBBS is the equivalent of a MD medical degree in the U.S.
Hospitals Served: Legacy Salmon Creek Medical Center
Patient Rating
Legacy wants every patient to have great care, every time. To help measure and improve patient satisfaction, we send surveys to randomly selected patients after their appointments. We use this feedback from the surveys to improve and enhance the care we offer. Learn more about our surveys & ratings
Average Rating: 4.7 out of 5.0
---
Nov 6, 2023
Waited 15 minutes for "After Visit Summary" & finally opened the examining room door.someone asked "Are you waiting for paperwork!" & printed it our for me. This is the 3rd time this has happened over the past few years. Also, was instructed to go to Room 150 (Labs) for a blood draw. Waited 1/2 hour in crowded room.when taken in for documentation verification, the clerk said I should have been sent directly to Room 275 after the doctor's appointment..for immediate service. I wasted about an hour of my time. Very disappointing indeed.
---
Nov 2, 2023
Excellent care!
---
Nov 2, 2023
Waiting time for summary visit document sometimes lags. This recent wait time was close to 15 mins. The healthcare assistance was just outside at a group meeting .
---
Oct 31, 2023
Your staff at Salmon Creek Legacy is definitely one of the best in the US
---
Oct 30, 2023
I moved to this area a year ago. This appointment was a "meet and greet" kind of appointment wherein we discussed some of my previous and current health issues.
---
Oct 30, 2023
Dr Sen is amazing.
---
Oct 24, 2023
Good job and well done
---
Oct 24, 2023
Everyone was very professional and kind. Dr.Sen gave me all the time I needed, and full attention. Made me feel very comfortable.
---
Oct 19, 2023
She was kind, considerate and very knowledgeable.
---
Oct 17, 2023
Dr. Sen is not my regular provider. I will not use her in the future.
---
Oct 16, 2023
I wanted to change to switch her to my primary but she's not accepting new patients
---
Oct 3, 2023
The Dr is always rushed. She does not seem to have enough time to be real thorough or to listen. She is an ?xcellent doctor but always seems to be in a hurry.
---
Sep 26, 2023
I like Dr Sen ok but her availability has been diminished greatly to just couple days a week. That can be frustrating.
---
Sep 25, 2023
My experience with Dr. Sen has always been very good. She never makes me feel rushed and is always willing to listen to my concerns. I feel she's very interested in me as a person and not just as a "patient". I am very happy that I was able to become her patient when I moved here about seven years ago. And I have recommended her to three of my friends who are now her patients.
---
Sep 19, 2023
Great doctor,very smart
---
Sep 7, 2023
This Dr is very throw & shows concern for continuing my ability to stay healthy.
---
Sep 5, 2023
This was a first visit to establish care after a move
---
Sep 5, 2023
I really appreciate Dr Sen. She is a dedicated professional and an Intelligent, communicative, compassionate person to have on my medical team.
---
Sep 5, 2023
Dr Sen is an outstanding physician. She really listens but also has a gentle way to keep the exam and appointment on track. She genuinely seems to care about my well being. I feel safe discussing my questions and issues with her. I hope she receives these comments because she should be celebrated for doing an outstanding job. She is an asset to your organization! I have and will continue to recommend her to others looking for an excellent doctor.
---
Aug 31, 2023
Dr. Sen is very thorough and listens to me. She refers me to different departments with my concerns. I wish that she may help me with some concerns like sleeping problems instead of going to my sleep doctor. Other than that, Dr. Sen is very good.
---
Aug 31, 2023
Dr. Sen seems very knowledgeable and is careful. She is just not very personable.
---
Aug 31, 2023
I like her friendly & medical professionalism. She was thorough in asking questions as she read through and listen to my answer regarding my medical history since this is my first time to meet her as my PCP.
---
Aug 22, 2023
Over all, positive experience
---
Jul 31, 2023
Dr. Sen is always very thorough. She leaves no stone unturned. She's friendly and delightful. We love her.
---
Jul 27, 2023
The only negative thing I have is I waiting 6 months to be seen by a PCP and that is ridiculous!
---
Jul 20, 2023
Everything OK and as expected.
---
Jul 20, 2023
Dr. Sen was very thorough, polite, informative, and caring. Very impressed!
---
Jul 17, 2023
It has been four years since I have had a complete physical. I questioned this and was told I needed to request one, This was news to me!At my visits, I am rarely given a chance to ask questions. She always seems in a hurry. I waited 20 minutes for her visit and the appointment was for 8:15 AM
---
Jun 26, 2023
I waited awhile, felt rushed like just another number to check off. MA wasn't super friendly, but did her job efficiently. Focus was more spent on my medical chart than asking me questions or getting to know what was important to me. My provider demonstrated good expertise and medical knowledge, but I felt bed side manner severely lacking. My thoughts were somewhat Ignored and not followed up with further questions. My experience didn't seem very holistic. I expect a PCP to be more personable in order to build rapport and sustain a goodstanding relationship. I'm not sure I'll get that yet. I do think, however, my physical/medical needs will likely be met.
---
Jun 26, 2023
Wish LHS office can develop automated systems to help patients with all following up reminders.
---
Jun 19, 2023
I had an 8:05 am appointment, thinking I would be in & out of the office quickly. I arrived 15 minutes early as directed. I was taken to the exam room & questioned by the nurse by 8:05 am. I then waited In the exam room for 36 minutes before the doctor came In to see me. For an early morning appt., this wait was unacceptable. Nobody came In to say there would be a delay.
---
Jun 15, 2023
Provider reduced availability to less than 4 days/week
---
Jun 13, 2023
This was my initial visit. By the end of the day, the dr. had sent for and received my medical records and called me about a concern she found in them. I was blown away!
---
Jun 13, 2023
I have total respect for my provider and know they only have 20 minutes slotted for me and a full schedule, but I always feel the pressure to hurry my explanations and give short answers. If it takes me a moment to explain then I am interrupted and cut off and it seems that if I ask questions I'm immediately referred to another dept. It could be I don't understand who does what, but if I express a concern, it's like I'm immediately pushed off to someone else, somewhere else. It makes me feel like just a problem being pushed off to someone else because my provider doesn't wish to deal with it.
---
Jun 13, 2023
Dr Sen and her team are always doing an excellent job. Thank you very much !
---
Jun 8, 2023
Dr. Sen is a very good and thorough provider, however, I had to wait 50 minutes past my 9:20am appointment to see her. She took her time with me but the delay meant I had to come back the next day for labs & x-ray because I had another appointment to go to by the time I finished my Dr. Appt
---
Jun 6, 2023
Dr. Sen was very friendly & professional during this initial visit. I was very satisfied and felt she really listened & cared about my health.
---
May 23, 2023
Good chart review. Poor personal connection skills, very little eye contact, less than two minutes looking or touching my body, seemed impatient and mostly looked at computer entire visit. Felt like I annoyed her.
---
May 23, 2023
Dr. Sen was extremely thorough, as usual, and had excellent suggestions and advice.
---
May 15, 2023
So thrilled this was a new appt with new dr and office and I'm very happy I have been nervous for months I would be disappointed but I wasn't at all! I feel like my health is being taken care of!
---
May 4, 2023
I just appreciate her so much. Easy to talk to and listens well.
---
Apr 13, 2023
First visit went well
---
Apr 3, 2023
Dr Sen was courteous, efficient, direct, and charming. This visit exceeded expectations.
---
Mar 28, 2023
The doctor was very professional, but did not seem to take any time at all to ask any personal questions - just the facts. I was required to change insurance providers after having the same primary care doctor for 15 years. I had a wonderful relationship with her. I was open to beginning a new relationship, but was disappointed with the doctor's interaction with me. She walked in, stood in front of the computer, asked a series of questions related to the chart, checked by flexibility, asked if there was anything else I wanted. She ordered labs and X-rays and said good bye. Since this was my first visit with her and time for my annual check up I was surprised that she didn't examine me, I will return and continue with her as my primary, but wish she would be a little more personable.
---
Mar 27, 2023
Friendly, efficient, and they were able to schedule imaging immediately so I didn't need to make a second trip. Much appreciated!
---
Mar 21, 2023
I'm always treated very good by everyone in the office. Dr. Sen is a wonderful dr.
---
Mar 20, 2023
This was my first time seeing Dr. Sen. I liked her and am happy she will be my primary care provider. She made me feel comfortable and listened to all my questions and concerns.
---
Mar 20, 2023
First visit. Very professional. No negative concerns.
---
Mar 13, 2023
My visit was a good one
---
Mar 13, 2023
Provider was terse. She did an excellent job of reviewing my medical history on the computer but seemed less interested in me.
---
Mar 13, 2023
Everyone does an exemplary job and I feel comfortable that I'm being given excellent care.
---
Feb 28, 2023
I was called back to the exam room right on time but waited 35 min. after the nursing intake before Dr. Sen came in, and although I didn't have an urgent concern, I felt she was a bit rushed.
---
Feb 28, 2023
I wish the doctor wasn't so glued to her computer screen. More eye contact and listening by the patient's side would be good, especially for the first appointment. It's already hard to divulge so much personal information to someone you just met that rapport building needs to be prioritized.
---
Feb 28, 2023
Very Professional
---
Feb 27, 2023
Dr Sen is thorough and compassionate. I am fortunate to call her my primary doctor.
---
Feb 27, 2023
Dr. Sen is best described as a compassionate, caring Medical Professional whose patient care skills set the standards for others.
---
Feb 20, 2023
This was my first visit and was very impressed with how she went through all my health records with me asking questions and listening to my responses.
---
Feb 20, 2023
Dr Sen is very thorough.
---
Feb 13, 2023
Dr. Sen is a very compassionate, kind & thorough physician. Feel very fortunate to have her overseeing my health needs.
---
Feb 9, 2023
It was a brief visit and the first time I saw this provider. I felt it was a good visit.
---
Feb 6, 2023
Visit was good and professional other than I had to wait in exam room over half an hour
---
Jan 30, 2023
Dr Sen went over all of the issues that caused me to come in for the visit, she carefully checked me over, asked questions, provided answers and together we worked out a plan going forward
---
Jan 19, 2023
Dr. Sen, as usual, was extremely thorough. I feel that I have excellent care with her.
---
Jan 17, 2023
Never a bad experience. Dr. Sen is the best.
---
Jan 13, 2023
Dr. Sen was thorough, very caring, and knowledgeable. Very pleasant. She is now my doctor.
---
Jan 13, 2023
I dont recommend medical people to friends, not my businessd
---
Jan 10, 2023
Dr. Sen seems invested in her patients & wants them to be as healthy as possible. She is thorough & personable, & knows the protocols for the issues we face, even when things go wrong. My husband & I are in good hands with her.
---
Jan 9, 2023
My mother has Alzheimers. I was told my POA would suffice for using my signature, but they made my mother sign. I made this appointment to have her ears cleaned. Dr. Sen spent 20 minutes on a depression survey. She kept asking my mother if she wanted to hurt herself. My mother didn't understand what Dr. Sen was asking. This survey seemed totally out of line to be answered by someone with Alzheimer's disease. Most people with Alzheimers suffer from depression, and I feel like Dr. Sen was not compassionate in her questioning. Then she said I'll see you in 4 months and started to walk out of the room. I said, we made this appointment to have her ears cleaned. She looked on the screen and said oh, I will have someone come In and clean her ears. She looked in her ears and left the room. The assistant came in and squirted water in her left ear and said, sorry, we don't have the medication that should go in her ear. We're all out. She was ready to leave and I said, it's her right ear that's plugged. She said, Dr. Sen said it was her left ear. She then proceeded to squirt water in her right ear. I felt like I could have done this much at my own home. I was extremely disappointed in this appointment.
---
Jan 3, 2023
DR SEN ALWAYS LISTENS AND DOES THE BEST LOOKING INTO WHAT ALE'S YOU I'M LUCKY TO HAVE A GREAT EFFORT DOCTOR IS A RELIVE FOR ME KNOWING SHE'S TRYING TO HELP OKAY YUP BYE ; )
---
Dec 29, 2022
I believe Dr.Sen is a wonderful doctor. I have recommended her to my best friend. Unfortunately she was not taking new patients.
---
Dec 19, 2022
I appreciated the friendly greeting of receptionist, efficiency in keeping to my appointment time the MA's personable care and the efficient, knowledgeable & caring interest Dr. Sen provided me. I didn't feel rushed. I felt well taken care of & listened to. It was also to be able to make my next appointment 6 months in advance.
---
Dec 15, 2022
Dr. Sen accurately describes what I tell her. She runs through each of my health topics and my meds. My hesitation about recommending her to others is that I feel like she sees me as a list of diagnoses, not as a whole, healthy person. I also wish she would look up from her computer more often.
---
Dec 5, 2022
The visit was all positive.