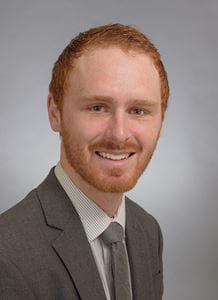 Call to Schedule
David Strickland, PA-C
My Specialties:
Internal Medicine
Affiliations:
Mount Hood Medical Center
Where I see patients
Where I see patients
503-674-1581
Monday-Friday, 8 a.m.-5 p.m.
About Me:
David Strickland is a Primary Care Physician Assistant who emphasizes prevention and evidence-based medicine. After graduating from the Physician Assistant program at Touro University Nevada, he worked in a rural Primary Care clinic in Pahrump, Nevada. Originally from the Portland area, he decided to return home to Oregon to practice medicine. He and his wife enjoy spending time with family and friends, and they look for opportunities to spend time in the outdoors whenever possible.
Education:
Medical School: Touro University Nevada
Year I Started Practice: 2015
Hospitals Served: Legacy Mount Hood Medical Center
Patient Rating
Legacy wants every patient to have great care, every time. To help measure and improve patient satisfaction, we send surveys to randomly selected patients after their appointments. We use this feedback from the surveys to improve and enhance the care we offer. Learn more about our surveys & ratings
Average Rating: 5.0 out of 5.0
---
May 3, 2023
David Strickland is an excellent health care provider. He continues to exceed my expectations on every level of health care I need. Excellent.
---
Apr 27, 2023
Never a bad experience with any of Mt Hood Doctors
---
Apr 27, 2023
My Doctor talk to me like a friend and I love that
---
Apr 19, 2023
Dr. David is the best doctor I have ever had while living in Oregon. He is attentive and is always trying to make sure we work on solving problems and questions that I have.
---
Apr 14, 2023
The only complaint I have is , you don,t get the feed back from your test. The provider has them but you don,t know until your next visit. I would think that if some thing shows up in your test resolute than the patient would Or could chance , that would be the time to get on it.
---
Apr 12, 2023
Always feel friendliest at my doctor office.
---
Apr 11, 2023
David knows me. Remembers problems when I don't. He anticipates my needs.
---
Apr 5, 2023
Although you have a great team at the Mt. Hood clinic your phone system leaves something to be desired. Example: If you miss a call, they leave a number to call back. This number is not a mainline to the person who called but a general number where you may wait up to 20 minutes to reach the person called. This can be fixed and should be or...I would prefer the staff utilize My chart for better communication.
---
Apr 4, 2023
I always have good care at this clinic.
---
Mar 24, 2023
Always seen on a timely matter. Provider and staff were great! No complaints.
---
Mar 23, 2023
I am very pleased with David. I am one who likes to be part of my treatment plan. David respects that and accommodates my desire.
---
Mar 22, 2023
I have had back issues for over 25 years, Dr. Strickland was the first doctor who got me definitive answers by ordering MRI on my lower back!
---
Mar 14, 2023
Kind considerate and careful,very thoughtful.
---
Mar 10, 2023
Always get an answer to questions/concerns through MyChart.
---
Mar 7, 2023
Made my appointment on-line.
---
Mar 1, 2023
I gets this provider always listens. Back to you with answers to questions. Truly one of the best.
---
Mar 1, 2023
Provider is very friendly and helpful. Always eager to help and answer questions.
---
Feb 22, 2023
My whole family see's Doctor Dave.
---
Feb 17, 2023
He is a wonderful Doctor. I have never felt rushed. He gives me the time to ask all questions that I have. He is a great listener.
---
Feb 17, 2023
The provider and office staff are great. Getting an appointment is difficult and getting a person on the phone is extremely difficult
---
Feb 10, 2023
I like and trust Dr. Strickland.
---
Feb 9, 2023
David is wonderful - personable and always professional. He cares about me.
---
Feb 8, 2023
Ease of parking, excellent. Try getting a spot at Kaiser! Doctor & staff take time with you Instead of being rushed thru like they are on a stop watch. That plus other things make the patient feel like the hospital, doctors and staff care about you instead of the feeling like you're just another sick cow in a heard like other hospitals. It's more of a country feel and you should run with that!
---
Feb 8, 2023
David Strickland is smart, friendly, on the ball, great with elderly, I trust him.
---
Feb 7, 2023
David Strickland always has very good options for making me more comfortable with all my aging ailments. He has definitely familiar sized my problems and concerns and makes the appointment most beneficial and medically both physically and mentally effective and most beneficial
---
Feb 3, 2023
Doctor Strickland is a rare breed of doctor. He listens and works together with you to find solutions to issues. He is also very good with notes and it shows when you visit six months later because he always seems to be up to speed on things from the last visit! These days it seems most doctors just tolerate your issues then make a quick decision without actually putting much energy into it. This is not the case with Dr Strickland, he listens well and you can just tell he actually cares. I hope he stays around for a long time as a PCP, it would be difficult to replace him in my opinion.
---
Feb 2, 2023
This dr was the best I've ever had
---
Feb 2, 2023
David Strickland was very caring and helpful on my visit. He addressed all my concerns and answered all the questions I had. He also treated me with curtesy, respect and was very professional.
---
Jan 31, 2023
David is without a doubt the single best provider I have ever had in my entire life. He is amazing. I don't like Dr's or any healthcare situations. So often they are just horrible. I look forward to seeing David. Not only is he amazing as a provider, his personable style and humble nature make it a joy to be there, even if I'm sick it's still stress and judgement free . I really really cannot express how amazing he is. I'd love to talk to his boss, his bosses boss and/or his bosses, bosses boss. I'm [age removed] and this is the first time in my life that I have gone back multiple times to a primary. This kid is amazing. Best I have any personal experience with. On occasion my wife will come with me. She goes on and on to people about how special David is to anyone that will listen. And we're at that age where conversations with our friends often turn to medical Issues. I lack the writing skills to do justice to his abilities. I'm happy that he is younger than me as I'm going to have him for the rest of my life. He trusts me and listens to me when I'm having a particular issue. I've never been able to say that before. He's the best I've ever had.
---
Jan 26, 2023
Fortunate to have David as our primary care person
---
Jan 25, 2023
I've recommended to other family members
---
Jan 24, 2023
Dr. Stickland is very understanding & thinks out how he or other dr's can help me.
---
Jan 19, 2023
David is a wonder provider. I have recommended him to family and friends. I still drive from Vancouver to see him even though we moved 3 years ago!!
---
Jan 19, 2023
It's always a good time visiting Dr Strickland.
---
Jan 17, 2023
Dr. Strickland listened carefully to all my ? and had very good answers!
---
Jan 17, 2023
I have always had wonderful experiences thank you
---
Jan 12, 2023
Was disappointed because my provider whom I've only seen 1 time before, had this David Strickland do the visit. I just changed to this clinic because my other provider retired. I was hoping to get to see my new dr. so I could get to know her better. I have no idea when to make another appt.
---
Jan 11, 2023
The team is very patient and understanding.
---
Jan 10, 2023
Great Doctor
---
Jan 5, 2023
Dr. David Strickland is a very great Doctor and his staff is always friendly and helpful!
---
Jan 4, 2023
All good. I like my provider and their medical assistants
---
Dec 27, 2022
David Strickland at every visit has taken more time than I would expect with my aunt. Repeating questions differently and allowing her to process the questions in her time. She has Parkinson's disease and communication is difficult for her at times. Rewording questions allows her to cognitively process and understand the questions. David is the most patient provider I could have hoped for my aunt.
---
Dec 22, 2022
David is always a pleasure to work with. I feel like he hears me and values what I have to say. I recommend him to everyone!
---
Dec 21, 2022
My provider is some one I am completely confident in is always a pleasure to see him.
---
Dec 21, 2022
Can't be better.
---
Dec 16, 2022
Usually don't care for men doctors, but David is awesome!!!
---
Dec 9, 2022
I have always had good experiences with Gresham Legacy Group very happy with your staff there.
---
Dec 9, 2022
I made this appointment because I received an email from this office for a medicine check. When I got to the appointment, the receptionist let me know that the office wondered why I made the appointment. I think it's strange that the email came from this office and nobody knew why.
---
Dec 9, 2022
Informative and straight forward.
---
Dec 8, 2022
David Strickland is an Excellent, and Compassionate Provider! The Office Ladies, and his Nurse are Excellent too!!!
---
Dec 8, 2022
Usually do blood test same day as wellness appt but because of "staffing issues" I have to come back another day
---
Dec 6, 2022
I was slightly stressed when I arrived for several reasons and felt immensely better when I left.
---
Nov 23, 2022
Visit was good. Staff was very professional.
---
Nov 23, 2022
David is always kind professional and remembers things that matter.
---
Nov 9, 2022
Good experiences. Well...
---
Nov 9, 2022
David Strickland and his staff are always very kind, friendly, and professional. They treat you like you are the only patient in the world to them. They never talk down to me and I've had that happen many, many years ago by another doctor in another state.
---
Nov 9, 2022
David Strickland is a very good listener. We discussed all of my medical concerns. I had an EKG done in the office to check my heart health, which turned out very good.
---
Nov 3, 2022
This was an excellent opportunity to get my next Covid and flu injections and get further ideas for digestive problems frequently occurring. David Strickland, PA is very professional, kind and thorough, as is his staff! He also works carefully with the three specialists that he has referred me to who are located at other locations in the Portland Oregon area. He asked that I call and let the staff tell him how I am improving or not in the next week. He had another appointment set up for three months, and told me to call sooner If needed. Extremely good medical PA and staff! Always helpful and timely with medical care.
---
Nov 2, 2022
We are very pleased with our care at legacy
---
Oct 21, 2022
David is a VERY GOOD listener and is always caring and empathetic to his clients/patients. His manners are always respectful sincere.
---
Oct 14, 2022
Dr. Strickland is an amazing doctor, and all of the nurses and receptionists are sweet and nice as well.
---
Oct 11, 2022
Good atmosphere
---
Oct 5, 2022
David Strickland is my PCP and is definitely a strong support for me. He has worked hard to understand my pain and what can improve it.
---
Oct 4, 2022
Great empathy, concern for me and my condition. Knowledgeable on my medical issues and remedies.
---
Oct 4, 2022
Good Experience.
---
Oct 4, 2022
We always enjoy visiting with dr Strickland. He is a good caregiver
---
Sep 30, 2022
David has been one of the best providers I've seen, in the last 20 years. He's informative, attentive, and respectful. He sincerely wants to know every facet of my physical and mental health, especially since I have stuffed with an autoimmune disease.
---
Sep 20, 2022
Everyone I had contact with during this visit was positive and knowledgeable. Questions I asked were answered to my satisfaction.
---
Sep 16, 2022
I,m very much happy with my Doctor.
---
Sep 13, 2022
He is very respectful & kind. Also very interested & thorough.
---
Sep 6, 2022
PA Strickland is an excellent doctor and is very insightful and knowledgeable.
---
Sep 1, 2022
Provider was very thorough, patient, and an attentive listener.
---
Aug 24, 2022
I find that Dr. Strickland is very easy to talk to and I like his demeaner.
---
Aug 19, 2022
All good. Talked about side effect of medication and David checked on alternative drug. He called and said the only alternative have the same side effect so I decided to stay with the devil I know.
---
Aug 19, 2022
He always listens and takes my feelings into consideration when deciding what we should do about my health issues.
---
Aug 12, 2022
He is very good and understand.
---
Aug 10, 2022
David Strickland is kind,thoughtful and knows my state of health,hes helped me stay healthy with good advice and I listen to him.
---
Aug 3, 2022
Always a good experience
---
Jul 29, 2022
David Strickland listens to everything I say. He's very professional and caring. He's interested in the things I do, places I go, things I make. He's a great doc!
---
Jul 29, 2022
Very professional and overall concerned about my well being he is an excellent dr
---
Jul 27, 2022
Dr Strickland and his staff make me feel important and they all give me a feeling of comfort and I feel safe. Thank You
---
Jul 21, 2022
My visits are always good I love Dr.Strickland, best doctor I ever had. But the weekend no on anserw an I never get called back!
---
Jul 21, 2022
Dr Strickland is the best! Helps you understand everything, is very respectful and always listens!!
---
Jul 15, 2022
I love this clinic. David Strickland is knowledgeable and very caring
---
Jul 14, 2022
I always received excellent care at Dr Strickland's office!
---
Jul 14, 2022
David Strickland is the most professional and extremely prepared and knowledgeable medical professional I have ever had the experience to have attend to my medical concern and serious needs. He listens to address and improve my medical needs and concerns. He even sends me home with further information on what I am currently dealing with to tead and tells me to call if I have further questions and needs. And he always returns my call the day I have left a message for him. An amazing Physician Assistant and I feel honored to be attended by him and his most kind and competent team-working staff!
---
Jul 8, 2022
It was a good experience as always
---
Jul 5, 2022
David and his staff are always on point though and explain each to a T I never walk away wondering what they just said or recommended
---
Jun 30, 2022
David Strickland listens, pays attention and understands. His explanations are understandable and fully relatable. His professional and personal demeanor are excellent.
---
Jun 23, 2022
David is always on top of things. Knows me, my history and has seen any lab tests that have been done. I have complete trust in this young man.
---
Jun 22, 2022
David listens and responds carefully
---
Jun 17, 2022
The front receptionist needs to slow down and realize she is talking through a mask to older people. It's about respect and acknowledging they are hard of hearing. She was pleasant enough but between the plastic guards and masks they really need to work harder on making sure the patient can hear them. Speed is not everything
---
Jun 16, 2022
My experience has only been good.
---
Jun 14, 2022
He always listened to what I said and how I feel
---
Jun 9, 2022
My doctor is caring and knowledgeable to his patients abs medicine
---
Jun 9, 2022
David Strickland is one of the best health care providers I have ever had in my life. I'm very grateful to have him after feeling like I was gaslighted by other providers for years.
---
Jun 7, 2022
Dr. Strickland is an all class doctor. He possess all qualities you would want and expect in a healthcare professional. The only reason I would not recommend him to others is for fear he will become too popular and busy for my families appointments. Lol :)