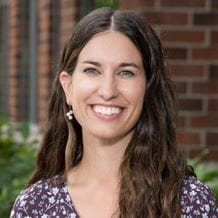 Call to Schedule
Emily Sharp, FNP
Affiliations:
Legacy Health Partners
Where I see patients
Where I see patients
Vancouver Clinic 87th Avenue
Vancouver Clinic Columbia Tech Center
Vancouver Clinic Salmon Creek
About Me:
As someone who likes to get outdoors in the great Pacific Northwest as much as possible, Emily Sharp knows how important it is to have healthy feet. She strives to make a difference in her patients' foot conditions so that their feet can carry them to adventures both near and far. Emily focuses on taking the time to talk with each patient, learn about their experiences, and discover what facets of their health are most impacting their life. Her goal is for patients to leave with a plan for wellness and recovery and to feel like they met with someone who is as much a friend as a provider.
Training: Emily earned a bachelor of arts in nursing from Luther College in Decorah, Iowa. She earned a master of nursing from Allen College in Waterloo, Iowa. She previously worked as an ICU nurse for the University of Iowa Hospital in Iowa City, Iowa.
Hospitals Served: Legacy Salmon Creek Medical Center
No reviews are available at this time.