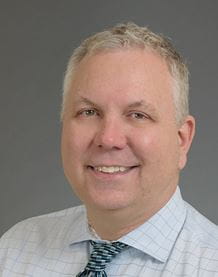 Call to Schedule
James Borden, MD, FACP
My Specialties:
Internal Medicine, Board-certified
Languages:
English, Interpreters available for other languages
Affiliations:
Legacy Health Partners
Where I see patients
Where I see patients
503-413-6769
Monday-Friday, 8 a.m.-5 p.m.
About Me:
Dr. James Borden is a board-certified internal medicine physician with Legacy Medical Group-Good Samaritan. He graduated with his medical degree from University of Missouri-Kansas City. He completed an internship and residency through the Portland Program in Internal Medicine. As an internal medicine physician, Dr. Borden works with his patients throughout their adulthood to help them achieve health and wellness.
Education:
Residency: Portland Program in Internal Medicine
Medical School: University of Missouri Kansas City
Year I Started Practice: 1994
Hospitals Served: Legacy Good Samaritan Medical Center
Patient Rating
Legacy wants every patient to have great care, every time. To help measure and improve patient satisfaction, we send surveys to randomly selected patients after their appointments. We use this feedback from the surveys to improve and enhance the care we offer. Learn more about our surveys & ratings
Average Rating: 4.9 out of 5.0
---
Sep 8, 2023
Dr. Borden has a great bed side manner and he listens and seems to always read up on my most recent medical visits as I have 4th stage cancer. He always had something to bring to the table that helps me. I appreciate that.
---
Aug 14, 2023
Using the phone system is difficult. The wait time is very long. Very dissatisfied with it
---
Aug 10, 2023
Just really hard to get through on phone .only bad comment
---
Aug 8, 2023
I have seen Dr. Borden for over 20 years. He has always been thorough and easy to talk with.
---
Aug 3, 2023
Consistently positive interaction with dr borden
---
Jul 31, 2023
Dr. Borden is an excellent physician. He is very knowledgeable, yet very approachable, attentive, and compassionate. A rare combination. I cannot recommend him highly enough.
---
Jul 24, 2023
There is not enough help. There was no medical assistant to help the physician. Some things were omitted that the medical assistant would have done: weight, temp, pulse, respiration, pulse oximetry. The physician took my BP.
---
Jul 21, 2023
When my prior pcp retired about ten years ago he suggested Dr. Borden as a replacement. So glad he did and so glad Dr. Borden took me on.
---
Jul 20, 2023
I am happy that I have such a good team looking after me
---
Jul 13, 2023
My yearly visits are always good
---
Jul 11, 2023
Doctor Borden is an excellent doctor.
---
Jul 11, 2023
The medical assistant smelled very strongly of cigarettes which was offensive since I was there for nausea & headache. Also, for some reason the clinic manager came out to get me from the waiting room- there was an issue with the assistant not knowing I was there Ir something..which was strange. The MA had trouble taking my blood pressure. When he gave me the results it was very low for me as I take it regularly & am on meds for it. It always runs high at the Drs. When I commented on it he said that he's not the expert at taking BP & the doc can take it if he needs to. How would a doctor, that I have never seen, know to take it again because the assistant may have not taken it properly? Wouldn't the doc trust the assistants work? It left me with feelings of a total lack of trust.
---
Jul 10, 2023
All is and was good
---
Jul 10, 2023
Dr. Borden is a wonderful physician for our family. He is kind, knowlegable and friendly. Takes the time to explain things and the tests that are to be ordered. His staff is also very friendly.
---
Jul 6, 2023
Dr. Borden was Very interested in my Healy, lifestyle, medical background, in a very nice way.
---
Jun 27, 2023
Dr James Borden has always provided excellent care to me for almost 30 years! He's great!
---
Jun 26, 2023
Short staffed No assistant did routine precheck like blood pressure
---
Jun 26, 2023
Very professional and friendly. Answered all my questions and was very concerned about my health
---
Jun 23, 2023
It depends on what kind of provider they are looking for
---
Jun 22, 2023
The doctor was very good but the man that took my vitals acted like he was late for something and was very short with me. I asked him what my weight was and he said that he would convert it later which he never did. After he took my vitals he picked up my clipboard of questions. I told him that I hadn't answered the questions yet. He took the clipboard anyway and said that he would go and get the doctor.
---
Jun 22, 2023
Dr. Borden is thoughtful, direct, open to questions or discussion. While he has expertise I lack, he clearly values what I say and ask.
---
Jun 21, 2023
Dr. Borden is my Primary Care Physician; In all of the time he's been my PCP, he's always treated me with respect and dignity and he's even complimented me, several times, about how I take an active interest in my own health. During the visit in question, he complimented me for knowing exactly what to say due to research. As for other employees of the clinic, esp. The front desk staff, I haven't had a problem with them, either.
---
Jun 5, 2023
Everyone @ the office is very nice and kind to me.
---
Jun 5, 2023
Always a good experience. Dr. Borden is fantastic!
---
May 18, 2023
Dr. Borden is one of the best doctors I have seen at Legacy. I hope I can see him again!
---
May 15, 2023
They need to figure some sort of protection for the little finger device that checks pulse and oxygen. It's gross that everyone's finger goes in that and then the nurse just shoves it in his pocket.
---
May 10, 2023
I had to drive to office to make my appointment. I couldn't get through on the phone. Waited one time on phone for 35 mins before hanging up.
---
May 9, 2023
Dr Borden is excellent and Alex the med assistant was very competent and VERY PLEASANT
---
May 9, 2023
Dr Borden is usually a very good listener and spends as much time as necessary. I did not feel listened to yesterday or my information was interpreted differently than I intended. He seemed crabby.
---
May 9, 2023
I have been a patient of Dr. Borden for many years. He is always courteois, kind and explains everything. Everybody at the clinic is great.
---
May 3, 2023
Dr. Borden is very personable. He listens, and considers options, and makes recommendations. I trust his advice.
---
May 3, 2023
Dr. Borden personally phoned a specialist for an appointment for me.
---
May 2, 2023
Very friendly and comforting staff.
---
Apr 27, 2023
My appointments are always excellent..
---
Apr 27, 2023
Dr. Borden is the absolute best PCP I've ever had.
---
Apr 25, 2023
To be fair, this is a relatively new primary care provider for me...second visit. The PCP I used for many years retired and I note that the availability of internists now at GSH & MC is limited. I have two concerns with my current relationship. I am insured by Medicare and AARP and over the past many years have had no problem getting my routine annual visits reimbursed. My first visit with this provider was for an annual checkup, which was thorough and as I expected, but because of the way it was billed was not covered. As a result, in effect, I paid twice for the visit...once for the insurance cost and the second when I was billed by GSH for the visit. The issue was addressed with this years visit by making this a medicine review that resulted in a much abbreviated visit. As a relatively healthy elder, I am not too concerned about this year's abbreviated meeting, but would not want to see that become the norm simply because we cannot get my annual physical exams reimbursed. I am a former GSH administrative executive (VP/CFO) and have a healthy respect for the importance of good health care. I believe this is likely a coding issue and do want to see this problem resolved so that my annual physicals will be thorough and receive reimbursement.
---
Apr 24, 2023
Excellent care
---
Apr 19, 2023
He always listens,Has patience ,Always addresses my problems and thare is more then one HA HA .
---
Apr 10, 2023
We were discussing results of blood draws and effects of newly prescribed medication to be sure that the mediation would be effective and without side effects. All discussion by Dr. Borden was knowledgeable and well informed regarding results of the medication.
---
Apr 10, 2023
I wish masking was still required.
---
Apr 10, 2023
I felt I was listen too and my questions answered.
---
Mar 17, 2023
I love coming to the clinic. Everyone is always great. Dr Borden is top notch.
---
Mar 16, 2023
Clinic locating in Good Sam campus all the facility easy to access. I sent my friend to same clinic already.
---
Mar 16, 2023
I was pleased with the recommendations and will follow up on them.
---
Mar 10, 2023
All the team members are very friendly and professional, the administrative assistant at the reception, the nurse and the doctor. All of them are excellent.
---
Mar 6, 2023
I've been a patient of Dr. Borden's since 1994. We have a good rapport and he's a good listener and sympathetic to my needs.
---
Mar 3, 2023
I had good experience.
---
Feb 28, 2023
Dr. Borden is top-rate.
---
Feb 27, 2023
Excellent doctor and a nice guy too!
---
Feb 13, 2023
Dr Borden has been my Dr for over a decade. He is an amazing Dr! He is kind and easy to talk to. Great Dr.
---
Feb 10, 2023
Patient and kind doctor
---
Feb 2, 2023
Dr. Borden had an excellent physician's assistant on the day of my office visit.
---
Feb 2, 2023
Always providing professional service and support.
---
Jan 31, 2023
We made very little progress. Nothing that will help me get any relief from my symptoms. My tinnitus was not dealt with and my freezing feet no hope for residual chemo that was left in my body.
---
Jan 30, 2023
Good interactions
---
Jan 24, 2023
Use of location-enabled smartphone software to check in as I approached the clinic was quite impressive and efficient.
---
Jan 20, 2023
The worst problem was that I was ON HOLD on the telephone for 49 minutes when I tried to call about my appointment! That is nearly AN HOUR ON HOLD! And then, after close to an hour ON HOLD, listening to the recording, when the receptionist tried to answer my call, apparently she accidentally disconnected me, because my call ended, after nearly an hour on hold, with never speaking to a person!! I was EXTREMELY FRUSTRATED! It wasted most of my morning! So, apparently you need to hire additional receptionists! This is a very busy general practice medical clinic. The receptionists are always friendly and helpful in person. I don't think I can remember any other situations in my entire long life where I have been on hold for an hour, and then did not even speak with a human being. That is really disrespectful to me as a patient! And then to be (apparently accidentally) cut off, that entire experience is NOT ACCEPTABLE! Thank you for fixing this situation for the future for all the patients who try to telephone this office!
---
Jan 19, 2023
Dr Borden is the best
---
Jan 13, 2023
Staff shortage!
---
Jan 9, 2023
Excellent listener and communicates effectively, patient, explains everything clearly, not "rushed", experienced professional
---
Dec 29, 2022
Everything was cool
---
Dec 28, 2022
Dr. Borden is very knowledgeable, and very attentive to my needs and concerns as a patient.
---
Dec 28, 2022
Good visit; will start a daily medication named "Allopurinol" for reducing incidences of gout
---
Dec 19, 2022
The practitioner Dr. BORDEN was easy to approach to discuss scenarios. Dr. BORDEN appeared to have vast knowledge and experience in a variety of fields such as surgery, availability of Legacy and at which clinic, neuro route to take, etc
---
Dec 8, 2022
Doctor Borden is always careful and concerned about the comfort of me as his patient. He cares about his work, and it shows in how he treats me and also how he works with his assistants....very patient and kind. Thank you.
---
Dec 5, 2022
All GREAT as usual !!!!!
---
Nov 22, 2022
Meeting the highest standards of medical care
---
Nov 22, 2022
Great doctor listens carefully and gives good care
---
Nov 21, 2022
My PCP is very excellentand the therapeutic nurse for mental health care was also excellent
---
Nov 18, 2022
Dr Borden is an affable and excellent primary care doc. He listens and provides straightforward advice. Most doctors are social misfits, bookish nerds unable to effectively communicate with other human beings. Not James Borden, he is great, both learned and resourceful. Highly recommended.
---
Nov 9, 2022
Provider James Borden is extremely patient and compassionate and takes additional time to review and discuss all my concerns.
---
Nov 9, 2022
Dr. Borden gives solid advice.
---
Nov 8, 2022
Dr. Borden and entire staff always professional and caring!
---
Nov 7, 2022
Dr. Borden remembers your health history. He is always responsive to my health needs
---
Oct 31, 2022
Overall, I always receive the right info and all questions answered appropriately.
---
Oct 20, 2022
Quick, safe check in ( I did online pre-check). On time staff walkin & vitals, Borden Very considerate & clear instructions.
---
Oct 12, 2022
Excellent Doctor!
---
Oct 12, 2022
Dr James Borden is indeed a life saver !
---
Oct 12, 2022
Everything was fine.
---
Oct 11, 2022
This Doctor is excellent and has always been attentive to my health.
---
Oct 7, 2022
I have been a long time patient of Dr. Borden.
---
Oct 6, 2022
Dr. Borden knows my history, listens to my issues and makes referrals if needed, does excellent advice and follow up, and I feel in good hands with him.
---
Oct 4, 2022
I feel waiting 45 minutes on the phone for someone to answer and giving up and hanging up is not how a front office should run. They need more staff to answer phones.
---
Oct 4, 2022
Provider who shows not to care that patient is hurting very badly.