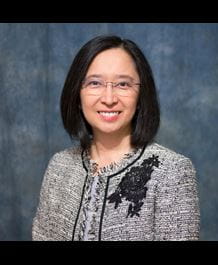 Call to Schedule
Jocelyn Camara, MD, FACC
My Specialties:
Cardiology—Cardiovascular Disease, Board-certified
Languages:
English, Interpreters available for other languages
Affiliations:
Legacy Health Partners
Where I see patients
Where I see patients
503-672-6131
Monday-Friday, 8:30 a.m.-5 p.m.
Education:
Fellowship: Brown University School of Medicine (Cardiology)
Residency: State University of New York - Brooklyn (Chief Residency)
Residency: State University of New York - Brooklyn (Internal Medicine)
Medical School: University of the Philippines
Bachelor of Science: University of the Philippines College of Medicine
Year I Started Practice: 1994
Hospitals Served: Legacy Emanuel Medical Center, Legacy Good Samaritan Medical Center, Legacy Meridian Park Medical Center, Legacy Mount Hood Medical Center, Legacy Salmon Creek Medical Center
Patient Rating
Legacy wants every patient to have great care, every time. To help measure and improve patient satisfaction, we send surveys to randomly selected patients after their appointments. We use this feedback from the surveys to improve and enhance the care we offer. Learn more about our surveys & ratings
Average Rating: 5.0 out of 5.0
---
Nov 3, 2023
Dr Camara always make sure we understand her explanation of the results of the EKG done at the clinic and always explain well to patient why she is reducing the dose of meds provided we monitor three x a week the BP! She is very respectful and courteous to us! She is very knowledgeable and able to follow up the heart condition of my husbandOverall will recommend her to our family and senior friends without reservation or hesitation.She Is a valuable assets to the medical group and hope she continues her practice In the field of cardiovascular for years to come.
---
Oct 20, 2023
Always take care of any concerns or questions I have.
---
Oct 18, 2023
I feel very blessed to have Dr. Camara for my cardiologist. Making an appointment is very frustrating and involves long waits on hold. She is worth the wait.
---
Oct 3, 2023
I always experience the highest regard to my health and wellbeing when I visit Dr.Camara and her entire staff!Whe is an exceptional doctor who was concerned about my shift in health and did everything possible to find the root cause.I am feeling at my best thanks to her concern and search for a correct diagnosis.I feel so grateful and fortunate to have her as my heart specialists!
---
Oct 3, 2023
Waited long time for appointment
---
Oct 3, 2023
Dr Camara is wonderful. I have the utmost respect for her and the care she delivers.
---
Oct 2, 2023
Dr. Camara exudes excellence in knowledge and compassion. I am so impressed with her, she never makes you feel small or unintelligent. And, at the very end of each appointment, she ALWAY asks if you have any questions and also emphasizes if there are ANY problems day or night to get ahold of her. She's one of the most outstanding doctors I've ever encountered personally or professionally. She's truly an asset to your organization.
---
Sep 29, 2023
Dr Camara is caring, friendly and knowledgeable. Had a blood test and she responded immediately with a prescription that I needed before leaving on a vacation. She's very good and listens to my concerns.
---
Sep 27, 2023
The staff was great and the doctor was very good at explaining everything to me and patiently listened to my concerns.
---
Sep 26, 2023
Dr. Camara is a jewel!!! I wish she could be my PCP - she listens and remembers what we have previously spoken of. She is smart, kind, and and caring. I wish her medical assistant would step into the waiting room and look at the person she is calling for the next appointment instead of opening the door and just calling out their name. It is insulting as a patient. It's hard enough going to a doctor; we should all be treated with respect.
---
Sep 26, 2023
Dr. Camara is an outstanding physician and cardiologist. She and the staff are very responsive to me and go out of their way to respond when I have questions or health needs. The problem is Legacy's policies regarding making an appoint or getting in direct touch with the office. It's just very frustrating.
---
Sep 25, 2023
Dr Camara is exceptional
---
Sep 15, 2023
I waited for months to get an initial appointment but once I was seen, I was very impressed with the quality of service Dr Camara provided.
---
Sep 11, 2023
I showed up at 8:15 for an 8:30 appt as instructed and the office was locked with lights off. The sign at the door says it opens at 8am. I subsequently had to wait in the hall and then rush through the paperwork, some of which was duplicate from what I completed previously online. The doctor was exceptional. The nurse was great.
---
Sep 7, 2023
Spent time investigating and clarifying my questions and developing a comprehensive health plan for me both short term and strategically.
---
Aug 29, 2023
Dr. Camara is wonderful!
---
Aug 25, 2023
Dr Camara listens attentively and responds with good advice and counsel.I am very happy that she is my cardiologist.
---
Aug 25, 2023
I switched to this Cardiologist from another in the same practice and am much happier regarding this choice.
---
Aug 21, 2023
I was very pleased and impressed with Dr. Camara. I appreciated that she asked more than once if I had any questions as I was seeing her for a new medical issue.
---
Aug 21, 2023
All my answers relate to Dr. Camara and her clinic.She is an incredibly kind, knowledgable, compassionate, organized, perceptive, and supportive practitioner. I trust her, rely on her, and her support and knowledge of my life (major) impacting condition and willingness to work with my choices for Treatment has been so deeply appreciated. She truly understands and Is so patient and respectful of me as a human being AND also clearly Is comfortable In her own skin. What a GEM she is.
---
Aug 11, 2023
Dr. Camara is a wonderful doctor.
---
Aug 10, 2023
Very pleased
---
Aug 10, 2023
Although the wait was longer than anticipated because Dr. Camara had an emergency, her staff kept me apprise off what was happening and what to expect. I willingly drive 30 minutes across town to receive her expert care and that of her staff.
---
Aug 9, 2023
I originally had Dr. Hamdan and he was absolutely amazing and one of the best doctors I have ever seen. I wasn't sure someone could live up to him but Dr. Camara certainly did! She came knowing my complicated history and listened with understanding of what I had gone through. She's kind and caring! I am in great hands with Dr. Camara!
---
Aug 9, 2023
Dr Camara is the best Dr I have had in a long time for truly listening to what I have to say and making me feel heard and valued.
---
Jul 12, 2023
Dr. Camara is one of the best doctors I have ever visited
---
Jun 23, 2023
I have complete confidence in Dr. Camara and I deeply appreciate her care for me.
---
Jun 22, 2023
Dr. Was up to speed on my entire medical history and was very helpful in helping me understand the next steps in my care.
---
Jun 21, 2023
This visit was my first visit with Dr. Camara who will follow my case. I enjoyed meeting her and will gladly continue with Dr. Camara as my new cardiologist.
---
Jun 21, 2023
I can't say enough good things about Dr. Camara. She is really great. BUT... This game of needing to make an appointment in six months is so tiring. I understand that the appointments have not been released yet, but the notion that they may be open on this date, and that you have to try to figure out when to call back is really difficult. Then, when I finally call and try to make an appointment, there are none available -- even months in advance
---
Jun 14, 2023
Dr. Camara is an excellent clinician. I feel well taken care of.
---
Jun 6, 2023
Camara Is the best.I am a challenging, atypical case. They have taken excellent care of me. Best team ever.
---
Jun 5, 2023
Great doctor! So glad to have her.
---
May 24, 2023
Dr. Camara is very thorough, knowledgeable and compassionate. She allowed me all the time that I needed to go through my issues and options.
---
May 12, 2023
Waiting 2-3 days for a refill for a HEART medication. Received a 3 day emergency refill from pharmacy. Not a good response from dr.'s office.
---
May 5, 2023
I feel very fortunate to have Dr. Camara as my Doctor.
---
May 3, 2023
Professionally nice
---
May 3, 2023
Dr. Camara knew important information about my health issues and did a thorough analysis of my heart issue and how it might be related to my other health conditions.
---
Apr 25, 2023
Dr. Camara is wise, caring and very professional. She listens intently. Her mannerism exhibits kindness and caring --- plus she is extremely knowledgeable about cardiology. Her electro-physics technician, Shawn (he did the pacemaker check) was extremely smart and kind.
---
Apr 24, 2023
Dr Camara and her cardiology team are excellent. I wish I could say the same for the rest of the Legacy system.
---
Apr 14, 2023
Very satisfied with Dr Camara
---
Apr 13, 2023
Dr Camara is very knowledgeable about my heart issue. She answers all my questions, listens to my concerns and explains everything in a manner that is very understandable. I'm blessed to have Dr Camara as my cardiologist.
---
Apr 12, 2023
Everyone in this office is kind & professional. Dr. Camara is easy to talk to and is always very informative and I enjoy and actually look forward to my appointment with her.
---
Mar 24, 2023
Dr. Camara takes her time in answering any questions I have, which I really appreciate nowadays since most doctors try and rush you to get to the next patient. She always listens and answers all questions that I have.
---
Mar 24, 2023
Dr Camara is extremely caring and knowledgeable. She listens and encourages me to try making changes without just adding prescriptions. She's too notch with her communication and advice.
---
Mar 21, 2023
Dr. Camara's nurses are very good at follow-up calls, advice, etc. I almost never talk to her - it is through them, it takes months to get an in-person appointment. She is great when I do see her.
---
Mar 21, 2023
I have and excellent rapport with these Doctors and Care Staff. Very satisfied !
---
Mar 17, 2023
I was using a walker when I went in for this visit. The office doors do not have a handicapped access. Fortunately, someone opened the door for me. I thought all medical facilities needed to meet ADA requirements.
---
Mar 17, 2023
Dr Camara is always interested in how I am doing. Always let's me know I can contact her at any time. It's not always easy to get my six month check up. Her calendar is very busy.
---
Mar 15, 2023
Dr. Camara is one of the best physicians I've ever worked with. She is attentive, knowledgeable, and compassionate.
---
Mar 15, 2023
Dr. Camara is very knowledgeable and I feel like she listens to my questions and gives me excellent advice, and works with me to resolve my problems.
---
Mar 15, 2023
Dr Camera and her staff are wonderful. We are thankful [name removed] has her for a cardiologist and her staff are also amazing.
---
Feb 27, 2023
I really like Dr. Camara. I feel that she listens to me and answers any questions that I might have. I never feel rushed during my appointment. This time I was asking about a specific type of female doctor that would be taking new patients. She found one in my driving area and her nurse called me that same afternoon with a name. I was so appreciative since I had been having trouble finding the right doctor. For me she went above and beyond the call of duty. High marks for Dr. Camara!
---
Feb 10, 2023
Dr Camara listens carefully to my concerns, treats me respectfully and confidently, advises me appropriately on alternatives. I am very happy with her as my cardiologist.
---
Feb 9, 2023
Just takes a long time to get an appointment and one has to call back every few weeks to see any available dates.
---
Feb 9, 2023
Very good experience! Tremendous dr. and staff very helpful. Complex details explained so I understood what was going on and why!
---
Jan 27, 2023
Dr. Camara and her team at Legacy Cornell always give excellent care and are thoughtful and kind. I had a very good visit on [date removed].
---
Jan 27, 2023
Polite, courteous and humble
---
Jan 25, 2023
Dr Camara is gracious ,responsive and informative. Always available through Myhealth. An excellent provider.
---
Jan 25, 2023
Very attentive following surgery for a pacemaker.
---
Jan 25, 2023
Very friendly, helpful and answered my questions. Felt like she cared, rare in the medical field these days.
---
Jan 20, 2023
Dr Camara is an excellent doctor
---
Jan 19, 2023
Best doctor ever! Highly recommend. She really cares about her patients.
---
Jan 19, 2023
Dr Camara is an excellent Doctor who has concern about her patient. I highly recommend her,
---
Jan 18, 2023
Dr. Camara is a superb cardiologist. When describing technical subjects, such as medications / possible side effects, or data points on an EKG or alternatives for medications or treatments, she gives a patient a clear explanation that is completely understandable to a lay person. She is a terrific listener, empathic, understanding and always gives clear answers and advice to questions.
---
Jan 6, 2023
Good rxperience
---
Jan 4, 2023
Love Dr. Camara.
---
Jan 4, 2023
I consider Dr Camara to be an excellent physician in all possible ways.
---
Dec 15, 2022
Dr Camara is a wonderful doctor! I am so happy I see her. If I have a complaint, it's that getting a timely appointment is way more difficult than it should be
---
Dec 12, 2022
Dr. Camara is always well prepared and able to answer all of my questions about my BP issues. She took the time to set up my new Kardia Mobile device for me. Always a delight to see her.
---
Dec 9, 2022
No bad experiences -
---
Dec 9, 2022
Dr Camara was kind and thorough
---
Dec 9, 2022
Excellent communication skills and going the extra mile regarding prescriptions, etc.
---
Dec 9, 2022
Kind, knowledgeable doctor and caring office staff
---
Dec 8, 2022
My visit was excellent. Dr. Camara is an outstanding cardiologist.
---
Dec 8, 2022
Dr. Camara has been great working to solve problems and working with me to come up with solutions about my well being.