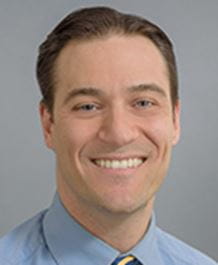 Call to Schedule
Josh Gepner, MD
My Specialties:
Family Medicine, Board-certified
My Areas of Focus:
Joint Injections, Minor Surgery
Affiliations:
Meridian Park Medical Center
Where I see patients
Where I see patients
503-635-2497
Monday-Friday, 8 a.m.-5 p.m.
Education:
Residency: OHSU Family Medicine
Medical School: Brown University
Year I Started Practice: 2011
Hospitals Served: Legacy Meridian Park Medical Center
Patient Rating
Legacy wants every patient to have great care, every time. To help measure and improve patient satisfaction, we send surveys to randomly selected patients after their appointments. We use this feedback from the surveys to improve and enhance the care we offer. Learn more about our surveys & ratings
Average Rating: 4.9 out of 5.0
---
Apr 28, 2023
Dr Gepner is always positive , professional and attentive to my needs !
---
Apr 26, 2023
Timely and efficient service. The staff is very friendly and helpful.
---
Apr 26, 2023
Excellent care provided by Dr. Gepner and all staff members.
---
Apr 24, 2023
Always friendly staff and Dr. Gepner is a very patient and knowledgable doctor. I feel very comfortable with his assessment and oversight of my care.
---
Apr 13, 2023
Dr. Gepner, medical assistant Jessica, the office staff, Nancy, Patty and Becca always provide amazing patient service and care!
---
Apr 12, 2023
Always an excellent experience
---
Apr 10, 2023
Dr. Gepner and staff show me respect and appreciate my sense of humor is new with me on a personal level
---
Apr 10, 2023
Dr. Gepner is a thoughtful and kind provider, I feel very heard and seen by him.
---
Mar 28, 2023
My exam went very good. No other comment. Thank you
---
Mar 23, 2023
Dr Gepner and his staff are always friendly and attentive. Favorite GP I've ever had.
---
Mar 21, 2023
An awesome Dr that explains everything.
---
Mar 15, 2023
Clear and concise conversation about my health! All questions answered!Very personable doctor!
---
Mar 14, 2023
Dr Gepner is an awesome doctor. He listens, evaluates and states his opinion in a very easy way to understand
---
Mar 10, 2023
My needs were fully met. Everyone I encountered in the clinic was pleasant and helpful. The only complaint that I have is with how the lab work was handled. Being forced to make an appointment is frustrating and wasteful of my time.
---
Mar 8, 2023
Always the best experiences!!
---
Mar 6, 2023
My MA was great as was Dr Gepner
---
Mar 2, 2023
Dr. Gepner and his staff are responsible for my recovery from extreme hypertension and an iliac aneurism (though the vascular surgeon helped :-). Their professionalism, kindness, courtesy, positive feedback, and genuine interest in my health encourage me to do my part to stay healthy. I would recommend him to anyone. Just recently I was hoping to see him right away, but I know he is very busy and under high demand. I signed up on line for the soonest voice/remote visit available and then called his office. They found a spot for me on the calendar and fit me in right away. I very much appreciate how hard they work for me. Even with short notice the staff was prepared and anticipated my visit. Dr. Gepner was prepared, familiar with my history, and very attentive. I felt like I'd been coming to see him weekly. He was interested in what I had to share with him and asked the proper probing questions to cover areas I hadn't thought about. I'm in very good hands.
---
Mar 1, 2023
The office was very orderly and provided materials to give the office
---
Feb 27, 2023
The Provider was very caring and very thorough as well as helpful and courteous.
---
Feb 22, 2023
Dr Gepner is always attentive and a very good listener. He responds to all my questions and concerns. I hope he never leaves this office.
---
Feb 22, 2023
Dr. Gepner provided exceptional care. He listened carefully and provided thorough, easy to understand information.
---
Jan 25, 2023
This was a physical. I brought up an issue I had and was told that would need to b addressed in a separate appointment. And my last dr at your facility always did prostate exams, my current dr does not. What is the standard for men [age removed]? Seems like a physical these days is just an interview.
---
Jan 24, 2023
Dr. Gepner is a smart doctor who cares about his patients; that makes it a positive experience.
---
Jan 16, 2023
Dr. Gepner & his team are great - engaged, congenial, knowledgeable. But the non-centralized care delivery system is clumsy & inefficient. It will take months to coordinate additional visits & this is partly left up to me to complete. Would be better to have an on-site tx coordination to manage this.
---
Jan 12, 2023
Dr. Gepner was delightful. He was professional, caring, informative. I definitely appreciate the time and effort he provided.
---
Jan 12, 2023
Great team, empathic, interested, informed, engaged in delivering the best care. I was very impressed. Thanks to dr. Gepner and his support staff.
---
Jan 9, 2023
Dr. Gepner is extremely professional, knowledgeable and committed to providing bench mark level health care. Excellent Physician!!
---
Jan 3, 2023
Just great health care!
---
Dec 30, 2022
Dr Gepner is great.
---
Dec 21, 2022
Dr. quickly diagnosed an ulcer and prescribed the needed medications and lab tests. After approx. 10 days my symptoms abated.
---
Dec 21, 2022
Dr Joshua Gepner knows how & when to encourage and promote healthy life styles - and is himself an example of those correct choices.
---
Dec 21, 2022
Dr Gepner is a very good listener and he explained through things so well. I appreciate his calmness and I always feel better after seeing him. He's a wonderful doctor and I'm lucky to have him.
---
Dec 16, 2022
Dr. is a friendly caring person. Office is very accessible for me to get to.
---
Dec 16, 2022
Dr. Gepner is a very friendly, kind, and conscientious physician! I am most pleased that he's guiding my healthcare.
---
Dec 16, 2022
I feel extremely fortunate to have this entire team on my side, thank you!
---
Dec 15, 2022
Dr. Gepner is quite personable as well as competent. He took the time to listen to my concerns and identified a forward path for needed treatment.
---
Dec 15, 2022
I was left in the examine room and told that someone would come to give me a shot..I waited 10 in and no one came. I finally went to the door and myFinal report was stuck in the door and no one was around..They forgot about me! I went and found someone and they told me to get y shot at thePharmacy and I was free to go.
---
Dec 8, 2022
Did not ask about my back pain.
---
Dec 8, 2022
Dr Gepner is outstanding - competent, and.compassionate
---
Dec 2, 2022
Jessica and doctor Gepner asked clear questions, listened to my responses, and gave me options. Another five minutes would have been nice, and I would have preferred an appointment a few days earlier, but we all know times are tough in the medical field. When I was there I felt like the entire time I had was well and truly mine.
---
Nov 28, 2022
Attentive and helpful.
---
Nov 23, 2022
Dr. Gepner always listens to me and spends quality time to address the problem and offers solutions. Much appreciated!!!!
---
Nov 17, 2022
Excellent visit.
---
Nov 17, 2022
Outstanding physician. Best I have ever seen.
---
Nov 15, 2022
Dr Gepner is great!!
---
Nov 11, 2022
I am SO lucky that Dr. Gepner was accepting patients when I was looking for a dr. He is great! My husband has changed to him and I recommended him to my friend.
---
Nov 10, 2022
Terrific experience with Dr. Gepner. He was thorough and listened to all of my concerns. He also looked very professional In his tie. :-)
---
Nov 9, 2022
Doctor Gepner very pleasant and attentive as always.
---
Nov 9, 2022
All visits have been excellent! Dr Gepner is the best!
---
Nov 8, 2022
Very good experience, as usual.
---
Oct 27, 2022
Good experience
---
Oct 21, 2022
Dr Gepner "heard" what I say. He has never made me feel unheard or passed over. He has helped talk me through my health issues.
---
Oct 20, 2022
He went over and above the norm to provide care and answers. Gave me referrals and written instructions.
---
Oct 13, 2022
Dr always is focused on alcohol as the cause of every ailment
---
Oct 10, 2022
Dr. Gepner is getting to know me, that is different than previous 4 doctors in 3 years
---
Oct 5, 2022
Dr. Gepner is a doctor to model after!
---
Oct 4, 2022
Dr. Gepner is friendly, kind, and an active listener. He is thorough and thoughtful.
---
Oct 3, 2022
Very good - pleasant & interested always, listens well, advises thoughtful.
---
Oct 3, 2022
Dr Gepner was informal and expressed interest in my current health state both physical and mental. I was impressed by his professionalism and informal and friendly style.
---
Oct 3, 2022
Dr. Gepner is a good listener and is helpful in addressing my health issues
---
Oct 3, 2022
Dr. Gepner always gives us (my wife and me) ample time to discuss and advise. The staff is always efficient and pleasant.
---
Sep 30, 2022
Went in for my annual physical exam. I did not feel the exam was as thorough as previous drs. exams were.
---
Sep 28, 2022
I always have a very informative and effective discussion with Dr. Gepner about my health. I feel like he is invested in my well being and supplies excellent suggestions in facing what ever issues I'm dealing with.
---
Sep 28, 2022
It was an emergency and everyone was fantastic and so helpful. So much appreciated the care and concern showed! Thank you
---
Sep 23, 2022
Dr, Gepner is easy to talk to and gives clear answers to my questions
---
Sep 15, 2022
No big deal..i needed 2 discuss and get a refill of my metformin but we both forgot.
---
Sep 13, 2022
Dr Gepner is a compassionate and skilled provider whi always takes the time to listen to your questions and concerns.
---
Sep 13, 2022
Excellent information provided in a caring and helpful manner.
---
Sep 12, 2022
You have taken out the opportunity to get your blood work done after you annual physical in the office lab. It is now very inconvenient to get time off from work again to get this done at another day and time - in another location. That was one of the primary things I appreciated about this office.
---
Sep 9, 2022
The Lake Oswego Laboratory needs to be reopened!!!
---
Sep 8, 2022
Dr. Gepner is the best listener of any primary care physician I've ever had.
---
Sep 2, 2022
Great experience!!!
---
Aug 29, 2022
This office is always friendly and provides consistent care.
---
Aug 25, 2022
Great visiting Dr. Gepner and staff. I could not ask for better care team.
---
Aug 23, 2022
He is a really good Dr.
---
Aug 19, 2022
It's always nice going into his office - staff are kind and efficient AND professional.
---
Aug 18, 2022
Not only would I recommend this provider I have.
---
Aug 16, 2022
Dr. Gepner and the staff at Legacy Lake Oswego always provide amazing patient care!
---
Aug 15, 2022
Visits are always pleasant and productive.
---
Aug 3, 2022
Wonderful doctor, the Ideal family practice provider!
---
Aug 1, 2022
Dr. Gepner and his staff are ALWAYS polite, friendly, attentive, compassionate, well-informed and knowledgeable about my medical issues.
---
Jul 28, 2022
I have referred several friends and family to Dr Gepner. They all thank me
---
Jul 25, 2022
Dr Gepner is very nice, makes me feel very comfortable and is an excellent listener. He's easy to talk to.
---
Jul 25, 2022
Only thing that I thought is very inconvenient is that they cannot take the blood sample at the office. I need to schedule a separate appointment after the fact to get the blood draw, which is super inconvenient for anyone that has a job where they need to be onsite. It is hard enough to schedule a physical, and then to have to take EXTRA time out of an already busy schedule to find a time to do a blood draw is really American healthcare at its worst.
---
Jul 21, 2022
The doctor and the staff are excellent and all are very thorough and curteous.
---
Jul 19, 2022
The lab has been closed due to covid, but they were able to draw blood since I had fasted and then send the samples to be tested. So they made the extra effort to accommodate me.
---
Jul 13, 2022
Dr. Gepner was attentive, responsive, respectful and kind. He listened and explained options clearly and completely.
---
Jul 11, 2022
Excellent service as always.
---
Jul 8, 2022
I was very satisfied with my doctor's attention to my issues & his recommendation forTreatment for my back injury .
---
Jul 7, 2022
I had trouble getting the ride service driver to find my location. The driver was driving around looking for me about 2 blocks away & wasn't answering his phone. My new phone does not let me add apps like Lyft or Uber. Dr.'s Office kindly helped me get a ride to my appointment. But I was late for appointment. I had wanted to get a booster of the Moderna vaccine & also some blood work. I need to schedule another appointment to get this done. And try to get help with my phone or start trying to get a ride hours before my appointment. I think the GPS doesn't work well around here. I can't ever get home from Safeway using my phone app as the GPS identifies me as at my home address 1 mile away and going to my home 1 mile away. I have never had a problem getting my home to anywhere but I haven't been using Lyft or Uber during the Corona virus. A friend brought me to Walmart to get my first vaccines. I need to contact these ride services and make sure they still have my correct information.
---
Jun 30, 2022
Josh is the most kind caring doctor I've ever had! He is amazing.
---
Jun 29, 2022
Dr Gepner provided such well targeted conversation and care in this visit. Just saying and hearing positive verbiage has allowed me a positive healthy response. He was kind, interested in what I was describing and allowed me to choose from options concerning my care. I felt very well cared for and the office and medical staff are engaging and helpful. Thank you all.
---
Jun 20, 2022
Good listener and communicated in terms I could understand. Took his time and never felt like he was rushing to get visit done
---
Jun 10, 2022
Have recommended Dr. Gepner & his practice to friends & family.
---
Jun 7, 2022
I've had very good experiences.
---
Jun 6, 2022
Dr. Gepner is a great GP and I feel fortunate to be under his care