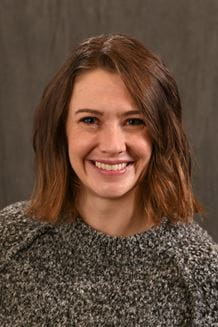 Call to Schedule
Lindsay Dye, PA-C
My Specialties:
Family Medicine, Board-certified
My Areas of Focus:
Preventive Medicine
Where I see patients
Where I see patients
503-366-3014
Monday-Friday, 6:45 a.m.-6 p.m.
Education:
Master of Medical Science in Physician Assistant Studies: Pacific University
Year I Started Practice: 2022
Hospitals Served: Legacy Emanuel Medical Center
Patient Rating
Legacy wants every patient to have great care, every time. To help measure and improve patient satisfaction, we send surveys to randomly selected patients after their appointments. We use this feedback from the surveys to improve and enhance the care we offer. Learn more about our surveys & ratings
Average Rating: 4.9 out of 5.0
---
Nov 14, 2023
First visit with dr dye. Very nice and listened. Just some confusion with meds not called into the pharmacy. Had problems withMy Health.
---
Nov 13, 2023
Really liked the staff
---
Nov 10, 2023
This was the first time I saw this provider. I was very pleased with her. I look forward to continuing to see her for my health needs.
---
Nov 9, 2023
Lindsay always is attentive and makes sure to ask the right questions. She is a caring professional!!!!
---
Nov 6, 2023
Have never been to a medical office where I have felt so welcome.Thank you for the kind service.
---
Nov 2, 2023
Just good all around.
---
Oct 30, 2023
It was perfect.
---
Oct 27, 2023
Really good new provider!
---
Oct 24, 2023
Everyone I dealt with was wonderful. I was able to get my bone density scan immediately after Lindsay sent the order, same with the labs. I got everything taken care of in one visit which was very helpful.
---
Oct 10, 2023
Lindsay is attentive and engaging. Her knowledge and experience is apparent she presents information in a very understandable way without every talking down. It is a pleasure seeing Lindsay, she is a very substantial part of my overall health.
---
Oct 10, 2023
Literally, no waiting for check in or to be seen.
---
Oct 6, 2023
The entire staff was friendly, professionally, and informative. My blood draw was the easiest I ever had. Normally it's a challenge to find a vein, but she did it on the first try.
---
Oct 2, 2023
Lindsay Dye is top drawer in regards to professionalism, knowledge and courtesy.
---
Oct 2, 2023
Lindsay Dye is wonderful however her assistant was kind of hurt and even though I took in a list of all my concerns and what was important she would not look at the list part of the time I thought she was rushed maybe that was because she was too busy
---
Sep 28, 2023
From the Receptionist, Medical Assistant to the Dr., I was treated respectfully. Always feel heard. Dr. Dye is friendly, listens to my needs, and addresses my concerns.
---
Sep 25, 2023
This was my first visit with Dr. Dye. I enjoyed my appointment and felt she listened and took care of all my concerns and questions.
---
Sep 25, 2023
I really like Dye. She is a good listen, empathetic and wants to help.
---
Sep 21, 2023
I always have a positive experience at the clinic. I'm so glad I picked Lindsay Dye as my primary care provider.
---
Sep 12, 2023
Great experience! Caring & thorough care
---
Sep 1, 2023
I love my doctor, she always listens and is very helpful when I have concerns or needs. I appreciate her as a person and find it very easy to talk to her and she is not judge mental over any questions or issues I have.
---
Sep 1, 2023
Lindsay is the very best. She is so caring, concerned, and knowledgeable.
---
Aug 29, 2023
All experiences with Lindsay Dye and all Legacy personnel have been very good. I would not hesitate in recommending all I came in contact with during this visit and all visits I've had with Legacy.
---
Aug 28, 2023
Lindsay was very friendly and appeared genuinely interested and concerned about myself and my health. I feel very confident having her as my new primary care provider
---
Aug 25, 2023
The whole experience was fantastic I was impressed as a new patient to this clinic and provider awesome... Could not be more pleased nice job by every one I encounter even xray staff as well front desk personnel
---
Aug 15, 2023
All was good
---
Aug 10, 2023
Lindsay Dye is very good at her job, she listens and is determined to find the answers if she doesn't have them. She shows great compassion for her patients and in all the years I've had Legacy as my provider she has been the best practitioner I have had and hope she stays in our community for a long time.
---
Aug 8, 2023
Very informative, courteous and helpful. One of the best providers I have seen. Office personnel are always kind and helpful.
---
Aug 3, 2023
She was very attentive, and explained everything step by step. Very calming demeanor, which is very appreciated!
---
Jul 31, 2023
Lindsay was very courteous and listened with care. She was respectful and kind. All my questions and concerns were addressed completely. She is wonderful. Keep her here at St. Helens, please!!!
---
Jul 31, 2023
Very attentive during the visits, listening to what I'm saying and not just rushing through the appointment on autopilot following a textbook checklist. Asks to hear more detail and makes sure I'm okay with the suggestions and recommendations made. Never pushes services, exams, or medications. Always gives options, alternatives, and professional opinion.
---
Jul 13, 2023
Lindsay is amazing. She always listens to my concerns and she never makes me feel rushed. She's thorough is her assessments, questions, and in communicating her professional opinion, recommendations, and follow-up. I appreciate her care and kindness very much.
---
Jul 11, 2023
I find Dr. Dye very easy to to talk to, and very informative.
---
Jul 6, 2023
I want to say that I really felt heard by Lindsay Dye. She listened to my concerns and is helping me with a solutionwill definitely return to visit her in the future.
---
Jun 27, 2023
Was a good visit, my provider always listens to me.
---
Jun 26, 2023
I really feel comfortable with Lindsay Dye.
---
Jun 22, 2023
Very open and laid back. Perfect.
---
Jun 6, 2023
Very good experience
---
Jun 6, 2023
I was truly impressed by the care and understanding of all people I encountered upon my recent visit. From the front desk, upon check in, to my exit, I was treated with the utmost respect and care. This is the best health facility I have ever been to.
---
Jun 2, 2023
Lindsay Dye was so compassionate and helpful during my visit. I know she cared for me personally and I didn't feel like just another patient. Cannot say enough good things about her!
---
Jun 1, 2023
I am so glad that I have found a provider whom really listens to me.
---
May 25, 2023
Dr Dye gave me options and clear advice on every "concern" I had and never made me feel like I was exaggerating my concerns
---
May 18, 2023
I know a PA is suppose to (almost) be equal to a doctor but I have had better care from a real doctor.
---
May 16, 2023
Very kind Knowledgeable and personable
---
May 12, 2023
Was able to get lab work done right away after appointment. Only bad experience might be if I get a big bill sent to me. Going to the doctor is always a mystery on what it will cost.
---
May 11, 2023
Could easily talk to everyone
---
May 4, 2023
Dr. Dye is always upbeat, very friendly and always answers any and all concerns if she don't have answers she researches it and gets back to me. Love her care and concern.
---
May 4, 2023
Great first time visit. Lindsay was very professional and really listened to my concerns.
---
May 2, 2023
Lindsay was very respectful and competent. She answered all my questions and made me feel like I was very important to her as a client.
---
May 1, 2023
Very thorough, didn't feel rushed. I'm glad I made the switch to this clinic and I'm really happy with this provider.
---
Apr 27, 2023
She was very knowledgeable and I can now movw around today better than yesterday.
---
Apr 24, 2023
The provider was lovely and kind! Great with kids.
---
Apr 24, 2023
I appreciate that Lindsay takes the time to get to know me, not just my medical concerns.
---
Apr 21, 2023
I love Lindsay. My Drs have come and gone at this St Helens location. Lindsey gave me good care. And, I hope she sticks around. I like having a a young,smart provider.
---
Apr 14, 2023
I absolutely love Dr. Dye, she is always very understanding and attentive to what my issues im coming in for. Always very good at responding to my messages which cannot be said for my partners doctor at the same location. I just really appreciate the care her and her team give me when I come in.
---
Apr 13, 2023
They were all very friendly.
---
Apr 13, 2023
Primary care dr left office during pandemic. Took months to replace.
---
Apr 6, 2023
I just started with Lindsay and appreciate all her help and knowledge about my health history. I look forward to working with her in the future.
---
Apr 4, 2023
This was a first time visit, and I liked her. I will return.
---
Mar 24, 2023
It was efficient, but all the time I needed. We discussed everything I needed to. I feel she's genuinely interested in helping me in the way I want to go.
---
Mar 21, 2023
Very good experience. Excellent pa.
---
Mar 20, 2023
Dr Lindsay is amazing. She listens to me and makes sure I understand her answers and then asks I have any other questions about anything we had talked about. She is very caring and a wonderful doctor. I thought my last doctor was amazing but when she changed clinics and I had to find someone else I was lucky to have chosen Dr Lindsay. She is now the best doctor I've ever seen and I hope she stays at this clinic for as long as I need a doctor!
---
Mar 20, 2023
The nurse was arrogant and short with me. A know it all but really didn't.
---
Mar 17, 2023
My doctor is very attentive to my needs.
---
Mar 17, 2023
This was the most wonderful experience meeting Lindsay for the first time. Really wonderful healthcare provider.
---
Mar 7, 2023
I have had no bad.
---
Mar 7, 2023
So pleased that I found Lindsay and that she now will be my primary care doctor I really am pleased with how things went yesterday. She gets an A+ !!!
---
Feb 28, 2023
I was treated very well by the receptionists to the doctor. I felt comfortable and respected.
---
Feb 27, 2023
She was a great person,a new for me.she will be great new dr.for me..
---
Feb 27, 2023
Dr. Dye is professional, explanatory, courteous, and respectful. She listened, and checked on me, and answered my questions. Unfortunately, I was only booked for a short (20 min) visit, because I also have multiple test results I need to go over, but this appointment was for a specific worsening of a chronic condition, and didn't allow for me to get everything done (which was explained by office staff at the time I made the appointment, so I did not even ask about tests results, and have a different appointment booked for that in several week's time). I was able to get immediate relief, and a referral to dermatology for longer term treatment. I appreciate that I was able to be seen.
---
Feb 21, 2023
I don't like to recommend any doctor to friends or family.
---
Feb 17, 2023
I WAS THE LAST PATIENT OF THE DAY AND SHE SPENT AS MUCH TIME AS I NEEDED TO UNDERSTAND MY ISSUES.
---
Feb 7, 2023
Lindsay is great and I really appreciate her
---
Feb 3, 2023
Time was set for 20 minutes which seemed a little short. 30 minutes would have been more realistic!
---
Jan 26, 2023
Provider was very friendly and had a kind and caring manner. I am not happy with the policy that only allows time to address one issue.
---
Jan 26, 2023
Lindsay and Jennifer were the very best and the best visit I have ever had at Legacy
---
Jan 24, 2023
We have nothing but great experiences with Lindsay Dye, PA-C. She is the most compassionate provider we have ever encountered. She is always looking out for our best interest and general welfare, extremely attentive, respectful, professional, full of care and comfort and does it with great ease. She is very easy to speak to and trustworthy. She is quick to help and lends her time and ear without ever making us feel rushed or judged. When leaving the office after the visit, we feel satisfied and confident we are getting the help we need. Thank you Legacy for hiring top notch providers. You definitely scored with Lindsay Dye. She truly is an asset to the Legacy family.
---
Jan 24, 2023
Thank you for the excellent service!
---
Jan 19, 2023
This experience was very good and the provider was very helpful and provided good information.
---
Jan 17, 2023
Even though I have not had my annual checkup to establish Lindsay Dye as my PC I have had the pleasure of seeing her 2 times and I am very happy with her as my Dr.
---
Jan 13, 2023
Very good understandable and professional
---
Jan 6, 2023
Lindsay was very thorough. She took the time to listen and ordered needed tests.
---
Jan 3, 2023
This was my first visit w/Lindsay Dye, so it was just to get a script for meds & discuss a new diagnosis by an endocrinologist.
---
Dec 29, 2022
I always get a really good PA and they are so good, they move on! Then I have to start the process over again. Hopefully Dye will stay with Legacy.
---
Dec 29, 2022
Like this provider. Knowledgeable and respectful. She listened to my concerns.
---
Dec 22, 2022
Very happy with the services of everyone in the office.
---
Dec 22, 2022
Excellent care