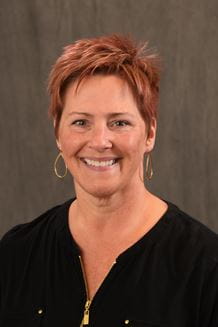 Call to Schedule
Lisa Jones, PA-C
My Specialties:
Family Medicine, Board-certified
Where I see patients
Where I see patients
503-366-3014
Monday-Friday, 6:45 a.m.-6 p.m.
Hospitals Served: Legacy Emanuel Medical Center
Patient Rating
Legacy wants every patient to have great care, every time. To help measure and improve patient satisfaction, we send surveys to randomly selected patients after their appointments. We use this feedback from the surveys to improve and enhance the care we offer. Learn more about our surveys & ratings
Average Rating: 4.9 out of 5.0
---
Aug 28, 2023
Not being notified of the loss of my regular doctor!
---
Aug 28, 2023
God bless Lisa
---
Aug 22, 2023
Lisa Jones takes very good care of me. When I was young I had a bad experience with a care provider. This caused me to avoid doctors for many years. I didn't see a doctor until I fell and broke my hip. That was Lisa, I was very happy with her and have continued to be so.
---
Aug 21, 2023
Staff friendly, listened and were all so very nice. Lisa is the best person to actually listen and act on my needs. Love this entire staff. I have never meet a rude person there , maybe will someday but not yet.
---
Aug 11, 2023
Everyone is always very helpful, respectful, knowledgeable, friendly and I get the feeling that they truly care about making sure that they are satisfying what I need.
---
Aug 11, 2023
Lisa is friendly and listens intently and is concerned for my health which is why I trust her.
---
Aug 4, 2023
Lisa has been such a blessing to me . So much information is covered in one appointment. I always come away feeling stronger and encouraged. She has a delightful unique sense of humor that makes each visit comfortable. Can't wait to get sick again !!
---
Jul 21, 2023
Everything was good. The only problem is just like all medical providers it takes months to get an appointment.
---
Jul 21, 2023
Thanks to all at Legacy St. Helens, I had a great visit.
---
Jun 16, 2023
Lisa Jones is wonderful. She took the time needed to address all my concerns, listened thoughtfully to me and answered my questions. She is thorough and very professional.
---
Jun 13, 2023
Lisa Jones and her team have aways been extremely kind and helpful.
---
Jun 12, 2023
She listened to my concerns and followed through with a referral for it. She is always kind, thorough and helpful. When I say I don't want a particular injection or other treatment at this time or in the near future she listens to my reasons and doesn't force me to have something I don't want or need.
---
Jun 5, 2023
Annual check-up and it was thoroughly covered. I left completed satisfied.
---
May 24, 2023
Phyisan Assistant Lisa Jones is amazing. Was ready for my appointment, knew "me" . The only this with the checking staff was that re-asked all the same questions I had already filled out before my appointment. Why pre-check-in? Other wise this is a "10" across the board.
---
May 23, 2023
Lisa is a very kind provider. She understands all my needs and is knowledgable about my current and future care. Shes great!
---
May 22, 2023
Never had a bad experience. Very Comfortable with provider.
---
May 9, 2023
Lisa was attentive, warm and welcoming. She discussed my health completely. She's great!!
---
May 8, 2023
Always have great visits
---
May 2, 2023
My provider is wonderful, I have had her for many years. I prefer this provider over all. She is attentive respectful easy to talk to about anything,even the most embarrassing problems. She spends as much time with me that I need. I never feel rushed. I hope she is my provider as long as I am here. I thank her for for being the way I wish all providers should !
---
May 2, 2023
Nurse came in to swap my throat. I couldn't help it I coughed at her twice. I don't mean to throat was sore. I am so sorry
---
May 1, 2023
Communication after on MyHealth (rather than e-mail or telephone).
---
May 1, 2023
Unable to get an appointment in a timely manner. I got this appointment quickly due to an ER visit. Test results ordered from PA were not shared with me. I read them on line.
---
Apr 19, 2023
Everything has been fine
---
Apr 18, 2023
Lisa Jones is the BEST provider I have EVER seen!
---
Apr 18, 2023
Keep up the good work.
---
Apr 17, 2023
She listens!!!
---
Apr 3, 2023
Lisa Jones is the only provider I will see she listens to me and any concerns I have about issues and she expresses her concerns as well she is not in a rush to get done with me and is very focused on me and any concerns I have she is the best I have ever had as a provider hands down
---
Apr 3, 2023
Everyone was very professional. From checking in, to the nurse to the doctor. I have no complaints.
---
Mar 29, 2023
Office is welcoming and a good experience.
---
Mar 29, 2023
Lisa jones is always there for me.
---
Mar 1, 2023
Lisa Jones is very thorough and takes time with you. You receive a written report of your visit. Any lab work, tests, etc - you receive results via "MyHealth" very quickly.
---
Feb 7, 2023
Always treated with respect.
---
Feb 6, 2023
I have nothing negative to say about my visit.My provider has always been easy to talk to and I have no problems with her explanations or instructions.
---
Feb 1, 2023
This was a yearly "check up" appointment.
---
Jan 31, 2023
Lisa is an exceptional care provider. As a retired nurse I know the special type of person It takes to care for the variety of people you have to deal with In the medical profession . Lisa certainly demonstrates those skills.
---
Jan 31, 2023
Lisa jones is seriously one of the best providers my children have ever had. She is kind, and really listens to what we have to say. And is very personable. She knows who we are everytime we come into the office. Which makes us feel great when seeing her.
---
Jan 23, 2023
It was a good visit and felt comfortable talking about my health concerns with her.
---
Jan 18, 2023
She answered all my questions in a way I could understand. Very friendly, listened to what I say. I really like her.
---
Jan 13, 2023
Can't think of any bad experiences.
---
Jan 4, 2023
Love Lisa Jones
---
Jan 3, 2023
She is friendly ,knowledgeable and does a good job!
---
Dec 20, 2022
I have visited this provider at least annually for quite a few years. Every visit has been exactly as I have rated above. Lisa Jones is knowledgeable, compassionate, thorough - provide excellent medical & physical care. She is also amazingly rapid with MyHealth responses!
---
Dec 14, 2022
Love Dr Jones..she is great..listens and understands my concerns...
---
Dec 13, 2022
Good productive visit.
---
Dec 13, 2022
Everyone at Legacy in St Helens is courteous, helpful and informative. They go the extra mile to help me achieve my health goals.
---
Dec 7, 2022
Dr. Lisa always listens and asks deeper questions. She never makes me feel rushed or that she is too busy for me. She is thorough and seems honestly caring. I hope to keep her as my physician as long as I can with insurance changes. I love the way she goes over your visit to make sure you understand the care plan.
---
Dec 5, 2022
Lisa Jones is an excellent provider. Most desk schedulers and all medical assistants do their jobs well. Some front desk schedulers are overly zealous in their feeling of self importance as gatekeepers, treating patients as untrustworthy children rather than competent adults.
---
Dec 2, 2022
Dr Jones is Excellent- you are lucky to employ her. Thank you!
---
Nov 28, 2022
Lisa is an amazing health care provider , my family has been with her for years . I have never had a bad experience with her .
---
Nov 22, 2022
Caring staff and provider
---
Nov 21, 2022
I did not think this provider and nurse were very good with kids - interactions with my [age removed] or the care they gave to my [age removed]. The bedside manners with [name removed] were terrible and when giving shots there was no calming strategies, nice talking, or any kind of connection at all. The knowledge of infant care was lacking and I was told contradicting information for followup with feeding and muscle strength. Dr. Jones does good care for me as an adult, but I am not happy with the care of her and her nurse when it comes to my kids.
---
Nov 18, 2022
It was a good experience
---
Nov 9, 2022
Visit was overall fine. The issue I'm having is that the medicine I was prescribed for my daughter was unavailable at one pharmacy and I've needed them to fix it, so I can get what my daughter needs for her eyes right away, and I'm having a hell of a time getting it done. She's had to go another night with her eyes glued shut because no one would get back to me before 5pm and even sent me to a message machine right before 5 when I called again hoping to get some resolution before the office closed, and now we are well into the next day and the pharmacy is still waiting to hear back from the doctor's office.
---
Nov 7, 2022
I already recommended this provider to my neighbor across the street. She is trying to get a good doctor.
---
Oct 26, 2022
My visits to Legacy are always enjoyable as I am treated in a very kind and professional manner.I would especially like to mention Dr Jones assistant Darcy, who was so intelligent and detail oriented in gathering my information and giving me my booster shot. Thank you!
---
Oct 24, 2022
Lisa Jones is amazing. She ALWAYS takes the time to listen!
---
Oct 24, 2022
Lisa takes the time to listen and is great at communicating and very personable
---
Oct 21, 2022
The visits are always good .
---
Oct 19, 2022
Lisa Jones is very easy to talk to and understands when I talk about a problem.
---
Oct 18, 2022
Thorough and easy to understand
---
Oct 12, 2022
Always a great experience. 5 family members see her. Excellent! Best one we have ever had.
---
Oct 11, 2022
I like Lisa - She is a caring dr. Listens and cares your about needs just wish more dr.'s are like this.
---
Oct 11, 2022
I'm not really getting listened too. I know my body how I feel what will work but just keeps insisting to do the physical therapy and that won't work. It will not help my problem.
---
Oct 5, 2022
Mainly regular yearly visit to renew prescription went very well and Lisa Jones answered all my health concerns.
---
Oct 4, 2022
Fun, pleasant, knowledgeable describe Lisa Jones.