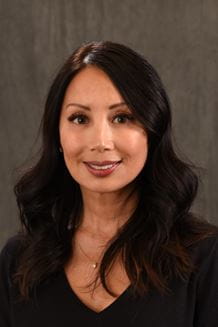 Call to Schedule
Lisa Madarang, MD
My Specialties:
Internal Medicine, Board-certified
Where I see patients
Where I see patients
503-415-4061
Monday-Friday, 8 a.m.-5 p.m.
Year I Started Practice: 2003
Hospitals Served: Legacy Good Samaritan Medical Center
Patient Rating
Legacy wants every patient to have great care, every time. To help measure and improve patient satisfaction, we send surveys to randomly selected patients after their appointments. We use this feedback from the surveys to improve and enhance the care we offer. Learn more about our surveys & ratings
Average Rating: 5.0 out of 5.0
---
Oct 13, 2023
Dr Madarang is a wonderful physician
---
Sep 27, 2023
This office takes good care of me. I'm sure they do the same with all their patients
---
Sep 22, 2023
Very good visit. She listened and was understanding. I had another doctor appointment with a gyno later that day which was very bad. I will have to talk to Dr. Madarang about that incident and get a referral to a different gyno.
---
Sep 20, 2023
Very nice and helpful to my needs
---
Sep 15, 2023
Dr. Madarang is a compassionate doctor who listens to me without making me feel judged or incompetent about my health care issues.
---
Sep 15, 2023
Physician and support outstanding!
---
Sep 12, 2023
An amazing physician. Always give time for conversation, questions and concerns. My husband now she's here because of my recommendation.
---
Sep 11, 2023
As always, I feel that I'm receiving excellent care from Dr Madarang and this office is a very professional and welcoming place.
---
Sep 11, 2023
Dr Madarang is excellent professional caring knowledgeable and kind she provides care to me as if I am a family member very caring. I enjoy her suggestions of alternative therapy instead of always RX prescription. She answers her emails all same day I know she cares and you can tell she enjoys her work. So proud to have her as my PCP
---
Sep 8, 2023
Dr. Madarang puts you at ease. She is engaging and makes a connection with you from the time she walks though the door until your visit is over. She is knowledgeable and listens carefully to what you tell her. She follows up and follows through with her suggested medical treatment.
---
Sep 8, 2023
Caring devoted, curtious, attentive respectfull. Provided the after visit report and walked me to the reception entry door.A heatring and positive expecierence.To my experience,a quality care by a PCP is half the wellness of a patient.He response to my non- medical questions is without delay,that provides urgent relief.
---
Sep 1, 2023
I was impressed with the team's efforts to get me a timely appointment. I felt like all my concerns were listened to and addressed. I am very happy with the care I received.
---
Aug 30, 2023
Everyone was very courteous and helpful
---
Aug 29, 2023
My provider ordered a mammogram appointment. Couldn't make the appointment through the link she had sent. Tried calling the imaging office number, numerous times, no answer. Ended up driving to the imaging office to make the appointment in person. Very displeased.
---
Aug 21, 2023
Dr. Madarang was fantastic, and was accommodating to my anxieties and listened intently.
---
Aug 16, 2023
They are all good
---
Aug 16, 2023
Dr. Madarang is an excellent Dr. I feel so lucky to have her as my internist.
---
Aug 15, 2023
Dr. Madarang seems collected and patient. She doesn't seem pressed for time although I'm sure she is.
---
Aug 15, 2023
I like Dr Madarang, I think she is a good doctor, and Is very knowledgeable about my health history. When I email her and ask a question, she gets back to me right away.
---
Aug 11, 2023
I wrote to Dr Madarang on My Chart, explaining pain I had. In less than 1/2 hour I received a call that Dr. Madarang could see me in 1 hour. Wow, I did not expect that. She spent a great deal of time with me, ordered an X-ray. She even called Mr personally to explain results of X-ray.
---
Aug 7, 2023
I had questions that I didn't have time to ask. Like info on mental health group, and something else I forgot to bring up.
---
Aug 2, 2023
I am thankful I found a wonderful Dr who cares and is really nice. Thank you.
---
Aug 1, 2023
Dr. Madarang is the best PCP I have ever had. She is skilled, kind, good listener and makes me know I have input into my care.
---
Jul 19, 2023
Excellent visit, very satisfied, looking forward to my next visit.
---
Jul 19, 2023
I love my Dr. She us very nice,helpful and friendly
---
Jul 18, 2023
My previous doctor retired a year ago and I was concerned about finding someone new, but she is a good listener and seems knowledgable about my health issues.
---
Jul 17, 2023
A very good and helpful doctor
---
Jun 20, 2023
I feel very fortunate to have Dr.Madarang as my primary care doctor at this stage of my life. I feel that I have a partner who really cares and listens and sees me' and most importantly is competent! She is patient and kind and explains carefully in a way that I can understand. I am grateful!
---
Jun 16, 2023
Great experience all around. Admitting staff friendly and informative. CNA friendly and professional. My MD, Dr. Madarang, was friendly and professional and put me at ease. She knew menice.
---
Jun 14, 2023
But I really don't want to recommend because then I might not get in, in timely manner.
---
Jun 14, 2023
Dr Madarang always listens to all of my concerns and answers all my questions. I feel my health has definitely improved since she's been my primary care physician.
---
Jun 13, 2023
She is an excellent doctor and promotes preventive health tips besides addressing health concerns.
---
Jun 12, 2023
Dr. Madarang has provided the finest in my healthcare. She is caring and very thorough. She is also always prepared for our appointments. She is a true asset to Legacy!!
---
Jun 7, 2023
I am grateful I found Dr. Madarang, she is respectful, caring and listens to my concerns. She is readily available.
---
Jun 5, 2023
Upped bp meds and that's what I needes
---
Jun 5, 2023
Very good Great team their
---
May 19, 2023
Very helpful
---
May 19, 2023
I always feel like I matter when I visit this clinic. Everyone is professional and friendly. They're a great group.
---
May 19, 2023
Dr. Madarang is probably the best Dr. I have ever had. She is kind, supportive and always listens carefully to my questions. I hope she never leaves.
---
May 17, 2023
Dr. Madarang is an excellent provider. She is timely, attentive, responsive, caring & professional. I am so pleased to have her as my PCP.
---
May 10, 2023
Dr. Madarang radiates positivity and professionalism. She has a very nice personality as well.
---
May 3, 2023
I'm still stunned at the exceptional care and compassion Dr Madarang showed me. I've got a lot going on and she was just perfect.
---
May 3, 2023
I appreciate the call accommodating my appointment visit with my PCP when available slot time occurred. I did not even have to follow up.
---
Apr 19, 2023
Dr. Madarang is the most compassionate physician I have ever had the pleasure of being treated by. She has been there when I needed someone.
---
Apr 19, 2023
This was my first visit with Dr. Elizabeth M. She was very welcoming and put me at ease. I look forward to her being my new Primary Doctor.
---
Apr 14, 2023
Tough to get in in a timely fashion.
---
Apr 12, 2023
One of the most competent & down to earth medical providers that I've come across in my life. Very fortunate to have her on my health team. The same can be said about the staff, everyone has always been so great and on top of things during my times there.
---
Apr 11, 2023
She is very caring and has reached out to me in messaging several times.
---
Apr 10, 2023
Appreciate the respect and care and Dr takes with me. Felt a little rushed at end on this appointment, but overall a good and comfortable experience again as a patient.
---
Apr 5, 2023
A very positive experience. She was knowledgeable, a good listener, patient with my conversation, encouraging etc. Etc. A very good clinician in my evaluation
---
Apr 4, 2023
Dr. Madarang was great. She is very thorough and conscientious. She takes her patients' healthcare seriously.
---
Mar 31, 2023
I really appreciated that Dr. Madarang knew my medical history.
---
Mar 24, 2023
Dr. Madarang listens very thoroughly, which I really appreciate in a healthcare provider. She never makes me feel like I don't know what I'm talking about when I talk about my health, like past doctors have. She's always very engaging and personable. I actually believe she cares about my health. She touches base on every medication and every past health concern on my visits. I like her so much, my husband now sees her too. And she remembers both of us!
---
Mar 21, 2023
Dr Madarang is friendly,open, and remembers me from previous visits, making me feel like I'm not just another patient but an important part of the experience
---
Mar 21, 2023
Dr Madarang is an excellent Physician!The staff is friendly & professional!
---
Mar 14, 2023
Overall great experience - changed providers after 20+ years as relocated to Oregon.
---
Mar 13, 2023
The receptionist/front desk person graciously searched for & provided a printed copy of info I requested. Dr. Madarang seems highly knowledgeable, is clear & concise, and responsive.
---
Mar 10, 2023
My doctor retired in 2022, and recommended Dr. Madarang. The visit was to establish a patient-doctor introduction. Questions asked and answered. Forms to be filled out/sent. I felt comfortable with Dr. Madarang and have scheduled a physical for later this year.
---
Mar 8, 2023
Great experience with Dr Madarang, as always. I had lots of questions that she answered carefully and with very helpful information.
---
Mar 7, 2023
Dr. Madarang is an excellent clinician. I trust her opinions implicitly. I recommend her highly!
---
Mar 1, 2023
Dr. Madarang is terrific. She listens carefully and is always engaged and proactive.
---
Feb 28, 2023
Dr Madarang always gives me great care. She knows me and my record and has always been very concerned about making me healthier.
---
Feb 27, 2023
It is good and excellent.
---
Feb 14, 2023
Dr. Madarang is always kind, respectful and knowledgeable of my health history. She is quick to respond via MyHealth whenever I have questions. When visiting in office she spends quality time - doesn't rush me.
---
Feb 13, 2023
I was trying to navagate by myself. I have mobility and vision problems. Everyone was rushing me.I didn't know ahead of time that I was to stop taking some supplement before the tests, so I didn't do it. I don't remember what test, etc
---
Feb 13, 2023
My primary care physician is friendly and I feel comfortable asking her any questions or sharing anything that has to do with my health.
---
Feb 8, 2023
Dr Madarang is amazing
---
Feb 7, 2023
I'm comfortable with and have positive experience with this provider.
---
Feb 1, 2023
Dr. Madarang was friendly, thorough, listened to my concerns and gave helpful suggestions. I was nervous starting with a new doctor after so long with Dr Barlow. I am happy he recommended her to me. I am confident I'm in excellent hands with Dr Madarang. Thank you!
---
Feb 1, 2023
All good. Really appreciate the amount of time provider spent with me
---
Jan 31, 2023
It was a good visit.
---
Jan 31, 2023
Dr. Madarang is always professional and highly competent, I feel fortunate to have her as my PCP
---
Jan 30, 2023
Dr Madarang is the best! I always feel like she genuinely care about my well-being. She's truly an asset to Legacy. I recommend he to my friends often. The office staff is really wonderful as well. It's such a blessing to feel valued and not like just a number. Great office!
---
Jan 27, 2023
The genuine caring attitude shown by the care team was exceptional and very much appreciated.
---
Jan 23, 2023
I got good experience related to my last visit.
---
Jan 23, 2023
Intelligent, knowledgeable, professional & excellent listener. I never feel rushed. She explains everything in easy to understand terms.
---
Jan 20, 2023
The doctor and staff were excellent.
---
Jan 20, 2023
I'm very pleased with my doctor.
---
Jan 16, 2023
She's wonderful, patient, and kind. I really like that she listens and tries to understand my concerns.
---
Jan 13, 2023
All good.. No complaints
---
Jan 10, 2023
Dr Madarang is the best!!
---
Jan 6, 2023
Dr. Madarang is the best doctor I've been to. She's warm, compassionate, listens & comes up with a plan. I've recommended her to everyone I know who is in need of a doctor. She's the best!
---
Jan 4, 2023
Prompt questions answered especially appreciated Dr. M. texting me after appt. to give additional information.
---
Jan 3, 2023
Too long to wait for future appointments.
---
Jan 3, 2023
I am very pleased with Dr. Elizabeth Madarang, She proves to be Excellent!
---
Jan 3, 2023
Attentive, addressed all questions, worked with me to create a plan to address blood pressure and heart murmur check up.
---
Dec 20, 2022
I only see her rarely yet she treats me as if she's known me forever, very wonderful!
---
Dec 19, 2022
Listens to what I say and follows through as a result of the visit.
---
Dec 14, 2022
Doctor forgets to change med doses w pharmacy- 2 x at least
---
Dec 14, 2022
When I arrived, I did not realize that I was 12 minutes late. I had confused my appointment with an appointment scheduled for the next day. I had filled out all paperwork online and did a pre-check in the previous day. The receptionist instead of getting right down to checking me in she spent time commenting that I was late making me feel horrible. In general, our conversation circled around that I was late and I was trying to figure out how I could be late and felt horrible as I had been sitting in the car and could've walked in on time. I was waiting for the quote. 15 minutes prior to my appointment time. Because I didn't want to sit in the waiting room due to high risk of Covid and I recently just got over RSV and bronchitis. Receptionist also didn't explain the paperwork in a very positive light, she made me feel like my Medicare policy possibly would not cover the cost of this visit, when I specifically signed up for an appointment that was covered by my policy. She indicated that I possibly might have out-of-pocket expenses, especially if I discussed anything beyond height check, check, weight check, and discussion of the mental wellness questionnaire that I filled out online. At that point I wasn't sure I wanted to even go back and see the doctor. And started to shut down.
---
Dec 12, 2022
Great "bedside " manner. Takes time to listen and answer all concerns in a caring and positive manner