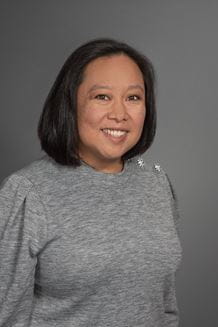 Call to Schedule
Mary Frances Therese L Lowdermilk, MD
My Specialties:
Family Medicine
Where I see patients
Where I see patients
503-692-2388
Monday-Friday, 8 a.m.-5 p.m.
About Me:
Mary Frances Therese L. Lowdermilk, MD is a board certified Family Medicine Physician. Dr. Lowdermilk received her medical degree from the University of the East Ramon Magsaysay Medical Center in the Philippines. She completed her internship and residency through the Alaska Family Medicine Residency Program in Anchorage, AK. She enjoys treating patients of all ages and works closely with her patients to fulfill their health and wellness goals together. Hobbies include: photography, traveling and learning new crafts.
Training: Family Medicine Residency Alaska Family Medicine Residency Anchorage, AK
Year I Started Practice: 2010
Hospitals Served: Legacy Meridian Park Medical Center
Patient Rating
Legacy wants every patient to have great care, every time. To help measure and improve patient satisfaction, we send surveys to randomly selected patients after their appointments. We use this feedback from the surveys to improve and enhance the care we offer. Learn more about our surveys & ratings
Average Rating: 4.9 out of 5.0
---
Aug 30, 2023
It was so great to have a doctor know about my health situation specifically and listen to my concerns about side effects of certain medications, providing referrals to specialists, etc.
---
Aug 21, 2023
Had good experience
---
Aug 9, 2023
Dr. Lowdermilk is very kind & listened to questions I had from appointments with another doctor at a different location. She explained many things very clearly & greatly put my mind at ease.
---
Aug 7, 2023
Excellent care!
---
Aug 7, 2023
They always treat me with respect and like my needs are important to them they listen to what I have to say and always talk in terms that I understand and if I don't they're more than willing to explain it so that I do understand my doctor is very caring and it's great would recommend her to anyone
---
Aug 3, 2023
All was very special
---
Aug 2, 2023
Long wait for blood work to be done.
---
Aug 2, 2023
Dr. reviewed the medication I was using at my last visit and was extremely interested in anything that might improve my anaphylactic situation with medication. She double checked everything that I was using in my clinicals check up.
---
Jul 31, 2023
Dr. Lowdermilk was thorough and professional.
---
Jul 26, 2023
Dr. Lowdermilk explained all I needed to look for in regards to my recent fall and to come in if I have anymore concerns. I appreciate her!
---
Jul 17, 2023
Everyone wore a smile and acted as if my time were valuable. It was an altogether pleasant appointment.
---
Jul 17, 2023
Excellent and informative discussion with the health questions/issues that I brought up.
---
Jul 17, 2023
Clinic is short on doctors. Mine seems overworked. I had to wait more than an hour in exam room waiting for Dr. She was with other patients. My visit felt rushed as I had an Uber coming and didn't expect the wait
---
Jul 3, 2023
I never feel rushed with Dr. Lowdermilk. She listens carefully.
---
Jun 26, 2023
This doctor is amazing. She is professional, smart, but she also is kind and respectful of my concerns. She is one of the best doctors I have ever seeing. I haven't had a bad experience at this location. Everyone seems to be courteous, professional and helpful. Thank you for having amazing employees that show compassion towards our needs.
---
Jun 21, 2023
I always receive courteous and professional service with everyone's in my provider's care.
---
Jun 21, 2023
My experience was very good
---
Jun 21, 2023
I have seen this provider two times in the last year. More impressed this visit with her care
---
Jun 19, 2023
Excellent care!
---
Jun 19, 2023
I am extremely happy with the doctor and the staff. They were professional as well as friendly.
---
Jun 7, 2023
It was a good visit Dr. Lowdermilk spent time with me listen to what I had to say and gave me information that I needed. I was very pleased with the office visit
---
May 25, 2023
We have never shook hands, visits are always less than 5 minutes, I have never had the soles of my feet tested since under her care, especially since we are concerned about diabetes. Friendly and comfortable to be with.
---
May 24, 2023
Went smooth and worked out medication needs.
---
May 24, 2023
Explained clearly my options regarding my medication concerns.
---
May 10, 2023
Excellent listening and care conversation and follow up after blood tests taken after appt.
---
Apr 26, 2023
The only reason I seek any medical care from Legacy Health is the fact I like Dr. Lowdermilk. Legacy is a shell of what it used to be.
---
Apr 10, 2023
Always helpful, listening well to all concerne & when they can't help they referendum to someone who could.
---
Apr 3, 2023
My experience was wonderful! Small amount of waiting time, but staff doctor even other patients waiting. Everyone seemed very pleasant!
---
Mar 29, 2023
Dr. Lowdermilk is a wonderful doctor. She is easy to talk with. She is very knowledgeable and kind.
---
Mar 23, 2023
Very professional & courteous.
---
Mar 22, 2023
When I was asked to take my shoes off for height measurement I asked do I have to?! She said yes. There was no chair to sit down to do this. So I had to bend down. She didn't offer to hold the tablet with papers while I did this. So I handed it to her. I then had to walk with my socks on holding my shoes to waiting room. Later in the day I developed a back ache from bending down. I am tall so it was awkward bending down. I don't see it being necessary to take shoes off. If so have a chair at this area. I won't be taking my shoes off again at next annual wellness appointment.
---
Mar 22, 2023
It was a good visit, and got a lot accomplished. Dr. Lowdermilk is an exceptional doctor! She is always making sure all my needs are met. I am very glad to have her as my primary Dr.
---
Mar 8, 2023
Dr. Lowdermilk listens to me and about my concerns and about my physical aches & pains. She is very informative & gives me satisfactory answers. She has been very patient & kind to me.
---
Mar 8, 2023
I have always been pleased with the doctor's and receptionist -
---
Mar 6, 2023
My appointment was at 3 pm and the provider came into the exam room at 3:40pm, so the wait was pretty long. I do understand things happened, but that was quite a long wait. The provider did apologize for the inconvenience.
---
Mar 1, 2023
Not so much my visit it would behoove you, doctors to fill, refill all year long presriptions for med for 90 days instead of 30 it's a real hassle to refill thyroid meds cause ain't got none (thyroid) to refill each friggen month.
---
Mar 1, 2023
She was informed, compassionate, & receptive.
---
Feb 27, 2023
I feel very comfortable talking yo Dr. Lowdermilk. I love how she makes me feel at ease. She answers my questions and looks to the future in my care. I really appreciate that approach.
---
Feb 27, 2023
Everyone treated with courtesy, respect, politeness, and professionalism. This was just another positive medical experience provided by the Legacy Clinic staff!
---
Feb 22, 2023
Lab staff hard to understand
---
Feb 20, 2023
Dr. Lowdermilk has good bedside manner.She explains things in a layman's language.
---
Feb 16, 2023
My doctor listens to me and we discuss exactly what we want to accomplish at the appointment
---
Feb 16, 2023
Dr. Lowdermilk is awesome. She takes time to listen to my concerns and helps me navigate my health and well-being issues.
---
Feb 16, 2023
A very professional visit all questions answered at the time good good relationship with Dr Lowdermilk
---
Feb 15, 2023
Love the staff and Dr. Lowdermilk. Attentive, patient and have a warm personality. She is in tune with my issues
---
Feb 9, 2023
Very attentive, caring, kind.
---
Feb 6, 2023
Although I've seen Dr Lowdermilk 2 times she is makes you feel very comfortable asking question. I've already recommended her to 2 people I know.
---
Jan 19, 2023
Everything went well with my appointment.
---
Jan 19, 2023
Annual checkup Fun visit, focused on good health..Dr Lowdermilk asked me to have blood draw to check for cholesterol level, kidneys etc.
---
Jan 12, 2023
I like my doc.
---
Jan 11, 2023
Dr Loudermilk is very through and anxious to help! I felt that she took the necessary time and was very professional!
---
Jan 11, 2023
My first visit with her. She was respectful, concerned with questions asked and helpful.
---
Jan 9, 2023
Dr Lowdermilk is a very good doctor, she cares about her patients and how they are doing.
---
Jan 9, 2023
Dr. Lowdermilk is a REAL DR.! I feel she is very up to date in her medical knowledge. Very easy to talk to. A KEEPER.
---
Jan 5, 2023
She was VERY patient and answered MOST of my questions, but there were questions noted by the nurse that I simply forgot about until after the appointment. No big deal, just noted.
---
Jan 4, 2023
Only problem I had is it takes so long to get an appointment. My visit was cancelled and rescheduled two times in the interim I got another doctor to answer my questions.
---
Dec 28, 2022
Hard to schedule a visit.
---
Dec 28, 2022
This was a first visit with Dr. Lowdermilk since my former primary physician retired in July. She was very professional, but very attentive and concerned about addressing any issues I had with my health. I really liked her and am so pleased that she is my new primary physician.
---
Dec 15, 2022
It was all good like I said she is very helpful, informative, and moral boosting due to diabetes I needed it.
---
Dec 15, 2022
I am concern about your staffing levels and patient/doctor ratio...
---
Dec 12, 2022
This was my FIRST visit with Dr. Lowdermilk so I can NOT really give a perfect description of her service to me. Maybe 2 or more visits, I will be more precise in my comments about her. Thank you!
---
Dec 8, 2022
Dr Lowdermilk and Maggie and everyone were fantastic.
---
Nov 28, 2022
Waited 10 mins in the reception area, then another 10 mins waiting for the doctor then another 10 mins or so for my blood draw. All seemed a little excessive.
---
Nov 28, 2022
I had hearing issue, they removed some hardened ear wax during the visit. Which took some extra time.
---
Nov 9, 2022
I always have a good visit with Dr. Lowdermilk. She answers my questions in an easy to understand manner. I'm very lucky to have her as my doctor.
---
Nov 9, 2022
She was very compassionate, listened to my concerns, made recommendations, and had a Behavioral Specialist speak to me.
---
Nov 9, 2022
All good, no bad.
---
Nov 8, 2022
Thank you for getting me an app't within a day for an infection that an antibiotic was needed.
---
Nov 8, 2022
She was very attentive and was able to answer my questions.
---
Nov 3, 2022
We had a good talk abut the problems I had and what would be the best way to care for them. I had a positive feedback from her and felt good about our meeting . My BP 155/97 is of concern and being monitored my next app is in 3 weeks.
---
Oct 13, 2022
Care always the best.
---
Oct 13, 2022
My poor experiences with this are related to, inability to access medical advise. Waiting days for a response. MA being confused and not passing on messages. Low staffing, I know due to covid but it has a negative impact on care.
---
Oct 13, 2022
Dr Lowdermilk is the best Doctor I've ever had. Very knowledgeable and caring, plus a wonderful personality
---
Oct 10, 2022
I felt comfortable, relaxed. Never rushed. Provider wanted to hear all that's been going on in my life. Had very helpful suggestions concerning pain management and pain relieving gels for my knee. Suggested physical therapy which I declined. Ordered an X-ray and possible MRI.
---
Oct 10, 2022
For a first visit with a new doctor, I was very pleased with the time she spent with me. My doctor retired and it was a long wait to get an appointment with a new doctor but luckily I had no health issues during the 3 month wait.
---
Oct 3, 2022
Other than a little bit longer wait to go in to start my appointment everyone was kind and understanding when asking how much longer and then once I was in and started the visit it just wiped it all away because this doctor is so kind very good at listening and understanding I just can't say enough about how awesome she is!
---
Sep 29, 2022
When I read the report from my blood work, I was surprised to learn that this doctor only sees patients two days a week. We are new patients for her, but this seems extreme.