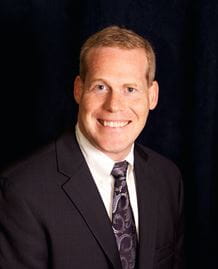 Call to Schedule
Michael Jaczko, DO
My Specialties:
Family Medicine, Board-certified
Affiliations:
Legacy Health Partners
Where I see patients
Where I see patients
503-525-7515
Monday-Friday, 8 a.m.-5 p.m.
About Me:
Dr. Jaczko attended the Philadelphia College of Osteopathic Medicine for his medical degree and Eastmoreland Hospital for his Family Medicine residency. He believes in partnering with his patients and educating them so that they can make the best possible decisions for their healthcare. He has a particular interest in sports medicine and preventative care. He personally enjoys football, videography and home improvement.
Hospitals Served: Legacy Meridian Park Medical Center
Patient Rating
Legacy wants every patient to have great care, every time. To help measure and improve patient satisfaction, we send surveys to randomly selected patients after their appointments. We use this feedback from the surveys to improve and enhance the care we offer. Learn more about our surveys & ratings
Average Rating: 4.9 out of 5.0
---
Nov 15, 2023
We love Dr.. Jaczko!
---
Nov 15, 2023
It was a very good experience and actually the doctor's office called me for a follow-up appointment from an earlier ER visit previously 4 days earlier which was great
---
Nov 13, 2023
Doctor is patient and kind. A very good listener and pays attention to everything I have to say. I look forward to seeing my doctor and have trust in him.
---
Nov 13, 2023
Dr. Jaczko is the best PCP I've ever had.
---
Nov 1, 2023
Appt was to meet my new PCP, which I waited 3 months for. He did not have my records, did not know anything about my health history, even though I signed the paperwork 3 months ago. He was a nice person, and listened well, But I was disappointed that the records had not been requested, or reviewed.
---
Oct 25, 2023
Best health care visit I've had in awhile.
---
Oct 25, 2023
Dr. Jaczko/professional, kind, easy to talk to. Very pleased he is my new dr.
---
Oct 23, 2023
This was my first visit with this provider. I was pleased with the care I received.
---
Oct 20, 2023
Dr Jaczko went to extra lengths to explain the process tha RA has with synovial fluid it is good information for me to understand.
---
Oct 20, 2023
I hope Dr. Jaczko will see me sometime when I don't cry. He is very compassionate with me.
---
Oct 16, 2023
I'm changing to Dr Jaczko as primary care-this was my first visit to this clinic. I liked Dr Jaczko a lot.
---
Oct 13, 2023
Friendly, courteous, knowledgeable.
---
Oct 11, 2023
For a first time meeting, Dr. Jaczko was professional, and fully explained any questions I had. It was my first meeting with the Doctor, and I think he may have been interviewing me as much as I was interviewing him. I look forward to a very good relationship with him going forward.
---
Oct 4, 2023
I like this doctor.
---
Oct 2, 2023
Doctor took time with me, very responsive to my questions.
---
Sep 29, 2023
Dr. Jaczko is our new primary physician and we believe he will be very satisfactory.
---
Sep 27, 2023
Dr is very compassionate and knowledgeable. He never rushes and answers all questions.
---
Sep 20, 2023
Dr. Jaczko is great! At this recent appointment, he adjusted my back and neck which helped me feel much better. My husband and I have been patients of his for many many years and appreciate his excellent skills and friendliness.
---
Sep 20, 2023
Both doctor and ma listen to what I had to say.
---
Sep 18, 2023
I believe all of my prescription history was deleted from history although I stated I still take Cequa. Tamsulosin was not discussed but also removed.
---
Sep 15, 2023
I FELT I WAS NOT BEING RUSHED AND Dr. J was respectful, listened and explained any answers to my questions .
---
Sep 13, 2023
Dr. Jaczko was very kind and very funny. It was such a pleasant visit and I'm so grateful for how patient he was listening to me and being thoughtful in his responses. He is fantastic!
---
Aug 25, 2023
Excellent support from the time I fist entered the clinic to the end of my appointment. The entire staff was very courteous and professional.
---
Aug 21, 2023
Wonderful Dr wonderful Experience
---
Aug 14, 2023
I do not appreciate the way he spoke to us. Condescending, like we knew nothing about out personal issues. He's a DO not an MD, & I'm disappointed that with each of our issues (my husband & myself) that your clinic did not work harder to match our needs to someone on your staff with more of a senior needs medical doctor. Since it is much harder to transition to a new doctor/facility we have resigned ourselves to staying with your clinic.
---
Aug 14, 2023
Dr. Jaczko was very thorough in questioning my health overtly and covertly as he even questioned me as to why I was carrying a light jacket on a very hot day. I answered that is was easier to carry a jacket with keys, wallet etc. In the pockets rather than carrying a heavy pocketbook. I thought that he was thorough and sleuth-like and admired his style in acquiring both physical and mental health information. I spoke with two receptionists, a female and a male, who were very accommodating, helpful, gracious, friendly and informative.
---
Aug 9, 2023
Everything fine
---
Aug 7, 2023
This was my first visit to Dr. Jaczko. He is replacing my previous primary care physican. He seems to be fine doctor. We had a productive visit for my annual checkup. I will continue to use him as my primary care doctor.
---
Jul 31, 2023
Great doctor. I'll be using him again when needed
---
Jul 26, 2023
Legacy Bridgeport is a great office to visit in keeping up with your medical needs. They are very professional and the entire office makes you feel a part of the family.
---
Jul 19, 2023
Recommend to my wife
---
Jul 17, 2023
Wonderful experience. I appreciate the time that the doctor took to talk with me and explain everything.
---
Jul 10, 2023
Left a little bewildered
---
Jul 5, 2023
I did not ise the telephone to contact the clinic, only Epic
---
Jun 30, 2023
Doctor was just right, perfect
---
Jun 30, 2023
It was a very pleasant Doctors visit.
---
Jun 16, 2023
All staff and physicians encountered were attentive and cordial.
---
Jun 16, 2023
First visit went very well, listened to my concerns with things going on with me. Was happy with my visit.
---
Jun 14, 2023
The whole appointment experience was great!
---
Jun 14, 2023
Dr. Jaczko was very impressive and also attentive to my questions and explained them to me very clearly. Really liked him.
---
Jun 12, 2023
Friendly, helpful
---
Jun 9, 2023
Very attentive and took time to understand my current health issues and shared ideas on a go forward plan.
---
Jun 2, 2023
Dr. Jaczko taking good care of me!
---
Jun 2, 2023
I had to call twice to make an appointment which was 10 days later.
---
May 31, 2023
We will recommend Dr. Jaczko.
---
May 22, 2023
There are too many instructions and notifications taped on the entry door and glass around the receptionists. It looks junky and very unprofessional.. The waiting rooms needs some warming up and less littered with signs.
---
May 19, 2023
Very good doctor. His staff was wonderful also.
---
May 17, 2023
This was the first time I had met provider. Extremely pleased
---
May 12, 2023
The Dr. & Olivia were great, they got me in right away, I am so happy with my primary Dr. & anyone she has referred me to, Shauna fit me in with Dr. Jaczko who as I stated was also great.
---
May 5, 2023
Very knowledgeable and attentive. Great listener and suggested a plan for my personal health goals.
---
May 1, 2023
I felt that some of my symptoms were dismissed (high blood pressure).
---
May 1, 2023
The whole experience was wonderful. There was no wait. The doctor and nurse/assistant were fantastic. Patient, informative, timely and caring -
---
Apr 28, 2023
MA spoke little; didn't introduce herself; didn't tell me what the vitals were. First time seeing Dr, Jaczko so a little hard to make fair evaluation.
---
Apr 24, 2023
Wonderful doctor and office. Cannot recommend.......Hard to recommend when you are not taking new patients.
---
Apr 24, 2023
Made adjust to a better Statin due my recent medical issue
---
Apr 17, 2023
This was my first visit as my new provider. I'm very pleased.
---
Apr 10, 2023
Everyone was pleasant and knowledgeable. My experience was great.
---
Apr 3, 2023
My visit was a wellness check in which I had a routine lab work up. Additionally an X-ray was ordered because of my cough which was the result of exposure to dust and debris while cleaning an old attic.
---
Apr 3, 2023
This doctor is very calm and relaxed. He is an excellent listener and never rushes you. He answered my questions in a concise and simple to understand way.
---
Mar 31, 2023
This was the first time in Dr. Jaczko's office. It seemed short to me, but it was pretty much a getting to know you or well visit.
---
Mar 31, 2023
Everyone at the office was pleasant to talk to. The nurse that took my blood was great I didn't feel a thing.
---
Mar 31, 2023
Doctor was great. Asked questions. Took care to provide his services.
---
Mar 22, 2023
All staff were helpful and courteous. I was seen right away and the doctor listened to my questions and gave me as much information and time as I needed. I did not feel rushed through the visit and the nursing staff was very responsive to my questions.
---
Mar 15, 2023
Dr. J was amazing. I really felt like he was knowledgeable and caring. The woman in the lab that drew my blood was also fantastic as were the receptionists that helped me. I had a great experience.
---
Mar 10, 2023
It was a great visit. I left feeling reassured and listened to.
---
Mar 8, 2023
I feel that Dr Jaczko is a very caring and intelligent person.
---
Mar 3, 2023
Doctor ordered wrong blood test twice and I had to have 3 blood draws - office staff said the test was not ordered by the doctor by mistake. Lab in office states the doctor ordered the wrong test twice & they sent his office a message to clarify & the office never returned their call. I finally went to another outside lab for my test. Terrible waste of time, money & poor communication.
---
Feb 27, 2023
I had come in for my schedule appointment with MSC and was wearing a knee brace. She asked if I needed to see someone about my knee and said she could check if someone was available. So, after my scheduled appointment I saw the doctor for my knee. Wonderful experience and convenient for me. Thanks
---
Feb 27, 2023
Was treated like I felt I should be
---
Feb 8, 2023
This doctor is respectful of me as a patient and clearly cares.
---
Feb 8, 2023
All good. Didn't expect to get in so soon..
---
Feb 1, 2023
This was my first visit with Dr. Jaczko. I had to wait 3 plus months. He is now one of my doctors.
---
Feb 1, 2023
This was my first visit w/Dr. Jaczko - Providence last year informed me my insurance was no longer accepted. Very angry w/them. I was nervous before my visit hoping my visit would go well. I hit the jackpot. It was a great & thorough visit.
---
Jan 27, 2023
Dr was nice and took his time.
---
Jan 25, 2023
Knowledgeable, helpful & friendly
---
Jan 18, 2023
Initial visit. Very nice experience
---
Jan 16, 2023
I am very pleased with Dr. Jaczko's care and attentiveness. I am proactive and well prepared for our patient visits and I feel very comfortable with expressing easily any of my personal concerns. He, likewise, listens very well, is very helpful and responsive, and seems very informed medically. My experience with Dr. J has been very positive.
---
Jan 11, 2023
Dr Jaczko seems to be a caring and competent doctor.
---
Jan 11, 2023
The asaistants and doctor were very thorough and helpful-really listened to me
---
Jan 9, 2023
This was a new patient visit so it was my first time meeting and seeing Dr Jaczco and will continue to use him as my primanry MD. Visit was very good
---
Jan 9, 2023
This was a new patientfirst vist for me so I can not say to much at this time regarding the Dr. But the first visit went really well and I am more than willing to continue to see and use him as my primary Dr.
---
Jan 6, 2023
The doctor was very nice and caring. This visit was to establish care after my previous doctor moved.
---
Dec 28, 2022
Appreciate them seeing me regarding my concerns today as my primary care physician was out of office. My cough/sinuses already much more productive after taking prescription last night and this morning. Grateful!
---
Dec 19, 2022
It was a good experience and I plan on keeping him as a provider
---
Dec 16, 2022
The doctor was sincere and friendly. He was very focused to take care of my issue.
---
Dec 16, 2022
Dr. Jaczko is the best
---
Dec 14, 2022
Provider and medical assistant were great, I am only taking this survey to tell you the Message Consent Form I was mailed was pretty terrible. It was a terrible copy that actually almost has other patient info on it.
---
Dec 7, 2022
I just met the Dr. This was my first initial visit.
---
Dec 7, 2022
Dr. Jaczko is the most relatable doctor I have ever had. I feel like I am in very competent and caring care.