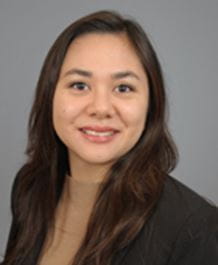 Call to Schedule
Pamela Tarrazona-Yu, MD
My Specialties:
Internal Medicine, Board-certified
Languages:
English, Interpreters available for other languages, Tagalog - Philippines
Affiliations:
Legacy Health Partners
Where I see patients
Where I see patients
503-413-1895
Monday-Friday, 8 a.m.-5 p.m.
Patient Rating
Legacy wants every patient to have great care, every time. To help measure and improve patient satisfaction, we send surveys to randomly selected patients after their appointments. We use this feedback from the surveys to improve and enhance the care we offer. Learn more about our surveys & ratings
Average Rating: 4.8 out of 5.0
---
Nov 3, 2023
Dr Pam always listens to my needs in a respectful way! I feel very comfortable with her and trust her advice!
---
Oct 24, 2023
The doctors in this clinic never check fully your vitals. No chest, for heart, pulse. Throat and ears. Never. Diabetics have to remind the staff to check feet. Your doctor's give more attention to computer than patient. Actually theirs no reason to come to clinic
---
Oct 24, 2023
Very good treatment
---
Oct 23, 2023
Dr. Is always very thorough! This was a mandatory Medicare checkup!
---
Oct 20, 2023
The NA was great, easy to understand, very thorough. Thoughtful etc.
---
Oct 17, 2023
Dr. Tarrazona-Yu provides evidence-based standard of care, which makes me feel confident that I am receiving the best possible treatment. She always listens to my questions and worries, and understands the background of my conditions, my concerns, and my treatments, and I feel that she cares about my health. She is also clear and easy to understand, and makes sure that I understand her thoughts and my treatment plan at the end of each visit.
---
Oct 5, 2023
Provider seemed in a rush, did not say anything positive about my good health, told me to wait for MA then left without telling what the MA would do or what to do if my problem was not resolved at this visit.
---
Oct 4, 2023
My doctor is very thorough and explains and answers all my questions.
---
Oct 4, 2023
Dr. Tarrazona-Yu immediately put me at ease. She made me feel very comfortable, allowing me to confide and to share with her some recent issues concerning my overall well being. It was an extremely positive experience being seen by her. Hopefully, she could become my permanent PCP. All of the other staff were very kind and helpful as well.
---
Sep 29, 2023
Had to wait 45 minutes before seen.
---
Sep 26, 2023
Good provider/very good care
---
Sep 22, 2023
The MA for my appointment seemed annoyed that I couldn't recall the specific reason for my visit even though she could see my chart and knew that it was 6-month F/U. She also used the incorrect size of BP cuff on me, which was extremely uncomfortable, and gave a high reading. Dr. Tarrazona-Yu re-checked my BP with the correct cuff size, and the results were more accurate to my normal BP. I suggest some coaching for the MA. Other than that, my visit was super quick and efficient.
---
Sep 19, 2023
I communicate with Dr. Tarrazona-Yu and her staff through the MyHealth portal, not by phone. It works for me.
---
Sep 14, 2023
Quick service
---
Sep 13, 2023
Good, helpful !
---
Sep 13, 2023
My experiences was good.
---
Sep 13, 2023
Was a brief rx review but was asked if any other concerns or questions at this time
---
Sep 13, 2023
Dr. Yu is thorough and listens to my problems or health issues. She is always on top of my care. Thank you Dr Yu.
---
Sep 12, 2023
This was a new PCP for me. I found her interactions excellent.
---
Sep 6, 2023
It has been great!
---
Aug 30, 2023
I've only seen my PCP once before I went off to Cancer Land so I hardly know her. I like her quite a bit though. The only complaint I have is that the wait times seemed long.
---
Aug 25, 2023
She listens she remembers so we don't have to keep going back in the chart she knows me I really appreciate that although I forgot to tell her I have a bladder infection
---
Aug 23, 2023
I am very grateful to have found this provider and have been coming to her for years. She makes me feel safe comfortable and heard. She is absolutely wonderful and I always look forward to her care.
---
Aug 15, 2023
Shes very understanding and listen to what I say
---
Aug 15, 2023
The appointment was delayed about 20 to 30 minutes. This has never happened before. Everyone was super nice and apologetic. If I hadn't had another appointment later it wouldn't have bothered me. Even though I felt a little rushed the Dr listened to my questions and answered them to my satisfaction. I did not feel rushed by her.
---
Aug 14, 2023
First class service
---
Aug 11, 2023
All the staff were very good and friendly
---
Aug 3, 2023
She is easy to talk to and I feel she cares which is important to me-she is a good problem solver
---
Jul 12, 2023
The visit was ok, but when I referred to my after visit summary the provider coded (and I assume billed) for two items she never spoke to me about and one she mentioned (in reference to bloodwork my ND ordered) in passing without explanation. I did follow up with my PCP about the coded items that were not addressed in the visit and he was confused about why they would have been added. It was a valuable reminder of how imperative It is to trust and have familiarity with your provider/care team. I was glad she was able to refer me to a GI specialist.
---
Jul 7, 2023
Had thought I was filling out a previsit online registration for an annual cjeck up. Question in online registration was are there any concerns you would like to discuss during visit. I put GI concerns and the visit lost annual checkup status and became a billable visit. I will know not to include any ongoing concerns next time I fill out the previsti registration form.
---
Jun 27, 2023
Usually she will explain, this time not at all . At all . The nurse clean my ear, how ever only halfway and she stop it due to the liquid is splashing on her face she said..that nurse she did not put mask. She might needs a training more. I'm very disappointed. It is like someone doing an surgery in middle of surgery, it because the liquid splash on her face , they close it. I'm not very happy at all. Waiting for almost hrs, and half I just see a doctor less than 2 minutes.
---
Jun 23, 2023
Dr Pamela Tarrazona-Yu has always given me the time I needed, answered all my questions, asks me questions and never rushes me. I have recommended her, but her openings are closed at the moment. She is a wonderful dr.
---
Jun 16, 2023
I asked about specific care regarding menopause and this doctor said she wouldn't do it. I think she should present the pros and cons and let me make my own decisions about what I am comfortable doing. She wouldn't let me have a say in what I need. That is not ok. She told me to go see a gynecologist if I wanted to try to get help elsewhere. I did not feel cared for and wondered what else she wouldn't be willing to hear my concerns about and partner with me in my care.
---
Jun 12, 2023
My provider explained everything to me she's very courteous I like her and I would recommend her I would recommend any of the doctors nurses at Emmanuel with the most respect you guys are the best
---
Jun 8, 2023
I have been seeing this dr. for many years, would never switch! And the receptionist, he remembers my name!
---
Jun 6, 2023
This was the first appointment with this doctor, she was so positive, trauma informed which was a relief because finding a doctor who is educated for CPTSD has been extremely difficult for one, this appointment was the most positive doctor experience of my life.
---
Jun 1, 2023
My visit was very good. It took months for me to get into see Dr. Tarrazona-Yu That was difficult to wait that long. Now that I am a patient, I do not have to wait long. I feel she is attentive to my issues and responds quickly.
---
May 31, 2023
I felt heard and respected by everyone I interacted with. I felt my needs were addressed.
---
May 25, 2023
Dr. Terrazanu-Yu is a caring, sensitive and engaged physician.
---
May 10, 2023
I waited in exam room for the dr for more than 30 minutes after I met with the assistant. And our interaction was about 15 min.
---
May 5, 2023
This was [name removed] first visit to this provider. But they were very thorough and thoughtful. It took some time before the provider had an appointment available, but we expected that. And it wasn't an issue. It was well worth the wait. She was very attentive and followed through on any tests she referred us too. Also addressed immediate concerns in the office visit.
---
May 4, 2023
My experience with my provider is great I can talk to her and she knows what I'm talking about she's more than my doctor she's part of my support team if she can't help me she gets someone who can
---
Apr 24, 2023
Wait time is very bad needs to be on time 1 hour to late
---
Apr 24, 2023
My visits with my provider has always been a good one.
---
Apr 12, 2023
Dr Tarrazona-Yu is an excellent provider, she listens attentively, she is very thorough, personable, and I always feel as though my issues were completely addressed any time I have had contact with her.
---
Mar 15, 2023
This visit I waited longer than I've ever waited . I understand there may have been a problem to cause the wait because I've never had a long wait before.
---
Mar 9, 2023
Receptionist & first assistant I talked to were lovely! Provider stated risk in a manor that was intense that made me anxious.
---
Mar 8, 2023
This was a new patient visit. Dr. Tarrazona-Yu spent a lot of time going over past tests and issues. I left feeling that I had made an excellent choice when I picked her. She is kind and very competent.
---
Mar 1, 2023
Dr. Tarrazona Yu and the rest of the team at that location are absolutely wonderful. I hope Legacy does better by all their healthcare providers to ensure we are lucky enough to keep the good ones around.
---
Feb 16, 2023
Very good physician
---
Feb 15, 2023
I ended up waiting quite a while in the exam room--completely naked except for the paper gown--for the doctor to arrive. Not sure if they just thought I took like 20 min to take my clothes off or if there was some kind of delay. Not upset about it--stuff happens, esp when trying to give each patient attentive care, I know (my family's in the medical field). Literally everything else was great. I love my doctor and I have always had very positive experiences with any Legacy Medical employee I interacted with.
---
Feb 14, 2023
The receptionists and assistants are consistently helpful, friendly & knowledgeable. The doctor listens patiently & follows-up on my concerns, but does not initiate review of my history nor suggest when to return for follow up visit.
---
Feb 8, 2023
23 minute wait after appointment scheduled. During this time the staff (great gal) took blood pressure and pulse. 3-5 minutes most. Then waited for Dr. To come in
---
Feb 7, 2023
Dr. did not look at my current dosage and prescribed the wrong dose. Dr. prescribed correct dosage when I told the office. I still had to pay for a prescription I did not need.
---
Feb 6, 2023
All good, but why does every entity think we all have computers to access reports or other information. Some of us don't and would rather receive information such as medical/lab reports in the mail.
---
Jan 30, 2023
Assistants were kind patient knowledgeable. This being my first visit, I'm relieved and impressed!
---
Jan 25, 2023
All good experiences. Nothing negative.
---
Jan 9, 2023
My most current appointment was very specific, but your office took the liberty of adding additional health items to the list of reasons I was being seen by the doctor during my appointment. (ie,,,pap, flu vaccine, pneumonia vaccine...) It frustrated and confused me when the medical assistant started listing off the other reasons. I had to take extra time to explain why I was seeing the doctor, and that I'd call the office to make appointments for the other reasons soon.
---
Jan 3, 2023
Waited for 30 plus minutes before seeing provider. Clinic needs to communicate when the provider has not arrived.
---
Dec 22, 2022
Very informative, professional and friendly
---
Dec 21, 2022
I will probably be switching doctors offices. I waited 25 minutes for my doctor and last time I saw her I waited over an hour. I don't think I've ever had a good experience with this doctors office.
---
Dec 19, 2022
The provider was late to my appointment which was scheduled at 8:25 am and she arrived at approximately 9:15am. The appointment was rushed, but since I am knowledgeable about my condition being rushed was okay. The outcome would differ for less knowledgeable patients that require more time. Overall, appointment was okay.
---
Dec 19, 2022
Always feel like I am the most person at the time, I'm being see.