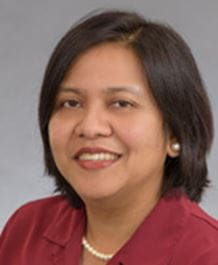 Call to Schedule
Pompy Goswami, MD
My Specialties:
Family Medicine; Family Medicine
Languages:
English, Interpreters available for other languages
Affiliations:
Legacy Health Partners
Where I see patients
Where I see patients
503-692-2388
Monday-Friday, 8 a.m.-5 p.m.
About Me:
Pompy Goswami, M.D., is board-certified in family medicine. She earned her medical degree at Assam Medical College, India. She trained in obstetrics and gynecology at National Health Services, U.K. She completed a residency in family medicine at Austin Medical Education Program in Texas. Dr. Goswami enjoys caring for all ages. She has a special interest in pediatrics and women's health care. Dr Goswami believes in listening to and partnering with her patients to come up with a personalized care plan. Dr. Goswami enjoys gardening, cooking, travelling and spending time with her family.
Education:
Medical School: Dibrugarh University
Year I Started Practice: 1993
Hospitals Served: Legacy Meridian Park Medical Center
Patient Rating
Legacy wants every patient to have great care, every time. To help measure and improve patient satisfaction, we send surveys to randomly selected patients after their appointments. We use this feedback from the surveys to improve and enhance the care we offer. Learn more about our surveys & ratings
Average Rating: 4.8 out of 5.0
---
Oct 27, 2023
I am very pleased with Dr. Goswami and the other staff at Legacy medical center.
---
Oct 23, 2023
I always receive excellent care from Dr. Goswami.
---
Oct 16, 2023
I had concerns about my struggle to lower cholesterol. The Dr. Listened, gave me good information, and followed up after my labs were done, with a treatment plan.
---
Oct 9, 2023
I felt rushed and wasn't comfortable asking questions because I felt rushed to get out the door
---
Oct 6, 2023
No COVID-19 vaccines were available and I've had a hard time scheduling one at an outside pharmacy. Would help to have more stock available.
---
Oct 5, 2023
Provider showed empathy for my recent loss and had some good suggestions for near future.
---
Oct 2, 2023
This visit seemed a bit rushed and there were no new proposals for managing my health. Repeat of what pops up on computer screen. No independent thinking. Visits are too often if we are just going to rehash old recommendations.
---
Oct 2, 2023
I have a good patient/Dr relationship with Dr Goswami.
---
Oct 2, 2023
They need more help at the office so that the physicians can focus on their work
---
Sep 25, 2023
Always feel good and answered completely and. In a way I could understand.
---
Sep 15, 2023
I feel that Dr. Goswami looks out for my best interest.
---
Sep 15, 2023
All positive. Team and doc were friendly, professional, and knowledgeable
---
Sep 11, 2023
At times I feel that my needs are not considered seriously enough.
---
Sep 8, 2023
She always ask how am I doing
---
Sep 1, 2023
I have recommended this clinic and Dr. Goswami to others who now see her. She is a stellar PCP.
---
Aug 24, 2023
All staff are friendly,respectful and competent.Thanks to all of you.
---
Aug 24, 2023
Very good experience during the visit
---
Aug 17, 2023
I'm not sure my issues are with the provider as much as the system she operates in. The pressure from insurance requirements and overall health system pressure make it challenging.
---
Aug 17, 2023
I have always had a good experience with Dr Goswami and everyone in the office
---
Aug 11, 2023
Super friendly and kind.
---
Aug 3, 2023
I am very happy with the care I receive from my doctor and staff.
---
Jul 27, 2023
I like Dr. Goswami a lot, we have a good rapport. She is the best.
---
Jul 20, 2023
I have difficulty hearing when I cannot read lips (Mask)
---
Jul 13, 2023
Friendly sign in. I felt very listened to and appreciated the personal tone and advice of my doctor who thanked me for coming.
---
Jun 26, 2023
The office staff always makesMe feelComfortable Rebecca was nurse assistant has very good customer service skill and dr Goswami always makes me feel welcomed and respects my style of care ing for my health which is more homeopathic, yet she offers me other options too!
---
Jun 23, 2023
Dr. Goswami is the best primary care physician I have ever had. It is always a pleasure meeting with here, knowing she has my health in the highest priority.
---
Jun 22, 2023
Dr. Goswami is always courteous, professional, and caring. I could not ask for a better doctor, she is wonderful! Good advice, and realistic!!!
---
Jun 22, 2023
Very satisfied.
---
Jun 19, 2023
The wait time was very long and the scheduling is very far out for in person appointments.
---
Jun 16, 2023
My doctor treats me like I'm a good friend and is very concerned for helping with my meds
---
Jun 16, 2023
Dr. Goswami has always listened to my health concerns and answered my questions. She is always very nice and responds well to my concerns and questions.
---
Jun 12, 2023
Always excellent!
---
Jun 8, 2023
My overall experience was fabulous.
---
Jun 8, 2023
I have suffered from extreme fatigue for the last 3-4 years. No one seems interested in trying to determine what is causing it.
---
Jun 8, 2023
My dr sent me to the lab for a blood draw. The person in the lab was rude and unprofessional. After waiting nearly 45 minutes while she took everyone who came in after me, she told me to go home and schedule an appt. She was not going to do the blood draw until the waiting room was clear of anyone w an appt. I left and never intend to use that lab again.
---
Jun 2, 2023
Dr. Pompy Goswami is the greatest! She is excellent at communicating & her expertise is so appreciated! She is so professional & the best doctor I have ever had! She is great at listening giving good advice & expertise!
---
Jun 1, 2023
I struggle with mental health issues and I didn't have time to complete the survey in the waiting room and I told the nurse and she said, "it's fine it doesn't matter." And it made me feel like my mental health wasn't important. I immediately shut off.
---
May 26, 2023
Love the staff. Sometimes it's the lack of issues that speaks most loudly.
---
May 18, 2023
Dr.Goswami is very thorough, compassionate and caring.
---
May 15, 2023
I like a doctor that is warm, passionate, friendly, interested in you as a whole person not just your present medical complaint. I don't get this from Dr. Goswami.
---
May 12, 2023
Have been extremely happy with Legacy Medical Group and have recommended them to friends and family
---
May 8, 2023
I also had a blood draw on this day. The phlebotomist was very nice, respectful and did an excellent job. It was painless & I did not have bruises. It was a good way to end a nice visit!
---
May 4, 2023
She is amazing! Caring and very helpful!
---
May 4, 2023
I was very happy with the overall experience.
---
May 4, 2023
I waited over 35 minutes in a room waiting to see my provider, I was just getting ready to leave and she came in! To me that is unacceptable wait times, I'll never wait that long again 15 minutes tops I'll wait from now on
---
May 1, 2023
Love my clinic & provider.
---
Apr 17, 2023
Overall I can't tell if the problem is provider or the system, including insurance and legacy. If it wasn't easier to have a fixed primary care I would definitely just use google and ask for my own blood tests. For a professional that takes years of education I would expect that at least one or two questions about my life style, diet, comment on my age and what to expect, anything at all. Instead they sit for 5 min in a chair looking at the computer to ask if I have any questions. They are ready to push down any of the concerns and ask to wait if one day it gets worse than we can do a test. No prevention, no suggestions, nothing. I am watching friends of my age dying of cancer or getting diagnosed way too late. With the type of primary care I have I couldn't expect any less.
---
Apr 13, 2023
My visits are always fun. Everyone is friendly, respectful. They really care about all patients.
---
Apr 13, 2023
This has to do with the lab. I waited for about one hour to get my blood draw. There were many people there, Is this department understaffed?
---
Mar 24, 2023
I felt I could talk to her. Felt she cared, more than most. I also felt she was knowledgeable.
---
Mar 16, 2023
Very good results from visit
---
Mar 13, 2023
I have gone to this MD for years and love her
---
Mar 13, 2023
Dr. Goswami is easy to talk to and listens to my concerns and responds accordingly.
---
Mar 9, 2023
I enjoy my doctor visits. She is so easy to talk to.
---
Mar 3, 2023
Dr. Goswami is always pleasant & efficient.
---
Mar 3, 2023
Very nice doctor
---
Mar 3, 2023
I was late thinking it was at 9:00. It was at 8:50 but she fit me in. So sad doctors have so many patients in one day.
---
Mar 2, 2023
Dr. Goswami is an excellent doctor.
---
Mar 2, 2023
I recommended Dr Goswami to my husband when his Legacy Dr quit, but the Tualatin office was not taking transfers at that time.
---
Mar 2, 2023
Dr. Goswami is an excellent doctor. She cares about her patients and I always receive excellent care.
---
Feb 27, 2023
Very good, always.
---
Feb 20, 2023
My visit is always pleasant. Friendly receptionists. I never have to wait long to be seen. Dr. Goswami is always friendly and concerned with any questions I have.
---
Feb 16, 2023
Always excellent, never a bad experience.
---
Feb 16, 2023
Dr.Goswami is excellent. She is a good listenener, she then advises or recommends as needed.
---
Feb 10, 2023
I scheduled a physical initially but had to move my appointment and they changed it to a follow-up. I live out of state and had to travel in for the visit. When I explained this to the nurse they got extremely huffy and irritated with me. Luckily my provider listened and was helpful but the nurse left a bad taste in my mouth.
---
Feb 10, 2023
I am very fond of Dr. Goswami. I have been with her for quite a few years and plan to continue with her. She seems to be truly concerned with my health.
---
Feb 6, 2023
Staff & dr. excellent. All very nice & helpful.
---
Feb 2, 2023
Positive experience overall. Dr. Goswami is knowledgeable and easy to talk to. Most importantly I didn't feel rushed.
---
Jan 27, 2023
Once I spoke to my provider, my stress level became much lower. She listened to my questions and concerns.
---
Jan 26, 2023
The dependence on advice obtained from an algorithm in the computer maddens me every time. Some of the CNA or medical assistants don't appear to have been trained to properly do something as simple as taking a blood pressure. If I am purportedly coming for a blood pressure check up and it is done wrong, what is the point??
---
Jan 23, 2023
Dr. Goswami is exceptionally helpful.
---
Jan 20, 2023
Would like different doctor. She is way over booked. She hears you, just doesn't listen. Concerned about weight, and chronic pain. Being tired.
---
Jan 19, 2023
Too many contacts regarding my appointment. Texts, phone calls and emails. I only need one reminder, not 5 or 6
---
Jan 19, 2023
Dr.Goswami is an excellent doctor. She is professional, knowledgeable, respectful and kind. I feel very blessed to have her as my doctor.
---
Jan 16, 2023
Received very good professional service on my visit
---
Jan 13, 2023
I like that my doctor listens to me and makes corrections to my medical record when asked to.
---
Jan 12, 2023
Offered simple solutions-will see in time if they successfully address concerns.
---
Jan 5, 2023
Everyone is always helpful and nice for us needy old people
---
Jan 4, 2023
Dr. Goswami is an excellent doctor. She talks to you not at you. She always explain so you understand.
---
Dec 19, 2022
Excellent service, I was impressed!
---
Dec 19, 2022
Thank you Legacy Medical Group for the kind professional service,-
---
Dec 8, 2022
It was a very comforting visit