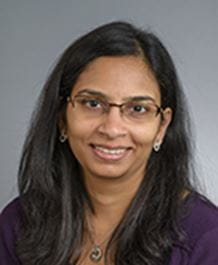 Call to Schedule
Srividya Venigalla, MD
My Specialties:
Internal Medicine, Board-certified
My Areas of Focus:
Diabetes, Osteoporosis
Languages:
English, Interpreters available for other languages
Affiliations:
Legacy Health Partners
Where I see patients
Where I see patients
503-692-2388
Monday-Friday, 8 a.m.-5 p.m.
About Me:
Personal interests include spending time with Family and traveling. She looks forward to helping generations of families improve their health.
Education:
Residency: Legacy Emanuel and Good Samaritan Hospitals, Portland, OR
Internship: Mercy Hospital, Pittsburgh, Pennsylvania
Medical School: Siddhartha Medical College, Vijayawada, India
Year I Started Practice: 2005
Hospitals Served: Legacy Meridian Park Medical Center
Patient Rating
Legacy wants every patient to have great care, every time. To help measure and improve patient satisfaction, we send surveys to randomly selected patients after their appointments. We use this feedback from the surveys to improve and enhance the care we offer. Learn more about our surveys & ratings
Average Rating: 4.9 out of 5.0
---
Nov 10, 2023
Dr Venigalla listened and offered excellent advice and a care plan that I feel supported in.
---
Nov 7, 2023
Everything good as always.
---
Nov 7, 2023
I know so many people looking for a primary care provider and would love to recommend Dr. Venigalla, but, I know she's not able to take on any additional patients and feel she's being worked to death. My words, not hers. You need more women doctors.
---
Oct 31, 2023
The only issue I would have is getting the results of my test. If I did not have a computer at home, I would not be able to get the test results, nor would I be able to see the comments from my doctor, telling me any changes that I needed to take in medication. A call from my doctor or one of the clinical staff would be more appropriate.
---
Oct 27, 2023
I wish, rather than driving to the office, a follow-up phone had been made to me
---
Oct 27, 2023
Very conscientious and on top of my ongoing health issues. Keeping track and looking for the results of tests I had outside of Legacy system
---
Oct 23, 2023
The day of my appointment the clinic had 82 patients to see, 7 doctors and only 3 medical assistants to handle all patients and assist the doctors. My understanding at that time of my appointment was the staffing issues had been ongoing for almost 2 months. They definitely need more help.
---
Oct 23, 2023
I would like my primary care physician to handle more of my problems instead of sending me to "specialists" for every ailment. I am fond of my primary care physician but expect her to handle more of my problems instead of sending me to other physicians who are not interested in anything that doesn't involve surgery!
---
Oct 20, 2023
I was diagnosed with breast cancer this week. Dr. Venigalla spent a very long time with me answering my questions and reassuring me about potential upcoming treatment.
---
Oct 19, 2023
Love my Dr. She is attentive and very smart. I feel very comfortable under her care
---
Oct 19, 2023
I had just been released from the hospital a few days before and had some serious questions that I needed answers to. My doctor answered all of my questions to my satisfaction
---
Oct 13, 2023
A very good experience,
---
Oct 2, 2023
I did recommend Dr Venigalla to a friend, but she was told you were not accepting new patients.
---
Oct 2, 2023
Dr. V listens to her patients.
---
Sep 26, 2023
I have recommended several people to Dr. Venigalla she's excellent
---
Sep 25, 2023
I wish my daughter could have her as her PCP, but Dr Venigalla practice is full and not excepting any new patients
---
Sep 22, 2023
Prior to this visit Legacy revealed new check in process that did not require check in at the desk. I followed the directions, received confirmation via text message and received notification that I was checked in and did not need to check in at the desk. After waiting for 35 minutes, went up to the desk to determine why I was not being called in to see the doctor only to discover that the 'new' electronic check in was not being used! And, 'oh', didn't I see the message on the wall in the hall?....well, no, I DIDN'T....was in small type along with other item posted on the long hallway walls. And even on the way out I couldn't find it! MAJOR communication failure and the only saving grace was that the provider was able to fit me in and provide here excellent normal service. What a screw up!
---
Sep 21, 2023
Excellent, Dr. V is an excellent primary Dr.
---
Sep 18, 2023
I feel like a partner in my medical experience, not just a patient that is told what to do.
---
Sep 14, 2023
She always addresses my concerns when I ask a question. If I need refills she responds promptly.
---
Sep 13, 2023
I like using the portal for both scheduling and acquiring information. I always receive quick responses, answers and help if needed.
---
Sep 12, 2023
Srividya Venigalla and her team always provide me and my family the most excellent medical care and counseling.
---
Sep 12, 2023
Dr. Venigalla is a good listener and problem solves issues WITH me.
---
Sep 8, 2023
I like Dr Venigalla very much, she listens, ask good questions and is very helpful. I would highly recommend her.
---
Aug 28, 2023
Dr. Venigalla is knowledgeable and comes prepared to discuss my condition based on my previous visits and my reason for the current visit. She does her homework.
---
Aug 25, 2023
Dr Venigalla spent more time with me than expected. She is great. Really helped me out answering questions I had.
---
Aug 24, 2023
I've noticed in the last 10 years that the overall quality of medical care has greatly declined.. Gone are the days when your primary physician took care of your entire body. At my annual physical yesterday, my heart and lungs were listened to, then I was sent to the lab for blood work. I find that I must be my own health advocate. No one checks my skin, my hearing, etc. 15 minutes- once a year. Sorry state of the U S medical care.Thanks for asking!
---
Aug 24, 2023
My doctor and her MA Maggie were great ! Clinic seems short staffed still.
---
Aug 18, 2023
It was friendly and very pleasant.
---
Aug 18, 2023
I always have an extremely positive experience when I visit Dr. Venigalla. She listens carefully to what I have to say and is thoroughly familiar with my health care history and needs. I have complete trust in what she has to say along with her recommendations and that is not something I have found with previous providers I have had in the past. I think Dr. Venigalla Is an excellent physician!
---
Aug 15, 2023
Dr. Venigalla is always very helpful. She knows my health condition and discusses options for care, giving me all the information I need to make my decision.
---
Aug 11, 2023
She is a great physician...Period!
---
Aug 10, 2023
Always excellent professional care. High quality performance overall. I have much confidence in my doctor and the clinic overall.
---
Aug 8, 2023
I am quite happy with Legacy healthcare and doctors I have seen to date. I have been Dr. Venigalla's patient for years. She is an excellent doctor. Thank you.
---
Aug 7, 2023
Dr. Venigalla is a very knowledgeable, thorough and responsive physician.
---
Aug 4, 2023
Dr. Venigalla was kind and very thorough with my medical history and also demonstrated interest in my health. She answered all my questions satisfactory.
---
Aug 4, 2023
Dr Venigalla never appears rushed although she is very busy. She always gives me the time I need.
---
Aug 3, 2023
My Dr. Is he best
---
Aug 1, 2023
This was a first time visit under Medicare. Provider was thorough and asked pertinent questions. I will follow up on subsequent tests in 3 months.
---
Jul 12, 2023
Receptionists and staff were courteous; patient and efficient.Wait time, after check in, was a little long; but not intolerable.The on line check in feature is an excellent administration "tool".
---
Jul 10, 2023
Dr Venigalla knows me and always gives advice when asked.
---
Jun 30, 2023
Dr Venigalla is very thoughtful and caring and listens to my concerns.. I feel I can trust her and am thankful for all her advise
---
Jun 29, 2023
Polite, well educated, helpful, big relief got in right away, bad news have to wait for clinics to send patient notes to proceed to specialists before I can get an appt.
---
Jun 26, 2023
It is always a pleasure to visit the Tualatin clinic. I am always greeted with smiles, listened to, and feel that I am in very good hands with Legacy Health in general and this clinic and its staff in particular.
---
Jun 22, 2023
Visits are always good
---
Jun 22, 2023
Always has been a Good Experience!!
---
Jun 22, 2023
I have confidence in Dr. Venigalla. She is knowledgeable, professional and explains things to me completely. I'm very satisfied with her.
---
Jun 20, 2023
I love Dr. Venigalla - she's the best!
---
Jun 20, 2023
My wife and I REALLY like Dr. Venigalla. She is very thorough and asks many questions not only about the purpose of my visit but about my health in general. We discussed several issues not related to my visit, I would highly recommend Dr. Venigalla. She is great !!!!!!!!!!!!!!
---
Jun 16, 2023
Dr. V. is friendly, caring and concerned.
---
Jun 15, 2023
Excellent care provided by Dr. Venigalla.
---
Jun 12, 2023
Always excellent
---
Jun 9, 2023
Have seen her for years and takes care of needs.
---
Jun 8, 2023
Dr. Venigalla is wonderful
---
Jun 2, 2023
I don't feel she listen to what I need.
---
Jun 2, 2023
Dr Venigalla is a great dr that cares and always takes the time to listen and understands what is best for my care. I appreciate her.
---
May 30, 2023
Dr. Venigalla & her associates are very caring & helpful professionals. I'm very fortunate to have her as my Doctor
---
May 19, 2023
Everything was fine
---
May 18, 2023
Dr. Venigalla is amazing. I am grateful to have her as my PCP. I felt the staff were very friendly, appropriate, introduced themselves and engaged well at my visit the other day.
---
May 16, 2023
She always takes time to completely explain changes.
---
May 16, 2023
Dr Venigalla always answers my questions. Asks me question to clarify what I had said. She's willing to try things/medications to better my health. All my experiences with Dr Venigalla have been excellent.
---
May 15, 2023
Dr. Venigalla was very attentive to my needs and thorough in her evaluation. She made sure I knew what steps I need to take to continue my healthcare plan.
---
May 11, 2023
I believe that an estimated bill should be provided BEFORE the day of the scheduled visit.
---
May 9, 2023
Health results were mixed. Issues were reviewed, taking time to lay out options to better my day to day health.
---
May 8, 2023
Dr. Venigalla is excellent. So glad she is my physician!
---
May 8, 2023
Very pleasant visit
---
Apr 28, 2023
We visit on a regular basis and are entirely comfortable with each other. I have been a patient for many years and doctor is fully aware of my condition and other medical milestones I have had over the years.
---
Apr 17, 2023
I'm very pleased with Dr. Venigalla's care. Legacy Medical Group is great to deal with and I'm happy with the care I receive.
---
Apr 7, 2023
Doctor asked for some information that I had to go home to get. When I came back with the info the receptionist insisted I had to make an "appointment" to speak to the PA even though I simply wanted to give the Doctor's assistant the info the Doctor requested. The receptionist was so determined I needed to make an appoint some days ahead that I grew impatient and left.
---
Apr 6, 2023
Dr. Venigalla is very kind. She understood my family situation (husband cancer). Sympathetic to my difficult year. Excellent doctor.
---
Apr 6, 2023
Unfortunately, my provider had to step out of my appointment twice due to potentially important calls.
---
Apr 6, 2023
My Dr. Rocks!!! We have a great relationship I tell her everything and she sets me straight She is funny and down to earth and I love that She is easy to relate to and I feel she gets me. I am very grateful for her and how she cares so much
---
Mar 24, 2023
She's rushed, not very personable. Better than the first time I met her though
---
Mar 23, 2023
She is a very kind person
---
Mar 17, 2023
The ants in the exam room are unsettling.
---
Mar 14, 2023
1. Communications = clear, concise & complete. 2. Received quick actions re: referrals, scheduled tests, etc. 3. Received (immediately) excellent "After Visits Summaries."
---
Mar 9, 2023
Dr. Venigalla is by far the best PCP I've had! She is attentive and knowledgeable, and I truly feel like she listens and provides extremely helpful feedback.
---
Mar 9, 2023
Dr. Venigalla is a gifted physician. I have a huge amount of respect for her intelligence and thoroughness and sensitivity.
---
Mar 7, 2023
My visits are always pleasant. Any concerns I have I can talk to Dr. Venigalla. Staff is efficient and always gets me in quickly. No complaints here!
---
Mar 2, 2023
I am very pleased with Dr. Venigalla, she listens, ask questions, she also set up visits for my physical & mental health resulting in continued improvement.
---
Mar 2, 2023
Thoroughly discussed blood pressure and medication history and made changes to prescriptions that I understood and agreed with. Completely fulfilled my expectations for the visit.
---
Mar 2, 2023
Excellent doctor
---
Feb 28, 2023
Dr. Venigalla is business-like, calm, efficient, and direct. She might not be the best physician choice for those who prefer the "warm and fuzzy" manner some associate with a "family" doctor. I have the feeling that she is very competent, and I have confidence in the attention and care I receive.
---
Feb 17, 2023
Dr V has a 4-point program to help get me healthy (weight, BP, A1C, Cholesterol) and we are making progress.
---
Feb 13, 2023
Dr. Venigalla is a great listener. She's completely involved with answering my questions & giving good suggestions.
---
Feb 10, 2023
She's great, knows her stuff, personable, asked what other concerns I had, acknowledged when she wasn't sure about something, and spent as much time as I needed. The appointment did not at all feel rushed. By the way, asking if I saw the provider within 15 minutes of arrival is probably not a fair question, as part of that time, I was filling out a pre-visit questionnaire in the waiting room, and part of that time I was being evaluated by the medical assistant.
---
Feb 6, 2023
Always glad to see Dr. V.We always talk about the things that are important to my health and she Is great to just talk to.
---
Jan 31, 2023
Dr. Venigalla's schedule was full but she worked me in the same day I requested an appointment.
---
Jan 31, 2023
Great as always
---
Jan 30, 2023
I had Covid and visited Legacy Urgent Care in Sherwood. I got excellent care there,too. I went there a few weeks before when I had a bad cold, too.
---
Jan 30, 2023
Very knowledgeable, experienced physician. Easy to talk with. Uses patience to throughly assess each situation. Doesn't seem rushed. Has provided years of personal excellent care.
---
Jan 27, 2023
Dr Venigalla cares about me and my health. She is the best.
---
Jan 24, 2023
Great experience and you couldn't ask for a better Dr. than the one I have. I have definitely referred her to many people.
---
Jan 24, 2023
Dr. Venigalla is excellent. I appreciate that she listens and offers whole person suggestions-not just pills. She is very approachable and I feel comfortable confiding in her.
---
Jan 24, 2023
We always review medications, status of lab reports, and any others medical advice I may have received from another physician.
---
Jan 23, 2023
I do not feel a connection to Dr. Venigalla. I'll be searching for a new doctor.
---
Jan 23, 2023
Dr. Venigalla always listens carefully and is very kind.
---
Jan 20, 2023
I am disappointed that my own dr did not call me. The Medical Assistant called me for the test results snd said that I would need an ankle brace. Turns out I have a boot up to me knee. I have no idea how long I have to wear it, I have questions about wearing it during the day, etc. The med assistant could not answer my questions. My doctor said she would call and she didn't. It would be like me, as a teacher, telling a parent that I would call then passing it onto a non certified employee to make the call. I'm disappointed.
---
Jan 19, 2023
Don't remember the nurse's name that gave me the propia shot, but she did an excellent job. The first time I've received it and didn't have a big bruise!!!!!!
---
Jan 17, 2023
Very attentive, personable doctor.
---
Jan 16, 2023
Good experience, friendly staff, very helpful.
---
Jan 16, 2023
She always listens to me and we discuss things.
---
Jan 10, 2023
Am asked to fill out updated forms online before visits. They are extremely long and can be arduous to fill out. Don't like to do it every time. They need to be shortened or something.
---
Jan 9, 2023
For some reason the last couple of visits were very confrontational in discussion. My daughter attends with me. Occasionally she talks over me without hearing what I have to say.
---
Dec 20, 2022
Dr. Venigalla listens to me and explains things in terms I can understand. She is very knowledgeable,professional and is committed to providing the best care possible. I am very satisfied with her care.
---
Dec 15, 2022
I enjoy my visits with Dr. V., she is very professional and also very personable and easy to talk with.
---
Dec 13, 2022
Everything from having my vitals taken before and after the visit with Dr. Venigalla, to the comprehensive exam Dr. V gave me and the discussion we had concerning old and new health issues, was professional, respectful, and pleasant.
---
Dec 12, 2022
Needs to listen to her patents, does not look further into the cause of the illness, manage illness poorley.Had to get a second opinion from another provider.
---
Dec 8, 2022
It was a good appt. and Dr. Venigalla was right on the subject - The appt. is a follow up for blood count.
---
Dec 8, 2022
Always very thorough. Listened carefully to my questions and concerns. Gave me excellent responses on how to care for some of my issues. She always makes me feel very comfortable when we discuss issues. I am very pleased with her competence and encouragement.
---
Dec 5, 2022
Very good to... all the time. Thank you all.
---
Dec 5, 2022
My experience is better because I am a health professional, and interact with the providers and staff with more knowledge than your average bear.