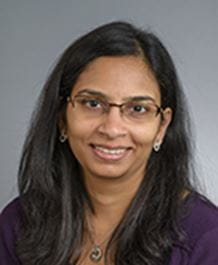 Call to Schedule
Srividya Venigalla, MD
My Specialties:
Internal Medicine, Board-certified
My Areas of Focus:
Diabetes, Osteoporosis
Languages:
English, Interpreters available for other languages
Affiliations:
Meridian Park Medical Center
Where I see patients
Where I see patients
503-692-2388
Monday-Friday, 8 a.m.-5 p.m.
About Me:
Personal interests include spending time with Family and traveling. She looks forward to helping generations of families improve their health.
Education:
Residency: Legacy Emanuel and Good Samaritan Hospitals, Portland, OR
Internship: Mercy Hospital, Pittsburgh, Pennsylvania
Medical School: Siddhartha Medical College, Vijayawada, India
Year I Started Practice: 2005
Hospitals Served: Legacy Meridian Park Medical Center
Patient Rating
Legacy wants every patient to have great care, every time. To help measure and improve patient satisfaction, we send surveys to randomly selected patients after their appointments. We use this feedback from the surveys to improve and enhance the care we offer. Learn more about our surveys & ratings
Average Rating: 4.9 out of 5.0
---
May 11, 2023
I believe that an estimated bill should be provided BEFORE the day of the scheduled visit.
---
May 9, 2023
Health results were mixed. Issues were reviewed, taking time to lay out options to better my day to day health.
---
May 8, 2023
Dr. Venigalla is excellent. So glad she is my physician!
---
May 8, 2023
Very pleasant visit
---
Apr 28, 2023
We visit on a regular basis and are entirely comfortable with each other. I have been a patient for many years and doctor is fully aware of my condition and other medical milestones I have had over the years.
---
Apr 17, 2023
I'm very pleased with Dr. Venigalla's care. Legacy Medical Group is great to deal with and I'm happy with the care I receive.
---
Apr 7, 2023
Doctor asked for some information that I had to go home to get. When I came back with the info the receptionist insisted I had to make an "appointment" to speak to the PA even though I simply wanted to give the Doctor's assistant the info the Doctor requested. The receptionist was so determined I needed to make an appoint some days ahead that I grew impatient and left.
---
Apr 6, 2023
Dr. Venigalla is very kind. She understood my family situation (husband cancer). Sympathetic to my difficult year. Excellent doctor.
---
Apr 6, 2023
Unfortunately, my provider had to step out of my appointment twice due to potentially important calls.
---
Apr 6, 2023
My Dr. Rocks!!! We have a great relationship I tell her everything and she sets me straight She is funny and down to earth and I love that She is easy to relate to and I feel she gets me. I am very grateful for her and how she cares so much
---
Mar 24, 2023
She's rushed, not very personable. Better than the first time I met her though
---
Mar 23, 2023
She is a very kind person
---
Mar 17, 2023
The ants in the exam room are unsettling.
---
Mar 14, 2023
1. Communications = clear, concise & complete. 2. Received quick actions re: referrals, scheduled tests, etc. 3. Received (immediately) excellent "After Visits Summaries."
---
Mar 9, 2023
Dr. Venigalla is by far the best PCP I've had! She is attentive and knowledgeable, and I truly feel like she listens and provides extremely helpful feedback.
---
Mar 9, 2023
Dr. Venigalla is a gifted physician. I have a huge amount of respect for her intelligence and thoroughness and sensitivity.
---
Mar 7, 2023
My visits are always pleasant. Any concerns I have I can talk to Dr. Venigalla. Staff is efficient and always gets me in quickly. No complaints here!
---
Mar 2, 2023
I am very pleased with Dr. Venigalla, she listens, ask questions, she also set up visits for my physical & mental health resulting in continued improvement.
---
Mar 2, 2023
Thoroughly discussed blood pressure and medication history and made changes to prescriptions that I understood and agreed with. Completely fulfilled my expectations for the visit.
---
Mar 2, 2023
Excellent doctor
---
Feb 28, 2023
Dr. Venigalla is business-like, calm, efficient, and direct. She might not be the best physician choice for those who prefer the "warm and fuzzy" manner some associate with a "family" doctor. I have the feeling that she is very competent, and I have confidence in the attention and care I receive.
---
Feb 17, 2023
Dr V has a 4-point program to help get me healthy (weight, BP, A1C, Cholesterol) and we are making progress.
---
Feb 13, 2023
Dr. Venigalla is a great listener. She's completely involved with answering my questions & giving good suggestions.
---
Feb 10, 2023
She's great, knows her stuff, personable, asked what other concerns I had, acknowledged when she wasn't sure about something, and spent as much time as I needed. The appointment did not at all feel rushed. By the way, asking if I saw the provider within 15 minutes of arrival is probably not a fair question, as part of that time, I was filling out a pre-visit questionnaire in the waiting room, and part of that time I was being evaluated by the medical assistant.
---
Feb 6, 2023
Always glad to see Dr. V.We always talk about the things that are important to my health and she Is great to just talk to.
---
Jan 31, 2023
Dr. Venigalla's schedule was full but she worked me in the same day I requested an appointment.
---
Jan 31, 2023
Great as always
---
Jan 30, 2023
I had Covid and visited Legacy Urgent Care in Sherwood. I got excellent care there,too. I went there a few weeks before when I had a bad cold, too.
---
Jan 30, 2023
Very knowledgeable, experienced physician. Easy to talk with. Uses patience to throughly assess each situation. Doesn't seem rushed. Has provided years of personal excellent care.
---
Jan 27, 2023
Dr Venigalla cares about me and my health. She is the best.
---
Jan 24, 2023
Great experience and you couldn't ask for a better Dr. than the one I have. I have definitely referred her to many people.
---
Jan 24, 2023
Dr. Venigalla is excellent. I appreciate that she listens and offers whole person suggestions-not just pills. She is very approachable and I feel comfortable confiding in her.
---
Jan 24, 2023
We always review medications, status of lab reports, and any others medical advice I may have received from another physician.
---
Jan 23, 2023
I do not feel a connection to Dr. Venigalla. I'll be searching for a new doctor.
---
Jan 23, 2023
Dr. Venigalla always listens carefully and is very kind.
---
Jan 20, 2023
I am disappointed that my own dr did not call me. The Medical Assistant called me for the test results snd said that I would need an ankle brace. Turns out I have a boot up to me knee. I have no idea how long I have to wear it, I have questions about wearing it during the day, etc. The med assistant could not answer my questions. My doctor said she would call and she didn't. It would be like me, as a teacher, telling a parent that I would call then passing it onto a non certified employee to make the call. I'm disappointed.
---
Jan 19, 2023
Don't remember the nurse's name that gave me the propia shot, but she did an excellent job. The first time I've received it and didn't have a big bruise!!!!!!
---
Jan 17, 2023
Very attentive, personable doctor.
---
Jan 16, 2023
Good experience, friendly staff, very helpful.
---
Jan 16, 2023
She always listens to me and we discuss things.
---
Jan 10, 2023
Am asked to fill out updated forms online before visits. They are extremely long and can be arduous to fill out. Don't like to do it every time. They need to be shortened or something.
---
Jan 9, 2023
For some reason the last couple of visits were very confrontational in discussion. My daughter attends with me. Occasionally she talks over me without hearing what I have to say.
---
Dec 20, 2022
Dr. Venigalla listens to me and explains things in terms I can understand. She is very knowledgeable,professional and is committed to providing the best care possible. I am very satisfied with her care.
---
Dec 15, 2022
I enjoy my visits with Dr. V., she is very professional and also very personable and easy to talk with.
---
Dec 13, 2022
Everything from having my vitals taken before and after the visit with Dr. Venigalla, to the comprehensive exam Dr. V gave me and the discussion we had concerning old and new health issues, was professional, respectful, and pleasant.
---
Dec 12, 2022
Needs to listen to her patents, does not look further into the cause of the illness, manage illness poorley.Had to get a second opinion from another provider.
---
Dec 8, 2022
It was a good appt. and Dr. Venigalla was right on the subject - The appt. is a follow up for blood count.
---
Dec 8, 2022
Always very thorough. Listened carefully to my questions and concerns. Gave me excellent responses on how to care for some of my issues. She always makes me feel very comfortable when we discuss issues. I am very pleased with her competence and encouragement.
---
Dec 5, 2022
Very good to... all the time. Thank you all.
---
Dec 5, 2022
My experience is better because I am a health professional, and interact with the providers and staff with more knowledge than your average bear.
---
Dec 1, 2022
Was able to describe my issues in full without being discounted, cutoff, or patronized. Feel that the doctor is helping create long term health care plans with me rather than just a shallow response to the current visit.
---
Nov 30, 2022
If asked, I would be happy to recommend her.
---
Nov 29, 2022
Visit went very smoothly.
---
Nov 28, 2022
The provider seems to be highly competent, thorough, and careful. The provider has a somewhat "distant" manner which I have learned to respect. Some patients would, no doubt, respond better to a provider with a "warmer" approach.
---
Nov 15, 2022
I was prescribed medicine twice for my diabetes after telling my doctor I could not afford expensive medicine and she still send in Rx's - I did not have them filled after learning the prices.
---
Nov 7, 2022
Did not like seeing ants in the exam room.
---
Nov 4, 2022
Hard to get in to see - not currently taking new patients nor transfers - for MANY months now.
---
Nov 4, 2022
Very happy with my physician and clinic.
---
Nov 4, 2022
Dr. V is wonderfully thorough, efficient, and knowledgeable.. She is pleasant to be around and is an all around great physician.. I respect and trust her opinions
---
Oct 28, 2022
Excellent!!!
---
Oct 27, 2022
Not the most sociable Doctor, but very knowledgeable and caring about all my questions. The Doctor even figured out that a nagging cough was due to a side effect from a medication and switched me to another one.
---
Oct 21, 2022
Dr. V is a great knowledgeable primary care physician. Fortunate to have her!
---
Oct 20, 2022
She is the best, and I repeat best doctor I have ever been to. You guys are very lucky to have her as part of your team.
---
Oct 18, 2022
She listens well -
---
Oct 17, 2022
The visit was great. I am having a difficult time logging into my Gmail I receive from legacy. Can't find someone to help w this problem. Please advise!
---
Oct 14, 2022
I can talk openly to Dr. Venigalla about anything. She actually seems like a friend to me.
---
Oct 14, 2022
Felt very comfortable with the provider. She seemed very interested in all my concerns.
---
Oct 11, 2022
Always a good experience
---
Oct 10, 2022
I am grateful to have Dr. Venigalla as my primary care provider.She has a caring manner and always answers my questions or concerns directly in terms I understand.I feel she genuinely cares about me as her patient.
---
Oct 3, 2022
Listen to my issues
---
Sep 27, 2022
Dr. Venigalla is thorough and helpful. She pays attention to patient input and questions and follows through with appropriate explanations and suggestions. She is attentive and thorough In a wellness visit or an appointment for a particular health Issue.
---
Sep 22, 2022
Dr. Venigalla is a wonderful doctor but I was sent to the ER and had to wait in the lobby for 3 and 1/2 hours which is ridiculous.
---
Sep 22, 2022
Everything was fine
---
Sep 22, 2022
My physician listened to me and was very understanding and helpful.
---
Sep 20, 2022
Dr Venigalla has really shown concern for my health issues and she is very easy to talk to. I am very pleased she is my doctor. She or her assistant have called or emailed numerous times, which I appreciate. I have always been pleased with the staff and assistant's.
---
Sep 20, 2022
The doctor provides good advice and suggestions. Good primary care physician.
---
Sep 20, 2022
Excellent care by Dr. Venigalla!
---
Sep 13, 2022
Venigalla is thorough, listens to me, and makes valuable suggestions.
---
Sep 13, 2022
I have a very difficult time having a blood draw.I was unhappy to learn my cholesterol lab was not included. This was not the first time specific labs were not included such as magnesium, sodium, potassium, etc. Very disappointing. I try always to check to make sure they are included in my lipid panel.
---
Sep 7, 2022
Longer wait than usual but also had longer visit to discuss potential changes and means to secure meds during upcoming travel outside US with Dr
---
Sep 6, 2022
Very easy to communicate and achieve satisfying results.
---
Sep 6, 2022
I like and trust Dr. Venigalla completely. She has been my primary provider for many years and have always received excellent care and advice from her. She is also my husband's primary provider.
---
Aug 26, 2022
I like that I'm treated like an intelligent person and that we are working together on my health.
---
Aug 26, 2022
Dr, V, was very attentive and listens well. I felt appreciated and felt that we were friends, as well as doctor/patient.
---
Aug 25, 2022
I went to the lab (same facility) after my appointment and the service there was atrocious. Other Legacy facilities have horrible customer service/interactions.
---
Aug 23, 2022
Excellent as usual.
---
Aug 23, 2022
Much better than last year during CoVid!
---
Aug 18, 2022
Dr. Venigalla always helps with any problems [name removed] is having. He had a bad cold with infection this visit and she prescribed an antibiotic for him. Today he feels much better.
---
Aug 18, 2022
I trust Dr Venigalla and she is an excellent doctor. She provides me with appropriate medical information and works toward a solution.
---
Jul 22, 2022
Good experience always.
---
Jul 22, 2022
Dr. Venigalla is knowledgeable, professional, and she listens. Her care has improved my health.
---
Jul 21, 2022
Evidently due to a change in the MA, my Prolia shot appointment was overlooked. When I called in, I was given an appointment as soon as the shot would be available. It takes a couple of weeks for the Clinic to receive the shot. Lab tests were ordered, and the Dr worked me in. This time, the MA made my appointment for 6 months ahead in order for this mix up not to happen again. Dr asked me to call Clinic to order Prolia 2 weeks before my appointment, also.
---
Jul 19, 2022
Always have a good visit!
---
Jul 19, 2022
Very tuned into what has been going on with my body and helpful with suggestions. She's very easy to talk with..
---
Jul 15, 2022
Dr. Venigalla has a "no nonsense," professional approach. She wastes no time and rarely engages In informal dialogue. However, I have always found her to be well Informed about my health history, to exhibit great concern for determining possible underlying reasons for symptoms, and to be - from the standpoint of my largely uninformed ability to judge - very knowledgeable. She is, In her way, "friendly" and compassionate. I especially appreciate her prompt responses to questions and concerns I sent via My Heath. Thank you for asking.
---
Jul 14, 2022
I was happy with my visit.
---
Jul 14, 2022
I always enjoy seeing Dr V, we have an easy conversation. She is always very personable and very easy to talk to.
---
Jul 12, 2022
It was respectful and friendly
---
Jul 8, 2022
I know my provider sees a LOT of patients. I also know we are still in the midst of a pandemic and staffing shortages are real and there just aren't enough hours in the day to get everything done. Considering all of this and giving as much grace and understanding as I can, I did feel my appointment was extremely rushed and my concerns were heard and quickly given a "remedy" to try. I had two main concerns I wanted addressed that I let my provider know ahead of time in the comments when I made the appointment. Those were addressed but no further questions were asked about my previous health history or if I had any other concerns not listed in my comments. My provider seemed a little surprised I was there to talk about Issues not related to what I have previously been in for, as though I only have one health problem that can be focused upon at once. It just felt somewhat impersonal and I'm curious if the interventions offered/prescribed are somewhat of a band-aid on the root of some of my issues. The only consideration I appreciate is that they wanted me to make a follow-up appointment to see if the interventions were supporting improvement in my areas of concern, and I do plan to be more direct with my needs and share beyond the issues on my "list".
---
Jul 8, 2022
Dr. Venigalla is superb!!!!
---
Jul 7, 2022
I had to cancel an appointment the same day due to illness. I left a message on providers assistants voicemail. Later I got a message from a receptionist that was rude, and said I was a no-show. I called at 8:02 am to cancel, and no one answered so I left a message with the assistant. I went back to sleep after that due to not feeling well.
---
Jul 5, 2022
I really like Dr. Venigalla, she has helped me with myself. She helps me understand the way to improve my health. By eating certain foods. She spends time with me.
---
Jul 1, 2022
I want a doctor that will relate to me as a person not just my statistics. I already know my weight, BP, cholesterol - what about me as a person. Also every receptionist and scheduler person at Legacy Meridian Park is impersonal and rude.
---
Jul 1, 2022
Relief that I do not have a bad hip problem.
---
Jun 28, 2022
Dr. Venigalla is very knowledgeable, professional and courteous. She explains thing clearly and listens to me. I'm very pleased with her as my doctor.
---
Jun 24, 2022
Very good place
---
Jun 21, 2022
All good. Felt comfortable and got good information.
---
Jun 16, 2022
My provider is always sweet and concerned. I like her very much.
---
Jun 16, 2022
I not only trust Dr. Venigalla, but I enjoy my visits with her. I brought two issues to her attention. She listened carefully and gave me the referral and the prescription appropriate to each one. I am totally satisfied with the care I received and look forward to my annual physical with her in another six months.
---
Jun 14, 2022
Dr Venigalla is very knowledgeable confident and courteous
---
Jun 10, 2022
I have referred my mother to my provider. She is now one of her patients. Very thoughtful, does an excellent job.
---
Jun 9, 2022
I liked how Dr. Venigalla listened to my questions and thoughtfully gave answers.