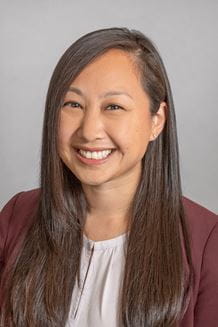 Call to Schedule
Tsyria Tang, DO
My Specialties:
Internal Medicine, Board-certified
Affiliations:
Legacy Health Partners
Where I see patients
Where I see patients
503-692-2388
Monday-Friday, 8 a.m.-5 p.m.
About Me:
Hobbies include: hiking, traveling, trying new foods
Education:
Residency: Legacy Health
Medical School: Touro University, California
Masters of Science: University of Cincinnati
Bachelor of Science: University of California, Irvine
Year I Started Practice: 2019
Hospitals Served: Legacy Meridian Park Medical Center
Patient Rating
Legacy wants every patient to have great care, every time. To help measure and improve patient satisfaction, we send surveys to randomly selected patients after their appointments. We use this feedback from the surveys to improve and enhance the care we offer. Learn more about our surveys & ratings
Average Rating: 4.9 out of 5.0
---
Oct 30, 2023
She listened to everything I had to say and I didn't feel rushed which I appreciate
---
Oct 11, 2023
Everyrhing was fine.
---
Oct 6, 2023
Dr. Tang was thorough, knowledgeable, friendly, respectful. She listened carefully to my concerns/questions and provided lots of information as well as thoughtful responses. She provided further info for me on myhealth link same day. I was extremely impressed and am glad she will be my doctor.
---
Oct 4, 2023
Professional, courteous, knowledgeable and friendly.Actually enjoyed my checkup and conversation with Dr Tang.Thank you !
---
Sep 29, 2023
DR. Tang is so professional, informative, and considerate. She is an excellent doctor.
---
Sep 27, 2023
This was my first visit with Dr. Tang. I am well pleased with her listening skills and advice for my health needs.
---
Sep 20, 2023
This was a "new to you" first visit. Dr Tang was professional, courteous and addressed [name removed] and my concerns thoroughly.
---
Sep 15, 2023
You need more doctors
---
Sep 11, 2023
All excellent
---
Aug 31, 2023
Still getting to know each other:)
---
Aug 31, 2023
Good communication friendly listening well enthusiastic
---
Aug 28, 2023
Dr. Tang was very knowledgable and friendly. She listened well to what I had to say and suggested a plan for my next visit.She screened me for what pharmaceuticals I might "need", which I found annoying. I prefer physicians focus on health methods rather than drug methods.
---
Aug 25, 2023
Listened and gave good advise, with further plans to address my concerns.
---
Aug 23, 2023
Other than the 7 month wait to se a provider, I am extremely satisfied with this system. I really do like my new doctor and I hope that things will go better now that I have her.
---
Aug 17, 2023
Thank you! Very pleasan, seem less and my concerns were heard
---
Aug 17, 2023
Dr. Tang listened to many concerns and followed through beautifully with suggestions as well as following through with other referrals and suggestions and follow through with more appointments
---
Aug 16, 2023
Good attitude
---
Aug 10, 2023
This was my first time to meet with new provider; because my previous pcp left this clinic, it took awhile to be able to be seen.I am very happy with Dr. Tang; she listened to my concerns and answered my questions...Looking forward to having her as my pcp.She seems quite knowledgeable and kind. Very impressed with the fact that Dr. Tang looked at me when talking instead of just sitting andTyping on the computer.
---
Aug 3, 2023
Dr. Tang is great. I hope you can hold on to her!
---
Aug 3, 2023
I felt like we rushed through the appointment and there were things I wanted to discuss that I didn't have the opportunity to.
---
Aug 1, 2023
It does take forever to initially get in to see provider. I waited 4 months then she was sick the day of my appointment and had to wait another 4 months to have a primary provider which makes me nervous about being able to see her when needed
---
Aug 1, 2023
The first time I met with Dr. Tang, I felt she was being judgmental. I told her that during the [date removed] visit and she was receptive to my comments. I appreciated her response.
---
Aug 1, 2023
Long wait to get in to see a new provider after my previous provider left the clinic.
---
Jul 31, 2023
This was my first visit with Dr Tang. She was caring, interested, ref to specialist for osteoporosis concern & treatment.
---
Jul 28, 2023
I enjoyed meeting Dr. Tang. I feel very about about getting care from her.
---
Jul 27, 2023
Very impressed with this provider.
---
Jul 20, 2023
Love Dr Tang! She is so friendly and listened to my concerns. Even followed up with a question I had. Very happy with her.
---
Jul 19, 2023
Dr. Tang is excellent, providing what I need along with complete explanations. Her medical assistant is superb and efficient.
---
Jul 17, 2023
This was my first visit with Dr Tang and I was very impressed with her professionalism and communication style. Her medical assistant whose name I forgot(sorry) was also a warm, professional but very engaging young man.
---
Jul 14, 2023
Dr Tang was excellent in helping me for my visit to address my health needs! When within a few days I was feeling much better with her recommendations , I really appreciate her , and everyone there at Legacy Clinic was very friendly and helpful ...
---
Jul 7, 2023
New Patient Visit. Really liked Dr. Tang. Very personable, professional, and knowledgeable.
---
Jul 5, 2023
My experience was EXCELLENT! Louis the assistant was awesome! He helped ease my nervousness and was very attentive to my care. Dr. Tang was also fabulous! She too was attentive, supportive & thorough in working with my past & current healthcare needs. It was one of the best healthcare experiences I have ever had. And I don't say that lightly. Going to the doctor has always been an uncomfortable experience for me and this definitely was just the opposite. Thank you Louis & Dr. Tang - you care was very much appreciated. :)
---
Jun 23, 2023
Took over 6 months to see the Dr. From the time I called to make the appointment. Not great in my book.
---
Jun 14, 2023
Dr Tang is the absolute best.
---
Jun 14, 2023
Disappointed that Legacy doctors, nurses & staff are not leading by example to prevent illness of SARS-CoV-2 (a blm 3 pathogen) with evidence that continues to demonstrate serious post-acute health issues (neurological, vascular, autoimmune and organ damage) to any infected at any age regardless of vaccination status. Health care settings should be safe environments for patients to seek care without acquiring a potentially life altering illness when no preventive precautions are being taken. Health care must emphasize prevention (indoor air quality & monitoring, respirator n95 masks) as the most effective measure when vaccines & therapeutics aren't available to prevent infections nor cure chronic outcomes. We must learn and adapt. Thank you.
---
Jun 8, 2023
6 month wait to get an appointment was ridiculous
---
May 25, 2023
Since my previous provider resigned, I had to wait until a new one was available. I am very pleased with Dr. Tang.
---
May 23, 2023
Really not a bad experience. I don't usually have a bad experience at the doctor's office. It's usually the events after or not getting help or prescribed when needed. I feel like doctors aren't always forthcoming with me or others. I have lost a lot of trust with doctors over decades.
---
May 23, 2023
Dr. Tang is the best! I am so happy she is my doctor. Thorough, compassionate, well informed and relatable.
---
May 18, 2023
Great new doctor.
---
May 18, 2023
Dr Tang is excellent. She is personable yet professional. She listens and is very compassionate.
---
May 5, 2023
Our experience was all very positive with time to talk to DR. Tang about any concerns.
---
May 3, 2023
I had a good time.
---
May 2, 2023
Only second visit with primary care doctor. Previous one has retired. Just getting to know one another, but I feel more comfortable after this second visit.
---
May 1, 2023
Seen at appointed time.
---
Apr 25, 2023
This was my first visit with Dr. Tang and it was great. The Dr. Very knowledgeable.
---
Apr 20, 2023
You don't give pain medication when needed.
---
Apr 17, 2023
Dr. Tang was very thorough not only in the physical examination ordering the necessary tests but made sure I had the emotional support that was available.
---
Apr 13, 2023
This was my introduction to Dr Tang as my new Intern doctor and I couldn't be more pleased with her.I felt as If she cared for my medical needs and literally asked about all of my health Issues that we canMaintain. As always Legacy has been honest and helpful with my healthcare.Dr Tang Is an excellent addition to your office
---
Apr 7, 2023
My regular Dr. just retired. Dr. T. Tang replaced him and seems very good.
---
Apr 7, 2023
Positive experience - I felt my voice was heard.
---
Mar 23, 2023
Dr Tang listen and gave very good advice. We were not rushed. This was my first face to face visit with Dr Tang and a new doctor for me. I am very happy with Dr Tang
---
Mar 17, 2023
Dr. Tang is so great. She listened and cared what I asked regarding my health concerns, and came up with the choices for taking care of the issues.Thank you Dr. Tang
---
Mar 16, 2023
Dr Tang is great, but very busy. You need more staff.
---
Mar 16, 2023
Ms Tang was very patient, understanding to my situations, physical state, and feelings, and was very helpful with what I needed to know and guidance. I felt that I could totally trust her and putting myself in her care.i understood everything she said, and it all tied together really nicely. When I left, I felt like a new person with a new and positive outlook on my life. I was happy and relieved. I truly enjoyed my visit and can even breathe easier now.. I highly recommend Ms Tang.
---
Mar 16, 2023
I have only seen this doctor once!
---
Mar 8, 2023
Scheduling was 5 months out due to this being my new PCP. A cancellation was made and I got in the following day! I was thrilled.
---
Mar 8, 2023
She was polite and professional and we talked about all the things I wanted to cover in the visit.
---
Feb 15, 2023
Was the first time I saw her and it was very good, she listened to me and she answered my questions, I really like her!!!!
---
Feb 10, 2023
Dr. Tang was so patient, helpful and concerned for my wee-being. I'm really glad she is my doctor!
---
Feb 9, 2023
This was my first visit with the provider, because my previous provider moved to another clinic and is not in my network. I am VERY pleased with my new provider.
---
Feb 8, 2023
Dr. Tang is amazing!
---
Feb 2, 2023
Everyone is helpful
---
Feb 1, 2023
Always good service -
---
Feb 1, 2023
Waiting for lab results but not too concerned about the report. Not life or death info more than anything.
---
Jan 23, 2023
I was a new patient to Dr. Tang . I was pleasantly surprised with her knowledge, caring manner and explanations.
---
Jan 20, 2023
Felt listened to and cared about
---
Jan 13, 2023
The provider is knowledgeable and professional and puts the patient at ease. Listens well.
---
Jan 13, 2023
Dr Tang is attentive and LOOKS at me when talking. She makes me feel comforted and accepted. We DISCUSS my care plan- she doesn't just tell me what to do. She is awesome.
---
Jan 11, 2023
She listened and addressed all my concerns. This was my first meeting with my new primary doctor. I liked her very much. Easy to talk to, while giving me Information I needed to know.
---
Jan 9, 2023
Outstanding dr. Very pleasant - I am so glad to have found her!!
---
Jan 5, 2023
Good experience with Dr. Tang.
---
Dec 21, 2022
Dr. Tang was great! Listened to my concerns and took them seriously. I really liked how thoughtful she was.
---
Dec 12, 2022
Dr. Tang had very good communication skills Very friendly
---
Dec 7, 2022
My doctor explained all concerns clearly. She listened to me and had a very caring manner. I like this doctor and hope that she will stay with this clinic.
---
Dec 1, 2022
Very pleased with her care.