Legacy Health unveils surgical robotics program at Silverton Medical Center
MEDIA CONTACT:

Kristin Whitney
Legacy Health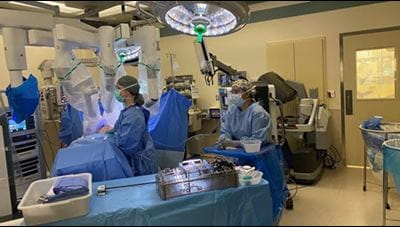 SILVERTON, ORE. – January 10, 2022 – Legacy Health is pleased to announce the launch of a new surgical robotics program at Legacy Silverton Medical Center with the installation of an Intuitive daVinci Xi Surgical System robot. With this advanced instrumentation, surgeons will be able to perform delicate and complex operations through a few tiny incisions with increased vision, precision, dexterity, and control.
Patients experience several benefits compared to open surgery, including, less trauma to the body, less pain, minimal scarring, a shorter hospital stay and shorter recovery time.
"We are very excited to be able to offer Robotic assisted surgery here at Legacy Silverton," said Liska Havel M.D., general surgeon with Legacy Health. "This advancement in minimally invasive technology will benefit patients with our ability to perform more complex abdominal wall surgeries as same-day surgeries and decrease the recovery time required for many of the other procedures, we already perform. We look forward to providing care to our patients with this advanced technology close to home, in Silverton."
Robotic-assisted surgery is the most advanced form of minimally invasive surgery available today and with its new robotic surgery program, Legacy Health brings state-of the art surgical options to Silverton, increasing local health care choices for the residents of north Marion County. Many operations that previously required long operating time and hospital stays now can be performed as outpatient procedures, with patients returning home in a few hours or requiring shorter stays in the hospital. Robotic-assisted surgery options will be available for several key areas including inguinal hernias, complex abdominal wall hernias, hiatal hernias, reflux surgery and colorectal surgeries as well as some gall bladder surgeries.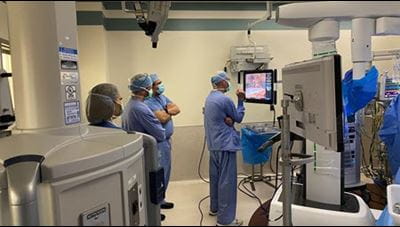 "I've had previous hernia repair surgery and even with pain management, I could barely walk, and I felt like I was still being ripped in two. It took more than two weeks for any sense of normalcy," said Olaf Bahr, Legacy Silverton Medical Center surgical patient. "I was fortunate enough to experience the "Robot" for a double hernia repair on my other side. This time around "whoa!", talk about smooth sailing. Only a few hours in the recovery bay and having refused pain medication, I was on my way out the door and heading home. Over the next week of "taking it easy" life was kind of normal. By the end of the week, I was back to walking the dogs a mile or two and putting in hours at work. I am thankful Silverton Hospital has this level of technology available to them. If this is the future of surgical procedures moving forward, count me in."
With this advanced technology, the surgeons can perform surgeries by using instruments that they can guide via a console. The tiny wristed instruments move like a human hand, but with a greater range of motion. The robot also delivers highly magnified, 3D high-definition views of the surgical area. The instrument size makes it possible for surgeons to operate through a few small incisions.
For more information about robotic surgery at Legacy Health please visit for more information.
About Legacy Health
Legacy Health is a locally owned, nonprofit health system driven by our mission to improve the health of those around us. We offer a unique blend of health services – from wellness and urgent care to dedicated children's care and advanced medical centers – to care for patients of all ages when and where they need us across the Portland/Vancouver metro area and mid-Willamette Valley. With an eye toward a healthier community, our partnerships tackle vital issues such as housing and mental health. Legacy strives to help everyone live healthier and better lives, with the vision of being essential to the health of the region. For more information, visit www.legacyhealth.org.