Bahaa Wanly Takes Helm as Legacy Mount Hood Medical Center President
MEDIA CONTACT:

Elizabeth Baker
Legacy Health
Wanly brings nearly two decades of health care leadership experience to his role with Legacy Health.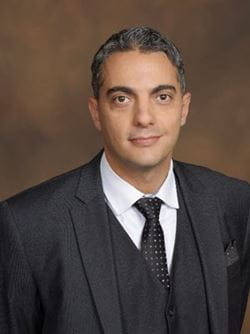 GRESHAM, ORE. – March 9, 2022 – Bahaa Wanly has recently taken the helm as Legacy Mount Hood Medical Center's president, bringing with him numerous years of health care leadership experience.
Prior to his new role, Wanly served as chief operating officer for Salem Health Hospitals & Clinics and as a medical group administrator for the University of Washington Medicine Health System.
Wanly said he was drawn to Legacy Mount Hood Medical Center because of its strong community roots.
"I wanted to be part of a community-based hospital, but also be part of a larger health system that brings essential resources to the community. Legacy Health is about serving all people, and Mount Hood Medical Center is home to the most committed team members I've ever seen. They give their all every day."
Mount Hood Medical Center continues its efforts to be part of community health solutions and building partnerships with other local organizations.
"I want the community to know that they get world-class care, right here, locally in their community. That's what we're committed to and focused on every day."
Wanly, an Oregon native, has a deep understanding of the region's health care needs. He was raised in Corvallis and comes from a family of health care providers. His parents were architects who built, among many things, hospitals.
"I'm really looking forward to my family and I becoming more a part of the community. My kids are especially excited about school athletics," Wanly said.
Wanly is particularly passionate about culture development, health system optimization, strategic planning, community and government relations, and accountability. He is eager to meet other local business and community leaders to build new partnerships and expand existing ones.
In addition to his professional experience, Wanly has a master of health administration from the University of Washington, a bachelor's degree in health administration, and a bachelor's degree in ethnic studies. He is a contributing member of the American College of Healthcare Executives, a governor-appointed member of the State of Oregon Health Equity Task Force, and active in a number of community organizations.
Legacy Mount Hood Medical Center is the Gresham area's full-service community hospital. It offers advanced care and expertise in robotic-assisted surgery, cancer treatment and gastrointestinal care. It was the first hospital in Oregon to perform robotic-assisted total knee replacement and it is renowned for its outstanding stroke care. Visit Legacy Mount Hood Medical Center online to learn more about the hospital and its services.

About Legacy Health
Legacy Health is a locally owned, nonprofit health system driven by our mission to improve the health of those around us. We offer a unique blend of health services – from wellness and urgent care to dedicated children's care and advanced medical centers – to care for patients of all ages when and where they need us across the Portland/Vancouver metro area and mid-Willamette Valley. With an eye toward a healthier community, our partnerships tackle vital issues such as housing and mental health. Legacy strives to help everyone live healthier and better lives, with the vision of being essential to the health of the region. For more information, visit www.legacyhealth.org.