Groundbreaking kicks off construction of $35 million expansion to Legacy Silverton Medical Center
MEDIA CONTACT:

Kristin Whitney
Legacy Health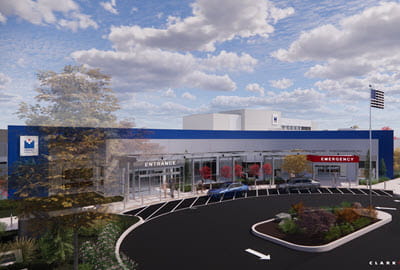 SILVERTON, ORE. – June 29, 2022 – Today, Legacy Health announced a $35 million expansion of Legacy Silverton Medical Center with a celebratory groundbreaking ceremony to mark the beginning of construction that will modernize and expand the emergency department and imaging department and redesign the hospital entrance.
Construction for the project, to be completed in two phases, will begin in July, fulfilling a long-standing commitment to expand healthcare services in the Mid-Willamette Valley region. When completed, the expansion will add 21,000 square feet to the existing Legacy Silverton Medical Center. Phase one is slated for a fall 2023 completion, and phase two is expected to be complete by the end of 2024.
"Providing high-quality health care has been our top priority at Legacy Silverton Medical Center for decades," said Jonathan Avery, President of Legacy Silverton Medical Center. "The award-winning care our teams provide is why Legacy Silverton Medical Center consistently ranks among the top hospitals in Oregon for patient satisfaction. This construction project will deliver a new state-of-the-art medical facility allowing us to continue to provide the incredible caliber of quality health care our patients have come to expect."
Silverton Hospital and Legacy Health came together in 2016 with a shared vision and mission of improving access to health care services and a dedication to community health. Legacy Health pledged $58 million in 2016 to focus on three key areas: physician recruitment, equipment upgrades, and a new modernized medical facility. Recent investments include the installation of 3D mammography in Woodburn and Silverton and the launch of a new surgical robotics program. The partnership also gave local communities in the mid-Willamette Valley access to Legacy's system of providers and specialty health care services such as pediatric care at Randall Children's Hospital at Legacy Emanuel.
The improved emergency department will increase its total bed capacity from 12 patient rooms to 20 with larger treatment bays and expanded rooms designed specifically for trauma patients, cardiac patients, and women's services.
Additional expansion improvements in phase I and phase II will include:
Phase I: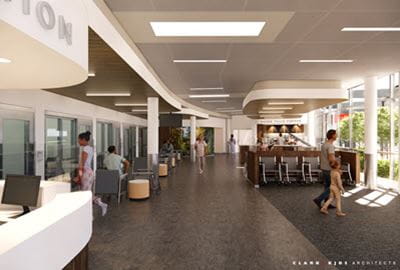 A brand-new hospital entrance with a covered drop-off and pick-up zone will shield patients and their families from the weather as they enter the facility.
The expanded reception lobby will feature registration stations and private admitting booths.
The lobby will be home to a newly designed coffee shop, a gift shop, and a volunteer greeter station, creating a tranquil setting for patients, visitors, and staff.
The Family Birth Center will gain a new family waiting room, providing a calming and comfortable place for expectant families awaiting their new arrival.
A new helicopter landing pad will allow air ambulances to safely land and transport critically ill patients and babies. Patients requiring access to higher-acuity hospitals, such as Legacy Emanuel Medical Center or Randall Children's Hospital in Portland, will be transported from a new helipad located directly across the street from Legacy Silverton Medical Center.
The expansion will include a new "All Faiths Chapel" to welcome patients, families, and staff for moments of personal reflection and prayer.
Phase II: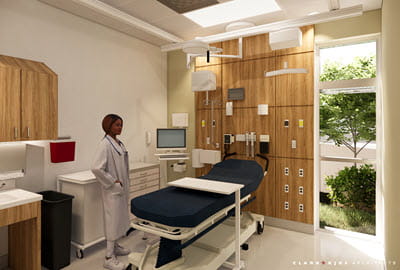 In the second phase of construction, Legacy Health will bring state-of-the-art imaging services to communities in the mid-Willamette Valley, eliminating the need to drive to another location to access imaging services.


Once complete, the new Diagnostic Imaging Center will include MRI capabilities – the first-ever MRI in the city of Silverton.


While Silverton Medical Center offers 3D mammography today, the new Women's Imaging Center will add other women's imaging services such as DEXA scan and expanded ultrasound services.




The expansion of Legacy Silverton Medical Center was made possible in part due to the generous support of corporate and individual community donors and the Silverton Health Foundation Board.
For more information about Legacy Silverton Medical Center, please visit https://www.legacyhealth.org/doctors-and-locations/hospitals/legacy-silverton-medical-center
Credit for all photos go to Clark/Kjos Architects.
About Legacy Health
Legacy Health is a locally owned, nonprofit health system driven by our mission to improve the health of those around us. We offer a unique blend of health services – from wellness and urgent care to dedicated children's care and advanced medical centers – to care for patients of all ages when and where they need us across the Portland/Vancouver metro area and mid-Willamette Valley. With an eye toward a healthier community, our partnerships tackle vital issues such as housing and mental health. Legacy strives to help everyone live healthier and better lives, with the vision of being essential to the health of the region. For more information, visit www.legacyhealth.org.