Legacy News
A Day in the Life of a Pediatric Pharmacy Resident 
June 18, 2021
A Story Told by 2020-2021 First Year Pharmacy Resident, Kwan Rey Chen

What is it like to be a Pharmacy Resident with an emphasis on pediatrics at Randall Children's Hospital at Legacy Emanuel (RCH)?

First and foremost, I want to highlight the fact that a residency with a focus on pediatrics is both a residency and a specialty training program in pediatrics. You get both qualifications with one degree. Despite COVID-19, work hasn't changed much, except for a slightly lower census on some rotations.

Some quick facts about Randall Children's Hospital: It opened in 2012 as one of the newest children's hospitals in the area. Its Neonatal Intensive Care Unit (NICU) is among the nation's best. In Oregon, it's the first level 1 pediatric trauma center. In July 2021, Randall is opening a brand-new labor and delivery unit.

So, what's it like working in a children's hospital? I love it. Randall is beautifully decorated, and each floor has its own unique animal theme. The staff is friendly, and the kids wave as they walk by. We have playrooms and toys; everything is highly colorful.

When it comes to working, no two days are alike. Every day brings new and unique patients and challenges. But here is a breakdown of something close to a typical day.:

7:00 AM: When I get into the office, I sign into my workstation and get settled. I like to start my day at least 30 minutes before the designated rotation start time (7:30 AM) in order to review my patients before my advisor arrives. I can also enjoy my morning coffee in peace.

7:30 AM: I go to the central pharmacy, grab the team mobile phone, and return to my workspace for this rotation. I do an in-depth chart review, work on pharmacy consults, and plan/present the interventions that I would like to discuss with the team.

8:45 AM: I discuss the interventions that I would like to make with my preceptor, my pharmacy consult results, and prepare for follow-up questions after I recommend any new changes or programs to the team.

9:00 AM: I attend rounds. This can last up to two hours. After rounds, I complete my post-round checklist. (I make a checklist of the things I need to get done for my patients, including dose adjustments, verification, and more.)

11:00 AM: If I am caught up on my work, I will have a topic discussion with my advisor. The topic discussion generally lasts around 30-40 minutes.

Noon: I take lunch and catch up on emails and other meetings/administrative work. Then I continue with any unfinished rounds for patients on my service or other consults.

1:30 PM: The RCH Pharmacy Team has its daily safety meeting to discuss high-risk or unusual therapies, workflow, staffing, safety events, and other things.

2:00-4:00 PM, I continue to work with patients and complete a global review of all the patients on my service for the next staff member.

ALL DAY: I answer phone calls, verify orders, and continue to search for new interventions/optimizations of patient care.

My service workdays run from 7:00 AM – 4:00 PM. However, on some days, exciting things happen near the end that require me to stay late. I like to make the most of every opportunity to learn. After my day rotation is done, I often work on additional projects, like topic discussions, individual learning, or my research project.

Looking for more?
Read our story about being an Emergency Department Pharmacy Resident here.
Read about being a Pharmacy Resident at a small suburban hospital here.
Learn more about our Pharmacy Residency Program here.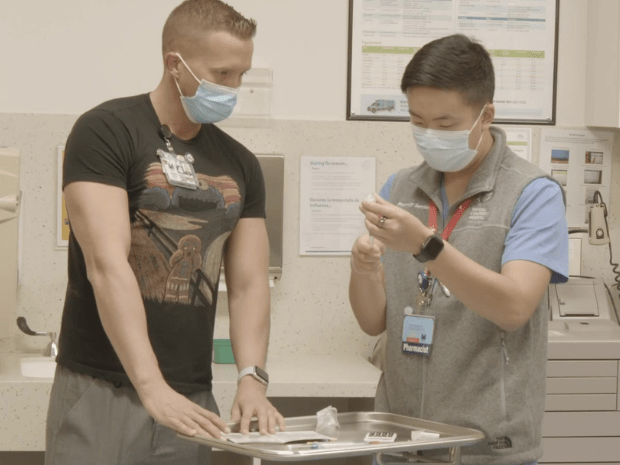 Sign up for our email newsletter