Legacy News
A PGY-2 ambulatory care resident pursues her life's passion
February 02, 2022
Unlike most pharmacy students, I was unsure if pharmacy was the right path for me. It wasn't until my second year of pharmacy school that I discovered the patient-centered world of ambulatory care pharmacy and was confident in my choice of choosing pharmacy as a profession. I knew the journey to get to this specialized field of pharmacy would not be an easy one. Pursuing a specialty through residency training is not always the right choice for everyone, especially given how overwhelming the demands of residency can be. Now, as I enter my last six months of residency, I have been reflecting on my practice and what makes me most excited about being an ambulatory care pharmacist. As we live through the COVID-19 pandemic and staggering rates of burnout, I invite us all to take the opportunity to reflect on the things that bring the most meaning during our workdays.

What do I love about being an ambulatory care pharmacist?

1. Being a patient advocate

Have you ever watched old shows and movies like "One Flew Over the Cuckoo's Nest" (as an extreme example) and been horrified by what little agency patients had within the recent history of our health care system? It amazes me how far we have come (and how far we still have to go) in terms of empowering patients to be informed and take ownership of their health. As an ambulatory care pharmacist, I get to play an integral role in my patients' journey towards healthy living. Fundamentally, I believe the purpose of my job is to educate patients about their bodies so they can make informed decisions about their health. Advocating for this autonomy is one of my favorite aspects of working with patients.

2. Focusing on preventative medicine

In the age of COVID-19, the importance of preventative medicine is at the forefront of our minds more than ever. Pharmacists have always played an integral role in preventative medicine through the administration of vaccines and providing pertinent health education. Not only does this improve the health of our patients, but it can result in significant cost-savings as well.

One other important aspect of preventative medicine is the management of chronic diseases. As an ambulatory care resident, I spend the majority of my time in our primary care clinics managing disease states such as diabetes, hypertension and osteoporosis. Through collaborative practice agreements with our providers, ambulatory care pharmacists at Legacy provide complete medication management for these disease states, including discontinuing, adjusting and prescribing medications. Focusing on preventative care makes me feel as though I am doing something truly valuable for my patients as well as our health care system as a whole.
3. Promoting the profession of pharmacy

Pharmacy, like the rest of the health care world, is evolving fast. Ambulatory care represents one of the most innovative and fastest-growing areas of the pharmacy profession. In the multidisciplinary world of health care, I love learning about the roles of other members of the health care team and sharing what pharmacists can do for patients. I have so enjoyed collaborating with and learning from our wonderful providers and clinicians at Legacy, and I appreciate the opportunity to advocate for the profession of pharmacy by refining my clinical skills to ensure I am providing up-to-date, valuable drug information to our patients and providers. After residency, I look forward to being involved in professional organizations so I can partake in the advancement of ambulatory care pharmacy on the local and national levels
.
As a resident, I feel as though I have become somewhat of an expert in finding ways to uplift my spirits during long days and impending deadlines. Remembering my passion and my reasons for choosing this path in the first place has been a powerful way to do just that. What are you most thankful for?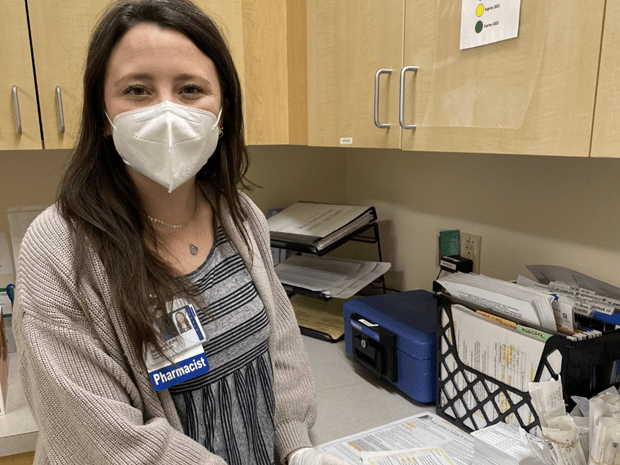 Sign up for our email newsletter