Community Impact
With Legacy's help, young artist captures Good in the Hood
June 08, 2022
Once again, Legacy Health is sponsoring Good In The Hood, the three-day event that celebrates cultural diversity while also raising scholarship money for racially diverse college students.

This year Legacy partnered with Emmanuel "Manny" Calvin Dempsey, a gifted artist from the community. Manny designed an eye-catching design for Legacy employees to wear as they march in the event's parade. His heart-shaped depiction of friends and community members emulates the vibrant love that surrounds Good in the Hood, one of the largest group gatherings in Oregon and just one of dozens that Legacy will help sponsor this year. His colorful, mural-style design gels together the event's feel-good vibes, musical energy and Legacy's mission of good health for all.

Though he's only 15 years-old, Manny's been making art since he was a toddler. While watching cartoons, Manny got inspired to create his own characters. Over time, he developed a personal group of familiar characters drawn from family and friends, characters he affectionately calls "my bros." Manny's talent quickly developed into a serious one: In 2017, he was one of the first child artists selected for the Portland Trail Blazers Gameday Poster Series. Two years later, Manny was asked by the Friends of Baseball to create an interpretative image of Josh Gibson, a catcher in the Negro leagues and one of the baseball's greatest players. This year, Manny's artwork was featured at the Holy Beanz Coffee Shop in the Alberta Arts District. The coffee shop is owned by Black female and first-time entrepreneur Shalimar Williams.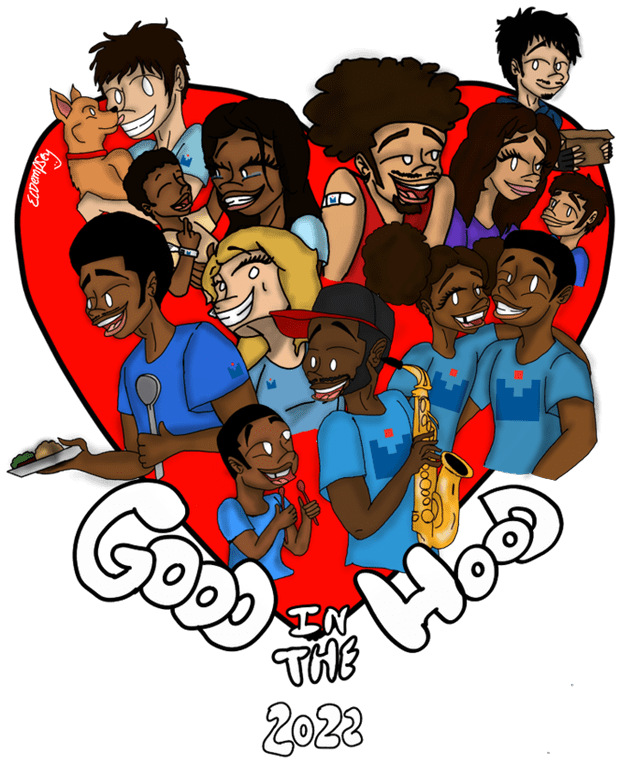 Connecting these achievements has been Manny's devotion to social and cultural awareness, particularly the creation of Black figures who look like Manny and those from his close-knit community. Manny's unique design for Legacy's participation in Good in the Hood continues this mission while also emphasizing a further connection: It brings together a burgeoning community artist (Manny), significant local event (Good in the Hood) and longstanding community patron (Legacy).

This year, the event will again be located at Kings School Park. And once again, there will be a parade, music festival, food and vendors. Legacy will provide its familiar health tent where it will do what it has long done at such events as well as for every community in general: Bring good health and wellness education to its multicultural citizens.

We hope to see you there!

Learn more about Good In The Hood
Sign up for our email newsletter