Legacy News
Beneath the Surface: Transitioning from a Large Academic Center to a Smaller Community Hospital
March 22, 2023
My last two years of pharmacy school were spent either in the (virtual) classroom or in the only academic teaching hospital in Oregon as one of its six interns. The intern program at this hospital is well known for its challenging and rigorous training.
As an emergency department intern, my training and eventual baseline practice developed from a lot of time spent at an acute, Level 1 Trauma Center. Among highly trained specialists, medical residents, researchers and fellow health care students, I experienced an interdisciplinary teamwork structure unique to a teaching hospital.
However, as my personal practice developed, I recognized something was missing: Interpersonal connections. With the constant rotations of students, residents and fellows, a teaching hospital sees turnover that may prevent the development of relationships among peers. As an empath, this gap stuck with me.
During my interview with Legacy Meridian Park Medical Center, I asked: Considering my intense academic training program, what could a small community hospital could offer me that I hadn't experienced already? What would the transition look like? The answer resounded: Connections. Relationships. Interdisciplinary teamwork that functioned on the basis of mutual understanding developed only through hours of practice and consistent time spent together.
It seemed that instead of developing a personal practice and adapting it to new teams weekly, I would be developing a practice with the same practitioners to create a close-knit team dynamic.
When ranking programs for residency, I chose to rank my small, local community hospital as #1, which came as a surprise to many colleagues and preceptors. My first six months at Legacy Meridian Park have shown me how right this decision was. At first, I was worried. Would I miss the patient anomalies that I so loved because I was now in a hospital that transferred acuity out rather than accepted critical transfers in? Would I miss the fast-paced, intense environment I grew accustomed to in the emergency department of a larger hospital? Would I have proud experiences to divulge to my fellow classmates who accepted residency positions at academic teaching centers?
The stigma of community hospitals simply does not exist. Though it is true community hospitals do not manage certain specialties, such as trauma, a cardiovascular ICU or transplant, the acuity and fast-paced environment remains.
My biggest surprise about pharmacists at community hospitals is the responsibility they have. I had grown accustomed to a plethora of pharmacists at an academic teaching institution: Two attending a Code Blue at any time; three or more managing Central at all times; multiple ICU pharmacists, each trained for their respective specialty. This dynamic does not exist in a 120-bed community hospital. There is one pharmacist in Central and one ICU pharmacist responsible for all critical patients, regardless of their specialty service. I was suddenly thrust into a position of more responsibility than I could have ever imagined. I am not missing patient anomalies: My patients do not fit into a guideline-directed therapy mold and require deep clinical thinking. I am not missing intensity: The environment remains fast-paced and often seems more overwhelming due to the fact I am the only pharmacist there.
These are experiences I never anticipated in the transition from an academic teaching hospital to a smaller community hospital. I feel I have learned how to be independent as a pharmacist. And, just as I was hoping, the interpersonal connections I was looking for are considerable, most notably within the pharmacy department. It becomes easier to develop relationships with a tight-knit group of a dozen pharmacists who are consistently scheduled (as opposed to an enormous group of more than 50 pharmacists who irregularly rotate through varying, decentralized shifts).
The community hospital also provides more consistent physician staffing, which has allowed me to closely work with them and get to know them on a personal level, too. These close-knit relationships build trust between pharmacists and physicians. With increased trust comes an increased desire for input, guidance and recommendations for pharmaceutical therapies.
Though I was initially nervous about moving from a larger institution to Legacy Meridian Park, all concerns have now disappeared. I continue to thrive in a fast-paced (and often stressful) environment. And, consistent with what was most important to me during this transition, the relationships I have been able to develop are flourishing and make coming to work something I look forward to each day. I cannot thank the pharmacy team at Legacy Meridian Park enough for believing in me from the get-go. I feel I have found a place here.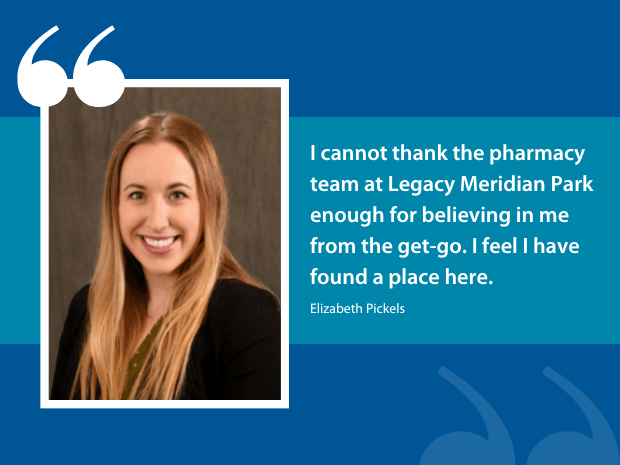 Sign up for our email newsletter