Legacy News
National Nurses Week: Chryssa Meeker
May 06, 2023
Chryssa Meeker
Legacy Salmon Creek Medical Center
Chryssa Meeker joined Legacy Salmon Creek Medical Center six years ago as a nurse in the progressive cardiac care unit and was recently promoted to a nurse educator. Since rotating through Legacy Salmon Creek as a nursing student at Clark College, Chryssa always wanted to work at the hospital because of the site's culture.

What drew you to a career in nursing?
I was a senior in high school when one Sunday morning my mom got into a minor kitchen accident. She stabbed herself in her hand with a knife to the point where you could see the tip on the other side of her palm. My sister freaked out, but for some reason I was very calm.
I took her to the emergency room, sat with her and watched when they washed out the wound and stitched her up. I thought it was interesting. Before that my plan was to go into business because that's what my family does. It was a moment in my life where I realized that I wanted to do something that was going to help people in an intimate way. I decided on nursing specifically because you can do a lot of different things. You don't get bored.

What do you like best about being a nurse?
I like to help people in a real way, to be calm when it's a difficult time in their life and help see them through it.

How does being a nurse fulfill you?

No matter how the day goes, you always have one interaction that makes you feel like, okay, even though the day was hard, this one interaction was really good, and I made a difference in someone's life.

What do you like best about working with your Legacy team?

The teamwork here is what makes it. Working in any medical field is difficult. As a team, we can get through it, we can support each other and as a team, if we feel supported, we can take better care of our patients, which is the ultimate goal.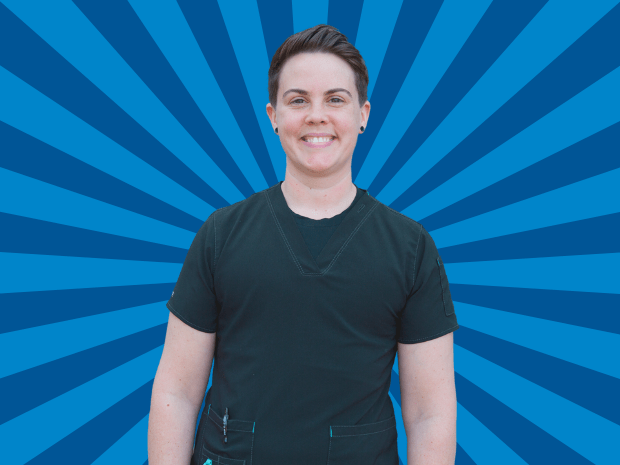 Tell us about a time when you were especially proud to be a nurse.
We banded together during COVID to help and save as many patients as possible. This was one of the most difficult times, hopefully, that I'll ever go through in my career. Looking back and seeing how we were able to handle everything as a team is pretty incredible. Everybody got us through that time, housekeeping, CNA's, etc. I am very proud of what we did during that hard time.
Sign up for our email newsletter