Community Impact
Legacy Health shines light on small business owner and artist Wokeface
June 29, 2023
As Legacy Health continues to celebrate Pride Month, we are taking this moment to highlight a local small LGBTQIA+-owned business to help spread awareness of one of the fantastic LGBTQIA+ businesses there are in our communities and encourage others to support and buy locally this month and throughout the year.

Meet Janet, the artist behind Wokeface and owner of Higher Self, a small LGBTQIA+-owned and operated storefront located in Southeast Portland. You may be familiar with seeing their artwork on stickers and murals sprinkled all over the city or stopping by their storefront dedicated to supporting and uplifting other local artists. This Pride Month, Janet shares more insight into their artwork, brand, and what it's like being a LGBTQIA+ business owner. Check it out!




Why did you decide to start your own business in this industry?

"Wokeface started as a fun side project where I would do street art around town and put my art on stickers. People started noticing my artwork on social media and wanted to purchase from me. That's when I turned my passion into a business and learned more skills, such as screen printing, to start making and selling shirts."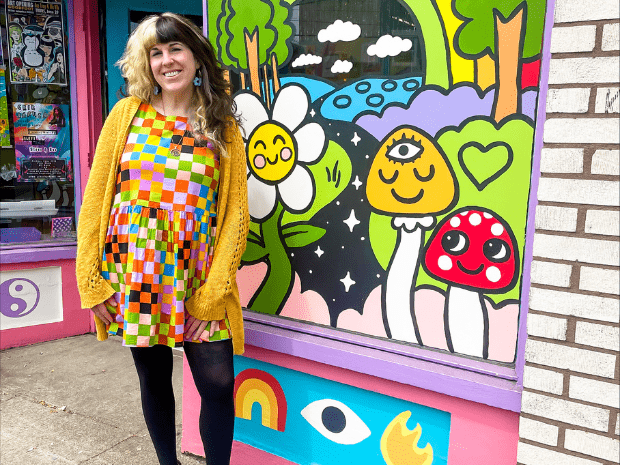 How did you come up with the name of your company?

"Although I don't come from a religious background, about ten years ago, I had a spiritual awakening that turned my world upside down, and I felt a shift in my existence and my perspective on life. That's what Wokeface symbolizes to me, a reflection of that moment in my life. The word 'woke' has taken on many meanings in today's world that leads people to have pre-assumptions and judgment about my art and who I am, but I encourage people to really take a look at my art and spend two minutes getting to know me and my art, and then you will really see what I'm about.

For my storefront, I wanted it to have its own name and identity because I knew it was going to form into something bigger, but I still wanted it to be connected to Wokeface somehow. That's why I chose the name 'Higher Self' because it's a spiritually charged term that is all about being the best version of yourself, loving who you are and being a spiritual guide to your cautious. In challenging situations, I always ask myself, 'What would my higher self do?' Our tagline is 'Be nice to you' because we want to promote being kinder to yourself, especially in today's world."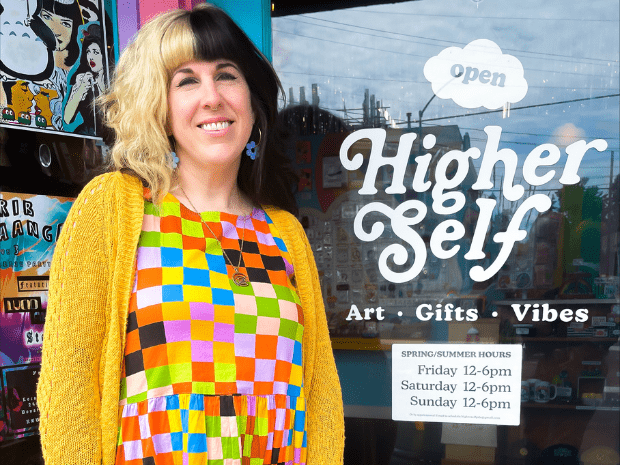 What challenges have you faced as an LGBTQIA+ business owner?

"There hasn't been much in-your-face discrimination. We've gotten anti-gay letters in the mail, but they never leave a return address for us to respond to. I've also seen my stickers crossed out or censored out, but it doesn't faze me. One time I had someone on Instagram leave a comment that said, 'Do you like rainbows, or are you trying to gay up the world,' I replied with, 'Both,' and then took the saying 'Gay up the world' and made it into stickers. The hate comments are rare, but I like to turn them into art when they do come. If I were anywhere outside of Portland, Oregon, trying to run my business, it would be more challenging because many cities aren't as welcoming and supportive of the LGBTQIA+ community as Portland."

What's one thing you want people to know about you and your business?

"That anyone can do what I'm doing if it's their passion. It's very brave to make art and share it with the world. I don't think I'm lucky; I believe I was brave enough to take the next step toward my passion and dreams, and you can, too, if you believe in yourself. Sharing my art has connected me to really incredible people."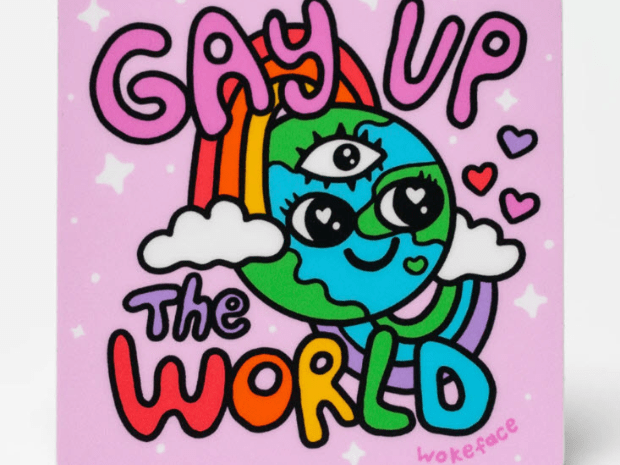 What are some ways your business celebrates Pride Month?

"It's gay in here all the time! That's what we're about all year long, but we personally seek out queer makers and artists and carry many of their items and artwork in our store. We will continue to bring in more LGBTQIA+ artists and share their work. We want to continue celebrating our LGBTQIA+ community and making a home for them at our store."




Where do you see yourself and your business in 5 years?

"I want to continue growing at my own pace and continue spreading the message of self-love. I get messages from the community all the time saying how my artwork makes them feel seen or how a teacher has some of my artwork hanging up in their classroom. I love that because we have teens come into the store sometimes, and I'm happy to provide a safe space where they feel seen and heard. I hope to offer more community opportunities, such as mentorship and workshops, and provide more opportunities to help other artists grow and share their work. I also hope my artwork and message continue to spread more wildly and even internationally."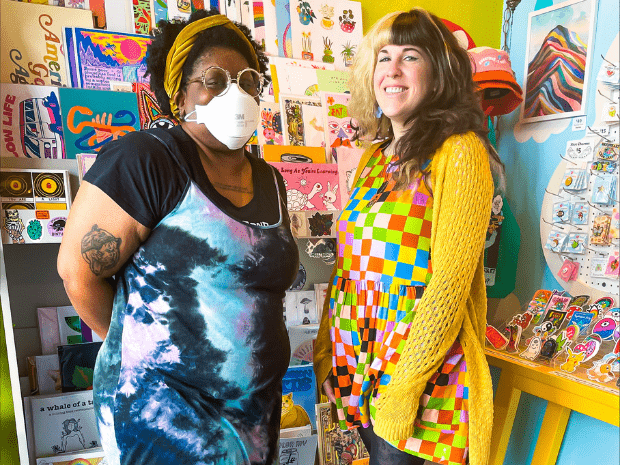 Learn more about Wokeface:
Check out their Instagram pages: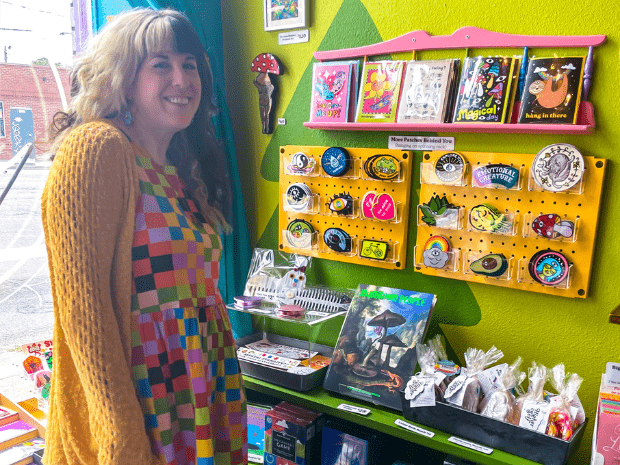 Sign up for our email newsletter