Legacy News
Legacy Health's innovative doula program receives national recognition
June 21, 2023
Legacy's Doula program, launched in 2021, was highlighted by the Institute of Medicaid Innovation for its innovative work in Perinatal and Child Health in Medicaid. The institute conducted a national review of practices and policies implemented to highlight comprehensive and sustainable models and policies grounded in health equity.
A doula is a trained non-clinical professional who provides physical, emotional, and informational support to birthing people and their families. Research has shown that patients who work with doulas have improved outcomes for themselves and their babies and leave their birthing experience feeling better supported.
A 2017 review of 26 studies involving 16,00 women by Cochrane, a nonprofit network of independent researchers, found that pregnant women who receive continuous support from doulas typically have shorter labors, need fewer medical interventions, and are less likely to have a cesarean section. They're also more likely to say that the birth was a positive experience. Babies born with a doula's help tend to have a healthier start in life.
The Legacy Doula program was made possible with support from Randall Children's Hospital Foundation with the goals of:
Providing access to doulas for all Medicaid patients, including those at highest risk for poor health outcomes due to implicit racial bias.

Integrating a diverse doula workforce into the health system and supporting culturally matched doulas and clients.

Improving preterm birth, breastfeeding rates and patient satisfaction.

Decreasing the cesarean section rate and NICU admissions.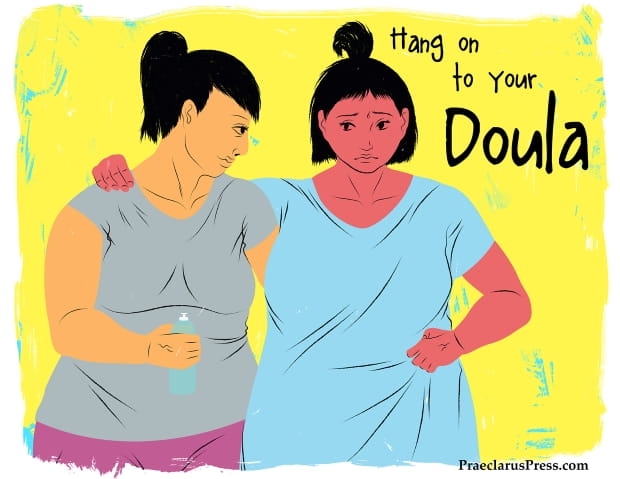 Joyce Zara joined the Legacy Doula program in 2022. She became a doula in 2019 and said her job brings her joy because of the impact she's able to have with a family at such a transformative time in their lives.
"It's really humbling and rewarding," said Joyce.
In her short time with Legacy, Joyce has worked with a diverse and interesting mix of clients that include refugees from Southeast Asia and teens. She's also worked with extensively with the Asian, Asian American, Pacific Islander community, as well as the Black, Indigenous and People of Color, and LGBTQIA+ communities.
"As a person who is queer, I'm able to mirror my experience with my LGBTQIA+ clients," she said. "They don't have to filter themselves. I'm able to uplift their voice and help them have the birth outcome they want."
Legacy Health recruits a broad pool of community doulas that allows Legacy to match doulas to clients based on how they identify, and/or clients' specific requests. The program is also available to current Legacy employees
Pregnant people have the option to interview their doula before being matched. Recruitment prioritizes doulas of color, bilingual/bicultural doulas, those identifying as LGBTQIA+, and doulas who have lived experience with substance use disorder, homelessness, low-income or under-resourced pregnancy or mental health diagnoses.
These types of innovative programs help us reach underserved populations of birthing people and their families with culturally appropriate care that improves health outcomes for baby and mother.
You can read more about Legacy's Doula Program on
page 28 of the Institute for Medicare Innovation report
.
Sign up for our email newsletter