PGY1 Residency Program
Pharmacy Residency Training
PGY1 residency program
Legacy Health Services offers an ASHP accredited one-year, multi-site post-graduate program. Six PGY1 positions are available. The program is individualized to allow each resident to pursue additional experience in areas of practice interest and to provide learning experiences that prepare a pharmacist for PGY2 training or a clinical position in an acute care or ambulatory setting. Each individual medical center has a unique NMS code. Applicants may apply to as many individual sites as they would like to be considered for. The program is run by one residency program director, one residency program coordinator and five site coordinators, one at each of the facilities.
Legacy's unique multi-site PGY1 residency program has each individual resident based at a home site facility where residents complete their required rotations (internal medicine, critical care, administration, emergency medicine), their longitudinal staffing requirement and at least 1 elective. Required longitudinal and non-clinical experiences include leadership and medication safety. The remaining 1-2 elective rotations (up to 12 weeks) can be completed at any facility within the Legacy Health System, which offers a wide variety of rotations and training opportunities in a broad range of practice areas and specialty services. Elective opportunities include ambulatory care, transplant, infectious diseases, trauma critical care, cardiovascular critical care, pediatric critical care, oncology (adult and pediatric), neonatal critical care, pediatric emergency medicine, transitions of care, anticoagulation, operating room, oncology ambulatory care and informatics. Residents have the opportunity to pursue a teaching certificate through a program co-sponsored by the two local colleges of pharmacy.
Applications are accepted via the online PhORCAS system and are due by January 2nd each year.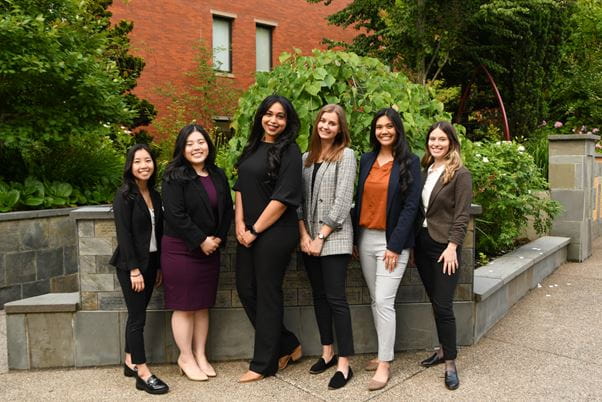 2023-2024 PGY1 Residents
From left: Teresa Tran, Michelle Zhou, Lisa Rice, Nicole Procopoi, Kalina Rivera, Angela Schoepp
Our sites
Legacy Emanuel Medical Center (LEMC) NMS code: 113121, 2 positions annually
Legacy Emanuel Medical Center (LEMC) is the largest hospital in the Legacy Health system located in Portland, Oregon. LEMC is home to a Level 1 trauma center for both adults and pediatrics, Oregon's only burn center, highest-level care neurosciences department, a robust general surgery program and Legacy's cardiothoracic surgery program. Legacy Emanuel Medical Center is a regional leader for exceptional care in emergency medicine, critical care and complex surgical cases involving burns, cardiac, neurological, oral maxillofacial, orthopedic, trauma and vascular specialties. LEMC pharmacists are an integral part of the multidisciplinary teams in the cardiovascular ICU, neuro-trauma ICU, burn unit, trauma recovery acute care unit, internal medicine, progressive cardiac care unit and pediatrics. Pharmacists also play a vital role with the infectious disease specialists, stroke team, surgical services and a busy 29-bed emergency department.
Legacy Mt. Hood Medical Center (LMH) NMS code: 113124, 1 position annually
Legacy Mount Hood Medical Center, a 100-bed full-service community hospital, is the easternmost hospital in the Portland area, serving East Multnomah County along with a vast number of rural communities. The pharmacy department provides 5 decentralized clinical services: internal medicine, surgery, critical care, progressive care, and one of the busiest emergency departments in our health system with over 45,000 visits annually. In addition, LMH provides robust transition of care and ambulatory care services with pharmacists leading multidisciplinary teams addressing barriers to care and managing chronic conditions.
Legacy Good Samaritan Medical Center (LGS) NMS code: 113113, 1 position annually
Legacy Good Samaritan Medical Center (LGSMC), is a CMS 5-star rated hospital located in the heart of Northwest Portland, and provides highly specialized care, including a top rated cancer program, emergency services, cardiac interventional services, intensive care, and rehabilitation. Surgical services include kidney transplant, bariatric, and eye surgery programs. LGSMC pharmacists provide quality service and critical care to all of these clinical programs.
Legacy Salmon Creek Medical Center (LSC) NMS code: 113122. 1 position annually
Legacy Salmon Creek Medical Center (LSMC) is a 220- bed community, CMS 5-star rated hospital located across the Columbia River in Vancouver, Washington. The PGY1 Residency at Legacy's fastest growing hospital offers many opportunities in a robust critical care environment which includes a high volume Emergency Department (32 beds with an average of 75,000 visits), a 30-bed ICU/IMCU, and an 18-bed NICU. We also offer other services such as our engaging ambulatory oncology service, medical/surgery program, and recent expansion to provide interventional cardiology (PCI). LSCMC pharmacists play an active and critical role as part of the multidisciplinary team to provide the highest quality service to our patients.
Legacy Meridian Park Medical Center (LMP) NMS code: 113123, 1 position annually
Legacy Meridian Park Medical Center (LMPMC) is a CMS 5-star community hospital located 13 miles from downtown Portland. Decentralized pharmacists serve LMPMC in a variety of settings including: an ICU/IMCU where pharmacists round with the interdisciplinary team; a nationally recognized acute stroke center, with pharmacists at the front line on the stroke team; a busy Emergency Department; Internal Medicine, where pharmacists collaborate with Hospitalists throughout all phases of care; a large orthopedic surgery program; and a busy medication management/anticoagulant clinic. The majority of our PGY1 preceptors have completed residency training. Our location is the clinical practice site for a Pacific University School of Pharmacy practice faculty member.
For more information regarding each individual site and the elective learning experiences offered there, please click here.