Legacy Research Institute
Transforming medical care through science, technology, and innovation.
THE PORTLAND PROGRESSION PROJECT (P3)
Developing tools to predict the rate of vision loss in patients with glaucoma.
History:
The Portland Progression Project (P3) is a longitudinal study that was established in 2009, as a continuation of the Perimetry and Psychophysics in Glaucoma (PPIG) study set up by Dr. Chris Johnson in 1997. The study passed to Dr. Shaban Demirel for several years, and is currently led by Dr. Stuart Gardiner and run by our Clinical Research Coordinators, Cindy Albert and Donovan Redtomahawk. The instruments and tests used have developed over the intervening years (at the start of the study the perimetry testing alone still took more than 15 minutes per eye!), but the focus remains on aiming to identify which patients are at risk of rapid disease progression, so that they can be treated accordingly.
Some of the participants in the study have been coming regularly to Devers Eye Institute for more than twenty years, and we are extremely grateful for their commitment; we could not do this research without them.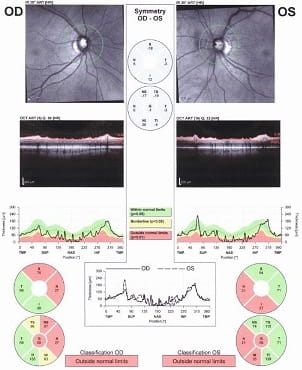 Research Focus:
There are two main areas of research that we focus on.
Firstly, we want to know which instruments, and which measurements from those instruments, are most useful for identifying people who are likely to undergo rapid vision loss.


Secondly, we use the instruments to identify features of the eye and retina that make somebody more likely to undergo rapid loss. In particular, we work with automated perimetry, as part of the Functional Testing in Glaucoma project also run by Dr. Stuart Gardiner; and retinal imaging from optical coherence tomography (OCT) in collaboration with the Optic Nerve Head Research Laboratory run by Dr. Claude Burgoyne.


Traditionally we have focused on patients who are in the early stages of developing functional loss due to glaucoma, and may still not be experiencing any symptoms, although we are now accepting and testing patients with more advanced disease as well.
Highlighted Publications:
Factors predicting the rate of functional progression in early and suspected glaucoma
SK Gardiner, CA Johnson, S Demirel
Investigative Ophthalmology & Visual Science 2012: 53 (7), 3598-3604
Structural Measurements for Monitoring Change in Glaucoma: Comparing Retinal Nerve Fiber Layer Thickness With Minimum Rim Width and Area
SK Gardiner, PY Boey, H Yang, B Fortune, CF Burgoyne, S Demirel
Investigative Ophthalmology & Visual Science 2015: 56 (11), 6886-6891
Localized Changes in Retinal Nerve Fiber Layer Thickness as a Predictor of Localized Functional Change in Glaucoma
SK Gardiner, B Fortune, S Demirel
American Journal of Ophthalmology 2016: 170, 75-82
Funding:
Major funding for the Portland Progression Project comes from Legacy Good Samaritan Foundation, and the National Eye Institute of the National Institutes of Health.