Legacy Health Partners - News & Updates
Delivering value and improving health
Major Upgrade to Providers and Locations webpages
Legacy Health continuously strives to improve the patient and provider experience, which now more than ever begins digitally from a cell phone or computer. Each year, we see millions of pageviews of the find a provider and locations sections of LegacyHealth.org. In line with this, and based on feedback from our patients and staff, we will launch a major upgrade to both of these sections on January 29, 2021.
What you can do now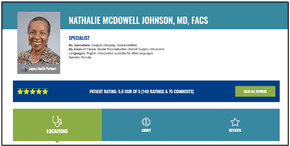 If you currently have a profile on our website, it will still be there after the upgrade, but it will look a little different.
What's new in the upgrade?
One simplified entry point

The simplified entry point combines providers and locations into one search interface and database, improving accuracy for patients and efficiency for providers or staff who update their information.


Patients will no longer need to hunt across multiple pages to find the information they're looking for, but instead can search through one easy-to-use tool.

A modernized user experience with updated design and functionalities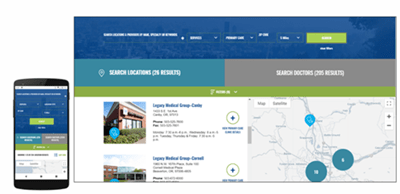 Advanced filtering will allow patients or staff to search by parameters like specialty, LHP, gender & more.

The updated design is easier to navigate in mobile. Important information is easier to find with calls to action (like scheduling) emphasized.

Results will now display based on what is closest to each user's geographic location.

Images are integrated throughout to unify the digital and in-person experiences.
Return to the current issue of LHP News.

---
Legacy Health Partners Mission:
Delivering value and improving health
Learn more at www.LegacyHealthPartners.org
Questions? Call 503-415-5109.