Legacy Health Partners - News & Updates
Delivering value and improving health
Providers encouraged to explore transparent data on LHP dashboard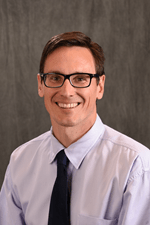 Dr. Nick Kashey, Interim Vice President, Population Health
In the spirit of sharing and learning, Legacy Health Partners has now added more information to the LHP dashboard to increase transparency in performance – an essential addition in service of quality improvement and even better care for our patients.
Primary care providers and administrators are encouraged to review this new data when opportunity arises and use it to your advantage. Once you've had an opportunity to dive in, tell us what you think. Share a success story and details on how you're utilizing the data. We'd love to hear about it and share your success stories!
Quality Corner: Apply for an LHP Quality Award for 2021
Legacy Health Partners is pleased to continue the LHP Quality Awards program this year and we are now accepting
2021 improvement project applications
for both primary and specialty care. You can download the application form on the LHP Team Site and submit your completed application to
LegacyHealthPartners@lhs.org
by Nov. 1.
Visit the COVID-19 Resources Page for the Latest Information
We realize information, policies, and data are constantly changing as we navigate through the Delta surge. Please visit Legacy Health's
COVID-19 intranet website
for the latest updates around vaccines, PPE, testing, or other timely topics. We also understand that you may be encountering questions about unproven and unsafe treatment options, including the medication Ivermectin. Please see these
talking points
on how to respond to those patient requests. There is also a patient handout available for
download
and print.
E-prescribing update: Action needed now to reach goal of 100% usage by Oct. 1.
As we move into October, Legacy Health's e-prescribing rate stands at 90%. If you are below 100% e-prescribing, we ask that you take steps now to increase your rate to meet Legacy's standard of 100% by Oct. 1. This includes e-prescribing to onsite apothecaries.
Announcements, deadlines and reminders
Administrators- attest to practice membership requirements by Sept. 30, if you have not already. You have until Dec. 31 to attest to practice measures.
Deadline extended to Oct. 29 for providers and administrators to complete 2021 Clinical Integration Education in E+ for half credit.
LHP will be accepting applications for open seats on the Board of Managers and all three Board Committees for 2022. Help lead Legacy Health Partners in our next phase of growth and fulfill our vision to be the preferred choice for our providers and our community. Applications will be announced in a Hot Topic later this month and are due Oct. 29.
Submit a Quality Award application by Nov. 1, for an opportunity to be recognized for your dedication to quality, patient experience and demonstrating improved health.
Providers- complete a 2021 Provider Learning Module in E+ by Dec. 31 to earn points toward your Clinical Integration score.
Update to Dragon dictation software available
The Sept. 15 upgrade to Dragon dictation requires users to install new software. Installing these files is necessary to ensure that Epic can properly detect you have either a headset microphone or handheld PowerMic plugged in.
Minimum clinical integration score set at 60%
Last month, the Legacy Health Partners Board approved reinstating a clinical integration (CI) score threshold of 60%. The minimum threshold supports network goals for provider engagement and high performance. Any LHP provider who does not meet the minimum threshold will not earn a CI incentive for 2021 and will be placed on a monitoring plan for 2022.
Upcoming events & training opportunities
Coming soon: Diabetes management collaboration series
A clinical collaboration series devoted to diabetes management will be split into two sessions (the first in November and the second in December). Registration details will be shared soon. In the meantime, review the July Quality Corner and LHP's new Diabetes Playbook for tools and resources you can use to monitor performance and improve workflows and processes for managing patients with diabetes.

Alcohol Use Disorder Treatment Learning Sessions
Join experts online Oct. 1, from 8 to 9:30 a.m. for a free learning session focused on increasing care teams' comfort, confidence, and expertise in treatment for alcohol use disorder and supporting equitable access to evidence-based treatment options. Several other free sessions will also be offered throughout 2021 and in early 2022. Providers seeking a one-time CME around medications for alcohol use disorder are encouraged to register for the Oct. 1 session. For those interested in expanded learning, four additional sessions are available – to be held Oct. 22 (online), Nov. 12 (online), Dec. 3 (in-person), and Jan. 14 (in-person).

Oregon Medical Association's Virtual Conference Oct. 9
Providers are encouraged to register for the Oct. 9 Oregon Medical Association's 2021 annual virtual conference, where speakers will dive into this year's theme, "Medicine Now: A Path Toward Health Equity." The conference is from 7:30 a.m. to noon, online. Keynote speakers include Anthony Iton, MD, SVP of Building Healthy Communities for the California Endowment, and Alisha Moreland-Capuia, MD, founder and director of McLean Hospital's Institute for Trauma-Informed Systems Change and faculty at Harvard Medical School.
More information about the conference and registration are available online.