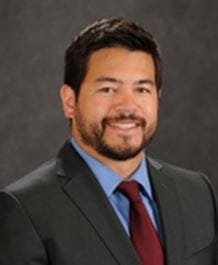 Call to Schedule
Blake Acohido, MD
My Specialties:
Ophthalmology, Board-certified
My Areas of Focus:
Cataract, Diabetic Retinopathy, Glaucoma, Macular Degeneration, Trauma and Complex Eye Surgery
Languages:
English, Interpreters available for other languages
Affiliations:
Emanuel Medical Center, Good Samaritan Medical Center
About Me:
My clinical interest is in the improvement of my patients' lives through personalized compassionate care, with an emphasis on preservation and restoration of vision and eye health. I fulfill this interest through the comprehensive management of a wide variety of eye-related health conditions. These conditions range from highly acute issues like ophthalmic trauma, angle closure, and ocular inflammation, through more chronic diseases like diabetes, macular degeneration, glaucoma, and cataracts. I also enjoy seeing healthy eyes, where I have the opportunity to educate my patients on how to maintain excellent eye health. One of my favorite things to do for my patients is cataract surgery. Cataract surgery can safely and effectively restore sight to an otherwise visually-disabled eye. Even better, with only a slight modification in technique and instrumentation, I can take cataract surgery to developing countries and help tackle one of the worlds leading causes of curable blindness.
Education:
Residency: Casey Eye Institute
Internship: Legacy Health
Undergraduate: University of Washington
Year I Started Practice: 2013
Hospitals Served: Legacy Emanuel Medical Center, Legacy Good Samaritan Medical Center
Patient Rating
Legacy wants every patient to have great care, every time. To help measure and improve patient satisfaction, we send surveys to randomly selected patients after their appointments. We use this feedback from the surveys to improve and enhance the care we offer. Learn more about our surveys & ratings
Average Rating: 5.0 out of 5.0
---
May 4, 2023
The people I saw renewed my faith in the medical system. They were kind and friendly and well informed
---
May 3, 2023
The M.A. Assisting seemed a little unsure of what he was doing, or supposed to be doing, with regard to testing. He could use some guidance with this. He was very pleasant though.
---
May 1, 2023
Love Dr. Blake and his staff. Excellent.
---
May 1, 2023
This was a post op visit. Prior to this last visit there were different staff working there and they didn't respond to phone or MyHealth questions/messages. That has changed. If you have a postop problem, due to the phone system used, it's not possible to speak to a live person unless you wish to make an appointment so leaving a phone message for a tech is the only option, those techs are supposed to answer same day, they did not! After mentioning the issue to Dr. Acohido I believe he may have made discussed this with staff ! All is good.
---
Apr 28, 2023
DR. Acohido was friendly and Courteous .
---
Apr 27, 2023
Wait time in the lobby was 45 min. After the medical assistant took me to the exam room and took necessary exam info, I was left in the exam room for another 40 min. Never at any time was I notified that the doctor was running late. In fact, after the med asst took my info I was told by him that the doc would be in immediately. VERY POOR communication and disregard for my schedule. What should have been a 30 to 45 min visit took almost 2 hours, with no explanation or apology. I understand unavoidable situations can impact the schedule, but proper communication goes a long way in easing that anxiety for a patient.
---
Apr 24, 2023
Best eye doctor I've ever had. Dr. Acohido is awesome!
---
Apr 20, 2023
It was a good visit, provider was very helpful in explaining the procedures that I will be going through.
---
Apr 20, 2023
Excellent care
---
Apr 17, 2023
My experience was good today, no complaints!
---
Apr 14, 2023
I am very satisfied with all of my Legacy Healthcare experiences! All doctors and staff have been fabulous!
---
Apr 13, 2023
Professional, friendly, considerate, helpful. Thank you!
---
Apr 13, 2023
Dr. Acohido is the most attentive health care pro I have had at Emanuel.
---
Apr 12, 2023
Dr. Acohido is excellent! Trying to make an appointment is horrible - the call tree routes you all over & it is very difficult to talk to a person. It seems like there's one receptionist w/Legacy Optical appointments! (It's difficult to get through.)
---
Apr 3, 2023
Visit was very good. Provider answered my questions and addressed my concerns. Everyone was warm friendly and professional
---
Apr 3, 2023
The phone contact with Devers Eye clinic is always frustrating. Very long wait times for a person to schedule, usually 5-10 minutes on hold. AND they refer to you as customers, not patients. That implies that this is just a business with no concern or care. Not a good message from Drs.!
---
Apr 3, 2023
I understand that emergencies arise and that they need to make me wait; that's fine. I don't understand why patients aren't told WHY they are waiting-- I had a 45 minute wait after the exam before I saw Dr. Acohido. That isn't his fault, but I believe that I should have been told what was going on. And, there was also another patient waiting also.The medical care is very good, but the basic courtesy... Not so much.
---
Mar 24, 2023
Dr. Acohido is excellent. I see him only for eye issues. The person at the front desk was also excellent, and the best I have ever experienced in the years I have been there. The doctor was running late and I was notified about the time which I appreciated.
---
Mar 23, 2023
Dr.Acohido actually sees his patients!He explains, answers questions, never seems rushed or is abrupt.The staff reflects his calm and thorough demeanor.I always feel well attended to and I have recommended him to my friends.Dr.Acohido is the best!.
---
Mar 23, 2023
N/A. Good experience
---
Mar 17, 2023
My visit was terrific. The only negative is waiting for someone to contact me to schedule my cataract surgery. Was supposed to be contacted last week, had not so called and left a message for a call back. Still waiting this week, hoping to hear back soon.
---
Mar 13, 2023
I'm an pleased with the results of my visit. I gained the knowledge of not having glaucoma or diabetes related to my eyes.
---
Mar 10, 2023
Very good experience. Doctor and tech gave me information I did not have that gave me confidence. Also they were flexible when I had to leave to pick up grandson
---
Mar 9, 2023
Always a good experience.
---
Mar 7, 2023
Dr. Acohido is an excellent eye physician. He is also easy to understand and to appreciate. He is informative and interested in following up with me after an eye procedure.
---
Mar 6, 2023
Dr. Acohido & staff are respectful, helpful, good listeners. I highly recommend your eye care.
---
Mar 6, 2023
Excellent experience with this office and provider.
---
Mar 6, 2023
Waited in exam room for a longer time than anticipated. Busy morning for Dr.
---
Mar 2, 2023
Good experience - will return.
---
Mar 2, 2023
Bad communication in the office. Receptionist did not tell me they were running an hour behind. When I finally got into a room, the assistant started the eye exam but then said "I'll be right back" and left for 1/2 an hour. Then waited for doctor another 20 minutes.
---
Mar 1, 2023
All experiences have been A+
---
Feb 22, 2023
This provider is always excellent. Very thorough and conscientious and so pleasant and kind. He also explains things in a very thorough way that's easy for a layman to understand. I feel very fortunate to have him as my eye doctor.
---
Feb 21, 2023
Dr. Acohido is thorough in his examination and explanation of issues. His staff is friendly competent and professional
---
Feb 20, 2023
Receptionist called in sick so wait time was long until someone came over from Good Sam.
---
Feb 20, 2023
There was no one at the front desk for at least 15 after my arrival. The parking machine is not accessible to a short person & forces me to get out of the car to use it. Enough of a deterrent to consider switching providers
---
Feb 17, 2023
This was my initial visit after moving to a new neighborhood & changing health insurance. The receptionist kindly inform med me that the appointments were running a bit behind, & I waited a little over 20 minutes. The staff had been informed that I had a big floater in one eye, & the Dr addressed that In the appointment, informing me of my treatment options & telling me what under what circumstances to call for an emergency appointment, since my other eye is developing the same condition. He also gave me a prescription for new lenses.
---
Feb 16, 2023
The doctor and tech were both thorough, warm, caring, and explained things well.
---
Feb 16, 2023
I always receive great care from Dr. Acohido and his team. They are patient and address all my concerns.
---
Feb 15, 2023
Overall the doctors and staff always take good care of me. Thank You.
---
Feb 13, 2023
Established care with new provider - doctor & all staff were amazing!
---
Feb 13, 2023
Excellent experience.
---
Feb 8, 2023
This provider is always very kind and well spoken, he is very courtesy, and friendly, and he's my eye doctor, and I like him a lot.
---
Feb 3, 2023
Dr. Acohido provided me with a plan of action to correct my vision issues. He is very personable and professional.
---
Feb 3, 2023
Dr. Acohido is an excellent eye doctor
---
Feb 2, 2023
Waited over an hour beyond my appointment time.
---
Feb 1, 2023
Amazing provider whom my husband and I trust for our eye care.
---
Jan 30, 2023
I was not expecting this visit to take 2 hours. I don't know if that is what would be expected or if it was just that day. I will ask how long to expect next time I schedule.
---
Jan 30, 2023
All care team members are responsible , knowledgeable and caring, including receptionist.
---
Jan 30, 2023
Excellent provider, however office seemed understaffed and perhaps a bit rushed. I have recommended this provider to several friends and family members who all agree he is a wonderful physician - smart, caring, listens and provides thoughtful information and guidance. I encourage the receptionist to consider providing information about how 'on-time' appointments are when a patient checks-in .
---
Jan 26, 2023
Dr Acohido was highly recommended by a friend and this was my first visit. He was extremely personable, listened well, and welcomed my questions. He took time to address my concerns and offered suggestions. Also, the receptionist and technician were courteous, friendly, and very helpful all of which made my visit very positive.
---
Jan 25, 2023
Dr Acohido is always friendly, efficient and patient w explanations.
---
Jan 23, 2023
It was a very good visit like always.
---
Jan 12, 2023
Always good, never bad, the doctor always attends to my needs & concerns.
---
Jan 12, 2023
Very professional, very Informative
---
Jan 12, 2023
Thoughtful and knowledgeable medicalProfessional!
---
Jan 12, 2023
Dr Acohido is always professional competent responsive approachable and very considerate. Fabulous doctor
---
Jan 11, 2023
Very knowledgeable. Pleasant manner.
---
Jan 11, 2023
Knowledgeable, kind, caring
---
Jan 9, 2023
Dr Acohido and also his assistant listened carefully and answered my questions fully. If I needed clarification Dr Acohido explained very clearly and in a friendly way. I felt he really cared to make me understand and I felt very comfortable.
---
Jan 6, 2023
I just thank you for health care. Thank you.
---
Jan 6, 2023
Showed my results from previous tests to compare data to current test; explained the changes and what it means to my health.
---
Jan 5, 2023
Wait time to be called in for appointment was about 30 mins past scheduled appointment. I then waited for 45+ mins after eyes were dilated to see the doctor.
---
Jan 4, 2023
Always a good visit
---
Jan 4, 2023
Dr Acohido is knowledgeable, professional and instills confidence.
---
Dec 21, 2022
They were extremely responsive when I had 2 episodes of an urgent condition. Everyone was kind, respectful and informative. Thank you I'm very grateful for the care.
---
Dec 19, 2022
Very good experience!
---
Dec 8, 2022
Waiting in exam rooms is big factor for me since I have little patience for other peoples slowness
---
Dec 7, 2022
Mist of my visit time was spent with a technician who performed several tests. Often showing frustration with delays in the process & my answers or questions.
---
Nov 30, 2022
Wonderful office, and staff. Wouldn't go anywhere else.
---
Nov 18, 2022
Very accommodating as this appointment was originally scheduled [date removed] as a yearly exam, but with recent concerns about my eyesight. There was a cancellation, so I was able to see Dr. Acohido on [date removed]. Staff is super nice!
---
Nov 17, 2022
It took me 6 months to get an appointment. The appointment was 45 minutes late starting and lasted 3 hours instead of 90 minutes
---
Nov 17, 2022
Dr A is knowledgeable and friendly. Always reaches to connect with me as a patient.
---
Nov 15, 2022
As a result of my first visit to this providers office a problem was discovered in my eyes which no previous Opthamologist, optometrist nor any of their assistants commented on. Given the severity of the problem and the treatment plan this provider has provided, I feel I have avoided what could have been a serious problem and am indebted to his assistant who noticed the problem and to this provider who confirmed it's existence and the need to address it asap.
---
Nov 14, 2022
The scheduler sent me to the wrong doctor at the wrong office so I had to rush across town to make this appointment. No apologies and no one seemed surprised.
---
Nov 14, 2022
He is a wonderful doctor, my husband had a cataract surgery on both eyes in two weeks due to we r traveling, got the appointment right away and he is very detailed explanation on everything . I also had my eyes ck.up with him .I would definitely tell about him to relatives, friends and family staff is very patient and caring. Thankyou so much for everything
---
Nov 14, 2022
Everyone in the office is always professional and courteous. Dr. Acohido is always pleasant and extremely excellent at his work. He is sincere about his my concerns and issues and does whatever he can to insure that I understand everything that is going on with my eyes and how diabetes plays a role in that.
---
Nov 14, 2022
We discussed the death of my daughter recently and Dr. Acohido was as compassionate as a family member, listening.
---
Nov 14, 2022
Lively doctor had god energy
---
Nov 11, 2022
I like this doctor and his team more and more because they really care about their patients and they are happy and love their jobs.
---
Nov 11, 2022
Dr Acohido always presents a positive attitude. He makes sure to not rush or minimize our concerns or questions. Since he also treats our disabled daughter, he always includes her in his review of our family concerns. We think this is very considerate of him & a wise practice to follow. We make future annual appointments for the next year as we leave.
---
Oct 27, 2022
Blake identity's the problem right away and got me a referral asap. Saved (hopefully) my vision.
---
Oct 24, 2022
Excellent care, excellent visit.
---
Oct 21, 2022
Very very good. Doc was terrific, both bedside manner and the surgery he did on my eye. I couldn't be more pleased. The only downside is the length of time it takes to get an appointment.
---
Oct 20, 2022
Dr. Blake Acohido, Brian-tech-, and 2 front office clerks were very professional, friendly, and showed care during my opthalmology appt.....the clinic office was very safety conscious with masking and other safety precautions during this visit while in the pandemic....the diagnosing and technology is getting better for eye appts plus this office made it nice and relaxed....i would refer anyone to Dr. Acohido and his team....the humor during the visit was very heartwarming, as its nerve wracking to see how one's eyes have changed..much appreciated, and thanks so much....
---
Oct 19, 2022
This was an appointment for follow-up on my eyes very happy with the information I was given. He suggested treatment with 6 week follow-up.
---
Oct 12, 2022
Wait time is excessive, but I received excellent care.
---
Oct 7, 2022
Dr Acohido is exceptionally personable and professional. He really takes the time to explain what my medical condition is and how to treat it, including other options. He is a great asset for Legacy
---
Oct 3, 2022
Good provider, listened closely to concerns and made recommendation to optometrist who I'll see in 3 weeks time.
---
Oct 3, 2022
Dr. Acohido is an exceptional physician.
---
Sep 23, 2022
Everyone was very polite, helpful, and professional.
---
Sep 23, 2022
Very thorough and professional. Thanks!
---
Aug 29, 2022
This physician visit was the best experience I've had with medical care in the last several months.
---
Aug 17, 2022
It was a very good visit
---
Aug 15, 2022
Dr. Blake and his team are a wonderful bunch of friendly and medical professionals.
---
Aug 8, 2022
My visit was amazing, Dr was friendly, personable and very knowledgeable, more importantly he was willing and able to articulate that knowledge. My only negative experience was in playing phone tag trying to make the appointment. I would get return calls from unlisted and out of the area locations which typically appear like spam calls, so my phone would junk them I now have four numbers saved to my contacts for his office that are not his office and never was called by the same number eventually I had to drive to the office to make the appointment
---
Aug 8, 2022
I've had no bad experience the eye doctor was great the reception was good and his head nurse is excellent I will recommend them to my family members and thank you for a very good job
---
Aug 4, 2022
The receptionist was concentrating on something else in her office, and forgot to give my prescription - when I realized I had to go back for it. She apologized, but, he hadn't been paying much attention to me!
---
Aug 4, 2022
Very happy with the doctor and staff. Courteous, kind and professional.
---
Aug 3, 2022
Very thorough, efficient, friendly, humorous, clean.
---
Jul 25, 2022
Dr. Acohido is a pleasant and compassionate person. I feel confident in his words.
---
Jul 25, 2022
Considerate, listened, knowledgeable.
---
Jul 22, 2022
Dr. Acohido is very good at what he does - - best ever.
---
Jul 21, 2022
Have never had a bad experience with Dr. Acohido ever. He is always smiling, laughing with hubby and me and the staff and he are always pleasant. So glad we have him as our eye dr., wouldn't want anyone else. He's exceptional and an asset to your hospital.
---
Jul 7, 2022
Was excellent job and I was very happy with results.
---
Jul 7, 2022
Provider very friendly and gives good, logical advice.
---
Jul 6, 2022
Dr. Acohido is great! Personable, easy to talk to and very knowledgeable. He's a joy
---
Jul 6, 2022
This eye doctor is the best I've ever had. His demeanor is kind and calming. He is patient and thorough.
---
Jul 6, 2022
GREAT visit ! Very helpful. Provided handout on places to buy glasses !!!!!!
---
Jun 30, 2022
Dr. Acohido is a very good doctor.
---
Jun 29, 2022
Excellent care given
---
Jun 23, 2022
He and his staff did give me an excellent eye exam when I was in the office. He is an excellent doctor.
---
Jun 23, 2022
Everyone listens and records info correctly. Everyone explains what they are doing and why. Everyone is helpful and kind. They are knowledgeable and patient. I Like being there not only for the health reasons but just because they are nice people!
---
Jun 20, 2022
I thank God for all My providers that I have they hear me they get in the action to help me
---
Jun 16, 2022
Excellent care. Dr. Acohido was very good to talk with and was genuinely interested in what I had to say about my vision issues.The young woman who did the initial eye testing was also excellent! She was very confident and competent along with being very easy to talk with. She did a great job explaining the testing. I'm sorry that I don't remember her name so that I could give her proper credit for a job well done.Overall, a great visit!
---
Jun 13, 2022
I felt like the doctor and internist spent a good amount of time with me and explained things clearly.
---
Jun 10, 2022
Efficient, effective
---
Jun 9, 2022
If it wasn't for them virus in would have been in sooner I like my doctors