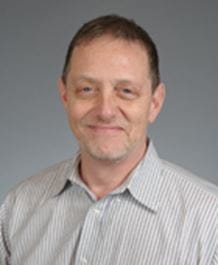 Call to Schedule
Daniel Urbach, MD
My Specialties:
Internal Medicine, Board-certified
Languages:
English, Interpreters available for other languages
Affiliations:
Emanuel Medical Center, Good Samaritan Medical Center
Where I see patients
Where I see patients
503-413-1895
Monday-Friday, 8 a.m.-5 p.m.
Year I Started Practice: 1989
Hospitals Served: Legacy Emanuel Medical Center, Legacy Good Samaritan Medical Center
Patient Rating
Legacy wants every patient to have great care, every time. To help measure and improve patient satisfaction, we send surveys to randomly selected patients after their appointments. We use this feedback from the surveys to improve and enhance the care we offer. Learn more about our surveys & ratings
Average Rating: 4.9 out of 5.0
---
Apr 25, 2023
Everyone was very helpful and pleasant
---
Apr 17, 2023
Dr Urbach is excellent. Legacy neurology communicates poorly. Sure, they are short on doctors, but they could still COMMUNICATE, not leave prospective patients hanging for weeks.
---
Apr 12, 2023
Everything was great. The only thing I didn't like was the wait time for the doctor after being put in the exam room but it's probably because he spends the right amount of time with his patients.
---
Apr 12, 2023
Dr Urbach for 24 years and I wouldn't want to go to anyone else!
---
Apr 12, 2023
Dr. Urbach is top flight, period. He cares, he listens and most importantly, he is extremely knowledgeable. I feel VERY fortunate to have him as my primary care physician.
---
Apr 11, 2023
Dr. Daniel Urbach is one of the most compassionate, and thorough Physicians that I know. I am a retired RN, so I know alot of Physicians. I have been seeing Daniel Urbach since the 90's and followed him from his own practice to Legacy. Thanks
---
Mar 14, 2023
Staff at the clinic are very professional and friendly. Dr. Urbach is a great physician he is thorough and listens. It shows that he cares about his patients wellbeing.
---
Feb 21, 2023
Always consistently attentive to my care. Always makes me comfortable.
---
Feb 20, 2023
Listens to what I have to say.
---
Feb 10, 2023
He's the best!
---
Feb 7, 2023
When I tried to schedule, I was booked 2-1/2 to 3 months out.When the doctor arrived in the exam room, it was ~35 minutes past my appointment time.Doctor was a good listener, and responsive to my needs and concerns, and tried actively to find answers/treatments.Seemed present and helpful.
---
Feb 6, 2023
They listen to all I have to say about my Health. I appreciate it.
---
Feb 6, 2023
Dr. Urbach is a caring, attentive and superb physician.
---
Jan 31, 2023
Very engaged in my health care. Listens very well and respects my opinions and wishes.
---
Jan 27, 2023
Good listener and very knowledgeable MD. Good references and referrals!!
---
Jan 24, 2023
Excellent care from Dr. Urbach as always
---
Jan 24, 2023
Relatively easy to schedule appointments, even if they were a few weeks out. One suggestion for improvement would be to be able to make medical recommendations factoring harm reduction over abstinence, such as for drug and alcohol use.
---
Jan 23, 2023
I feel Dr. Urbach will be an excellent doctor for any health issues that I will have. He listened and made recommendations accordingly.
---
Jan 18, 2023
I feel the doctor cared about my new onset of HTN. I would have liked a more thorough look at other drugs I'm taking to see if drug interactions or SE were a problem.
---
Jan 17, 2023
Bad.. Got msg saying I was due for physical. Followed the links, made appy. When I showed up, you guys had me fir Review of Medication. Clearly your appt system failedEven if I was involved, the wrong type of apps should have been clear. Your bad
---
Jan 16, 2023
Legacy needs to allow doctors more time with patients!
---
Jan 16, 2023
Dr. Urbach used to be able to complete my physical in one visit, including the blood draw for labs. Now he is unable to do so as before. I do not like that, and it is a reason I have stayed. Now that he is prevented from being able to do everything for a physical in one visit, I may depart the practice-too much regulation of what my Dr. wants to do.
---
Jan 13, 2023
Dr. D. Urbach, is very goog he knows his business, he is the only provider I've ever see, at lacey.
---
Jan 10, 2023
Dr. Daniel Urbach is a highly respected physician whom I have seen for over 30 years. I trust his judgment and expertise. As a medical professional myself I would not think of going anywhere else.
---
Jan 6, 2023
Excellent bedside manner. Listens, takes time to understand, explains things well. Kind, compassionate care.
---
Jan 4, 2023
Dr. Urbach has changed his approach to me greatly within the last year. I do not take personal offense to these changes as I can tell by what he says, and by his actions, that he is attempting to protect himself from allowing any of his personality to come forward - most likely this is his way of shielding himself from any possibility of being hurt (completely unintentionally by me and in my case of being his patient) and other patients I would assume the same. This is a rather big shift in Dr. Urbach's personality from the previous 14 years of being his patient in a PCP relationship with him.
---
Dec 27, 2022
Nurse was excellent also.
---
Dec 20, 2022
I don't feel complete after we'e done. Hard to describe.
---
Dec 14, 2022
Waiting time/ nurse very personal about questions
---
Dec 7, 2022
Dr Urbach is thorough and patient. He effectively guides me through our appointment but the visit doesn't feel rushed and he is a good listener, plus his obvious expertise and experience gets me good results.
---
Nov 30, 2022
Excellent doctor and medical team
---
Nov 28, 2022
It was a complete and informative examination.
---
Nov 28, 2022
Always a professional staff!
---
Nov 22, 2022
The few times I've requested a referral, it was done very quickly and that specialist was outstanding.
---
Nov 21, 2022
The visit went very well. Dr. Urbach cares about his patients, listens carefully to their concerns and what they say, and explains his thoughts carefully in a way we can fully understand.
---
Nov 18, 2022
Dr Urbach is an excellent primary care physician. He listens carefully, always explains issues throughly,never hesitates to refer to other specialists when warranted, seems up to date with the latest in research, and is empathetic,kind and throughly professional. I trust his judgement and guidance on all my medical issues absolutely.
---
Nov 11, 2022
Dr. Urbach is a great doctor! Always listens and explain a things well. There was receptionist the front desk (sinse she had an English or Aussie accent) who was the most cheerful and friendly receptionist I've ever met at Legacy. She needs a big shout out for how great she is with greeting Patients. Again, Dr. Urbach is great too!
---
Nov 9, 2022
Dr. Urbach is a fantastic doctor that I hope I will be able to stay with forever.
---
Nov 8, 2022
The front office staff is always helpful, especially appreciate help they provide when I call in with questions. Dr Urbach's MA's are always friendly and competent. Dr Urbach never makes me feel like my appointment is rushed which I really appreciate. I go in with a list of questions and when those are discussed he always takes time to ask if I have any additional concerns.
---
Nov 4, 2022
Overall timely, friendly, knowledgeable and caring. Long-time patient for these reasons -
---
Oct 28, 2022
This was my intake visit with Dr. Urbach. He was caring, professional, empathetic, and warm. He referred me to specialist.
---
Oct 25, 2022
Excellent Dr. Urbach.
---
Oct 25, 2022
I wasn't able to get a pre-arranged Covid booster during my visit due to staff shortage that day. This was the only negative item during my recent visit.
---
Oct 25, 2022
Dr urbach has been my Dr for years he's one of the best
---
Oct 24, 2022
I feel so lucky to have Dr. Urbach as my primary doctor. He's patient, respectful, and very competent. I have recommended him to others and will continue to do so. I actually switched insurance providers to follow him to Legacy.
---
Oct 24, 2022
Dr Urbach is an excellent Dr. He listens carefully and fully explains what you need to know. His referrals have been to excellent Drs also! He is our almost whole family Dr.
---
Sep 28, 2022
I was rushed, my questions weren't answered, he forgot that I wanted to be tested, I had to remind him. He also forgot my flu shot. I felt so uncared for.
---
Sep 27, 2022
Always enjoy my visits with Dr. Urbach. Informative, helpful, and great conversations.
---
Sep 20, 2022
Thorough, thoughtful, compassionate. My appointment was changed w/o notification - only learned of it due to automated check in.
---
Sep 9, 2022
The nurses are always pleasant and Dr. Urbach listens and you can tell really cares.
---
Sep 7, 2022
The provider Dr. Urbach spent the needed time to answer all of my questions and concerns that involved several topics. He has also responded quickly and thoroughly and thoughtfully to all of my questions on-line. He is very caring and genuinely concerned about my health.
---
Aug 30, 2022
AWSYS very friendly, and knows, and checks out.the part of your body we talking about, and I the answers.
---
Aug 29, 2022
Dr Urbach is always welcoming and friendly. I am usually anxious when seeing doctors but always relaxed with Dr Urbach. He respectfully listens to my issues and helps me when he can or refers me to someone he feels would be able to assist me. I always feel comfortable with my visits with him.
---
Aug 24, 2022
I've been a patient of Dr Urbach since 2015.He's the very best, helped me through many life style Issues, he's a Doctor's Doctor!
---
Aug 19, 2022
Dr. Urbach - very thoughtful listener. I never feel rushed or unheard. 100% confidence in his diagnostic skills.
---
Aug 5, 2022
Dr Urbach is the best!
---
Aug 3, 2022
Dr. Urbach creates a high level of trust and confidence in him.
---
Jul 29, 2022
Daniel Urbach is an excellent Physician. I've been with him since he had his own practice. And even though have have moved from [location removed] recently I traveled to see him for my physical and will keep him as my primary Physician until he retires. I have recommended him to others a will continue to do so.
---
Jul 22, 2022
Dr Dan Urbach is a very kind, knowledgeable, and meticulous physician. Glad he's my doctor!
---
Jul 20, 2022
I have known him for some time and he listens.
---
Jul 20, 2022
Always good experiences.
---
Jul 18, 2022
Dr. Urbach is one of the most competent, compassionate, & conscientious physicians I have ever known, and I have known many -
---
Jul 18, 2022
Good discussion about my healthcare
---
Jul 13, 2022
Doctor was knowledgeable and communicated in a respectful manner. Medical Assistant was professional. Great overall appointment.
---
Jul 12, 2022
I have been seeing Dr. Urbach for many years. He's always attentive and knows what he's talking about. Great guy.
---
Jul 6, 2022
I HAVE ALWAYS BEEN ABLE TO GET AN APPOINTMENT WHEN NEEDED, I HAVE BEEN GIVEN ANSWERS ALWAYS WHEN I CALL IN AND HAVE SEEN MOST DOCTORS AT THIS CLINIC AND ALL SEEM TO KNOW MY MEDICAL HISTORY. GREAT ATMOSPHERE AND FREINDLY PEOPLE ALL THE WAY AROUND.
---
Jul 5, 2022
I have been a patient of Dr Urbach for over 30 years. He is my trusted resource for all my medical needs.
---
Jun 29, 2022
Dr Urbach has been my doctor since college, I'm [age removed] now. I've followed him as he changed locations and practices. We have a rapport and I trust him completely.
---
Jun 29, 2022
Dr. Urbach is extremely personable, knowledgeable and cares for me as an individual.Very patient explaining medical terms and conditions.
---
Jun 28, 2022
Dr. Urbach is a huge asset to your group.
---
Jun 28, 2022
Dr Urbach is always on top off things. He's efficient, but in a respectful way - where you don't feel rushed. He knows and does his job well.
---
Jun 27, 2022
Dr Urbach is the best! I drive from [location removed] to see him despite so many other doctors in my area
---
Jun 24, 2022
Dr. Daniel Urbach really is a phenomenal doctor. He a good communicator, great listener, conscientious and a strong advocate for his patients. Along with a wonderful bedside manner, he is a well-rounded out and respected physician.
---
Jun 6, 2022
Dr. Urbach is always easy to talk to.