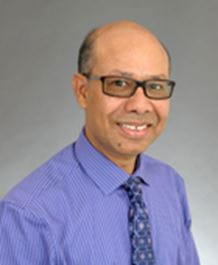 Call to Schedule
Mohammed Taher, MD, FACP
My Specialties:
Internal Medicine, Board-certified
Languages:
Bengali, English, Interpreters available for other languages
Affiliations:
Good Samaritan Medical Center
Where I see patients
Where I see patients
503-672-6001
Monday-Friday, 8 a.m.-5 p.m.
About Me:
Dr. Taher was born and raised in Dhaka, Bangladesh. After completing medical school at Dhaka Medical College, he held several internal medicine/geriatric positions in the United Kingdom, and then completed a residency at Mercy Catholic Medical Center in Darby, Pa. For the past 16 years, he has been practicing evidence based medicine in Oregon. With experience and special interest caring for the elderly, he strives for chronic disease prevention and the promotion of a healthy lifestyle. A fellow of the American College of Physicians and recognized by the National Committee for Quality Assurance for his expertise on diabetes, Dr. Taher treats all his patients with empathy and respects their personal preferences to help each and every one achieve well being. He works hard to build patient-provider trust which he believes is vital in providing the best possible care. Outside the clinic, Dr. Taher enjoys playing tennis, golf, cross-country skiing, and spending time with his family.
Hospitals Served: Legacy Good Samaritan Medical Center
Patient Rating
Legacy wants every patient to have great care, every time. To help measure and improve patient satisfaction, we send surveys to randomly selected patients after their appointments. We use this feedback from the surveys to improve and enhance the care we offer. Learn more about our surveys & ratings
Average Rating: 4.7 out of 5.0
---
May 11, 2023
I have always had total confidence with Dr Taher from the very first appointment. Dr Taher has been my PCP for many years and enjoy talking with him and his assistants
---
Apr 26, 2023
This is the most efficient and professional clinic. Everyone is very respectful and courteous. I would highly recommend this clinic to anyone looking for the best care provided.
---
Apr 24, 2023
Office receptionists were extremely pleasant and nice. Made me feel that they were genuinely interested in assisting me. Doctor was very pleasant as well as his nurses assistant.
---
Apr 20, 2023
Sad to see dr taher leave. He is very pro active towards my health.
---
Apr 20, 2023
Unfortunately,Dr.Taher is leaving his practice.
---
Apr 20, 2023
The nurse provider was very impatient and abrupt. I felt like I was wasting her time.
---
Apr 18, 2023
Because of Dr. Taher's diligence I am here today. This Doctor saved my life, and for this words can not convey my immense gratitude.
---
Apr 18, 2023
Mohammed Taher M.D. Is a very good Dr. Listens well and asks lots of questions.
---
Apr 10, 2023
It just seems doctors don't stay long in this clinic.
---
Apr 4, 2023
Dr Taher is knowledgeable. However, often interrupts and does not listen completely. Fortunately didn't require any important guidance.
---
Mar 30, 2023
Good - Doctor listens to the requests and tries to help (tests and other stuff)Bad - Doctor tries to follow the protocols strictly, instead of using common sense
---
Mar 28, 2023
Appeared rushed due to having to cover for other absent docs.
---
Mar 21, 2023
I always am very well taken care of as soon as they see me walking through the door.
---
Mar 16, 2023
Very clear explained, thoughtful, friendly, respect.
---
Mar 16, 2023
I had concerns regarding circulation of my left leg. After examination Dr Taher gave me an imaging order for ultrasound of my left leg ~ plus an order for my regular carotid bilateral ultrasound which is due this year. I was very pleased to be able to set them up at the same time.
---
Mar 16, 2023
Dr Taher and team are professional and personable. I feel well taken care of.
---
Mar 6, 2023
SOME TIMES ITS HARD TO UNDERSTAND WHAT IS SAID. A COMBINATION OF MY HEARING AND HIM TALKING WITH AN ACCENT AND MUFFLED BY THE "MASKS".
---
Mar 2, 2023
One thing that could be improved is the wait time in the waiting room. I was called back to see the doctor about 20 minutes after my appointment time. No one came to explain why I had to wait so long.
---
Feb 27, 2023
My Wife and I have known Dr. Taher for a number of years and have always been pleased with his care.
---
Feb 27, 2023
Excellent experience. Office staff and MD were very respectful and listened to my concerns, questions.
---
Feb 22, 2023
Good experience with MD's maner and understanding of my health issues. Appeared current on latest medical info. Personally I feel today's Drs put to much emphasis on prescription medications to treat health issues. This doctor Is no exception. Also the pre cancer lung test seemed premature and unnecessary since I have no symptoms. But mostly this was a positive experience and I like my Dr. And I will listen to his advice with respect for his knowledge, education and experience.
---
Feb 17, 2023
Dr Taher was an exceptional professional in every respect
---
Feb 16, 2023
I had an early appointment and the clerk/receptionist who checked me in was great and wonderful. But then when I got to the MA I sensed and felt she was annoyed/irritated . Not sure if it was because it was early and/or she didn't get her coffee yet, but her tone and body language said it all.
---
Feb 10, 2023
Dr. Taher is thorough and explains health condition s well.
---
Feb 10, 2023
Dr. Taher is very informative and takes time to explain things and gives advice.
---
Feb 8, 2023
Dr. Taher and his staff do a excellent job.
---
Feb 8, 2023
I think my doctor is very on top of my health
---
Feb 6, 2023
Dr. Taher, Mohammed, always treated me very well by listening to my concerns, spending enough time, and providing the right direction. Thank You.
---
Jan 19, 2023
Good providerNo problemsVery happy to be with him
---
Jan 17, 2023
Doctor was condescending. I had a few items of concern, and he rushed me through it. During the exam, he told me I had a ventral hernia, which has caused some pain. He did nothing to address it. He just said to lose weight. He did not even list it on the notes from my exam. When I followed up on it through My Health with a few questions, he said I would need to schedule another appointment to discuss It (another co-pay and more time out of my very busy schedule). I was just there!! I could tell he clearly does not care about my concerns or pain. I am scheduled (reluctantly) to see him next week for this issue. After it's resolved, I will probably seek another provider organization.
---
Jan 12, 2023
Dr. Taher a great doctor. He's easy to talk to. He listens to every work you have to say.
---
Jan 4, 2023
Legacy Medical Group CORNELL is a great choice because of Dr. Mohammed Taher. He is an excellent doctor and a wonderful person.
---
Dec 27, 2022
Dr. Taher is a superb Physician. He is the most thorough Physician I have had. He is very friendly and makes certain I understand everything he is saying, and reciprocates by listening to all of my questions and concerns. The support staff is excellent too. The scheduled appointments run on time, the Medical Assistant does a thorough assessment, weigh in and B/P check.
---
Dec 21, 2022
Dr Taher is always responsive to questions/concerns that I have. If I need something or have a question between appointments, I send a message and he or his medical assistant always responds back that day or the next. He is also responsive to questions/concerns that I have during an appointment.
---
Dec 8, 2022
Dr. Taher is an excellent physician. He always take the time to listen. Very knowledgeable and caring. I highly recommend him. The front desk ladies always remember my name and treat me with courtesy.
---
Dec 8, 2022
Dr. Taher is an excellent doctor and always provides me recommendations on improving my health and overall wellness, he shows genuine concern for your welfare.
---
Dec 1, 2022
I have the impression the doctor views me as overly concerned with my health though I don't call between appointments. I have several medical conditions and feel my positive attitude isn't always noted. I've been going to this clinic for about 5 years. The office reviews my meds but I realized has never listed my multiple sclerosis as a condition. However, other less significant or one-time issues are reflected and mentioned during visits.
---
Nov 18, 2022
Dr Taher does not care about mental health and does not trust his patients. He is the only one in the practice that drug tests and makes you prove you are taking your prescriptions. He does not understand or listen to mental health issues. He does not take my health and well-being seriously.
---
Oct 28, 2022
Dr listened patiently, answered all questions I had, explained how to take medicine for best results, asked if I had anything further to discuss. Explained type of followup appointment and when to schedule.
---
Oct 27, 2022
I receive the best care from everyone in the office. Dr. Taher is very thorough and always answers any questions I may have. Everyone there is professional and friendly. I'm very happy to be a client.
---
Oct 27, 2022
My appointment was made at the last minute and there was a cancellation in about 30 minutes. I was very pleased that my doctor had immediate access to my records and had access to the comments and results of other doctors I had seen.
---
Oct 21, 2022
Took time to listen to me patiently
---
Oct 18, 2022
Dr. Taher and his team are always efficient and friendly. I trust them to provide excellent medical care, which they do!
---
Oct 14, 2022
I have very good experiences of my provider dr taher .
---
Oct 13, 2022
There was no bad experiences related to this visit. I was very nervous about a diagnosis I receivedFrom another doctor.
---
Oct 10, 2022
I was expecting a review of my type 2 diabetes. I was given a cognitive test that I did not want. I did poorly on that test. Dr. Taher is a very good dr.!
---
Oct 6, 2022
Always have a good experience
---
Oct 5, 2022
This provider sends me out to specialists rather than take care of me personally.
---
Sep 28, 2022
Good guy, smart and and looks out for me.
---
Sep 27, 2022
Great care from Dr. Taher and his staff.
---
Sep 22, 2022
Answered all my questions and concerns
---
Sep 20, 2022
Dr Taher is not only a good doctor but he's a good man compassionate caring concerned takes good care of his patients
---
Sep 19, 2022
I look forward to visit my provider this day.
---
Sep 15, 2022
My visit was very good.
---
Sep 15, 2022
Dr. Taher was very thorough and I appreciated that he checked out each concern and included teaching and set goals for the future. New MA was also very detail oriented and addressed extra diabetic concerns without me asking.
---
Sep 14, 2022
All ways attended with sincerity, honor & dignity.
---
Sep 14, 2022
Dr Taher is excellent, thoroughly professional, patient and very compassionate. He is a rare find.
---
Sep 13, 2022
Dr Taher is quite thorough but, this time, didn't address both cure issues, maybe because he was more focused on [name removed] heart health & maybe because what he did address and check took so much time. I didn't realize all wasn't covered till we were gone so just let it go for now since it wasn't at all urgent
---
Sep 8, 2022
I'm [age removed] with hearing loss from the service. Having an accent from the doctor and the doctor having to wear a COVID mask additionally , made it difficult to understand him sometimes. During his doing a cognitive test with me, I didn't understand his saying "car" and "table" I asked him to repeat and he acted agitated and pulled down his mask and almost shouted the answers. [Removed for privacy] Disappointed with my visit. I was glad to receive the blood test and await the results. Thank you for the opportunity to express my thoughts.
---
Sep 7, 2022
Dr. Taher is knowledgeable, professional, personable and an excellent communicator - I feel I am in good hands and my health is well taken care of.
---
Sep 7, 2022
I always have good visits with Legacey. Dt Taher is always knowledgeable. Listens. I have him handle my mess. He has got them right for me. I trust him and thankful he's my doc.
---
Sep 6, 2022
The Doctor is always very good to me. Thank you.
---
Aug 24, 2022
I arrived and was placed in the waiting room, this appointment was the follow up to low kidney function test. And I had other heart question. The doctor told me I was only limited to Three questions and no more and showed me a sign on the wall to reinforce what he said. I have never been to the doctors office with a limit on time and services that could be provided. Very disappointed they weren't willing to try to clean out my ears since I get them plugged with wax build up and I am not successful in cleaning them myself.
---
Aug 24, 2022
IT's all good, every one is pleasant and caring..
---
Aug 24, 2022
Dr. Taher is the worst Dr. I have ever been to. After my last visit I will be looking for a new Dr. I will not return. He's judgemental, rude and not willing to listen. From my very first visit I knew that he and I were not a good match but I stuck it out to se if we could develop a good Dr., Patient partnership. I should have walked away then.
---
Aug 17, 2022
Great doctor.
---
Aug 12, 2022
Excellent doctor.Without question one of the best, if not the best, experience/visits with Dr. Taher. He is an excellent listener, explains sometimes complicated issues in a clear, simple to understand fashion. He is, without any doubt, the best physician I have ever met.
---
Aug 9, 2022
My appointment was at 9:00 AM. I arrived perhaps 10 minutes early. I waited nearly 30 minutes to be seen and no one told me the doctor was delayed with another patient. I had to ask the nurse to tell the doctor I would have to leave in about 15 minutes as I had to drive somewhere for at a 10:00 AM appointment. Someone should have told me what was happening. This added to my stress level as I knew I would have to soon leave.
---
Aug 8, 2022
Doesn't really address women's problems. Wants to add unnecessary appointments. Told me I should be seeing a heart doctor because of a scan, but has never mentioned it since I had the scan done a few years ago
---
Aug 5, 2022
Dr. Taher is very thorough and provides excellent care.
---
Aug 3, 2022
I feel lucky to have Dr. Taher.
---
Aug 2, 2022
Dr. Taher gave me referrals to people I needed to see; i.e., mental health expert etc. The doc/patient communication was great. Nice pleasant doc.
---
Jul 29, 2022
Dr. Taher is a likeable character
---
Jul 26, 2022
We were 10 mins late but still had accommodated us so that nice of them.
---
Jul 26, 2022
I was late 10 mins but they were very considerate to bring me in for my appointment.
---
Jul 25, 2022
Dr. Taher has always been attentive, courteous, communicative, and shows consideration for my comments and questions. I appreciate his care.
---
Jul 14, 2022
Very good, only reason I would leave is we move.
---
Jul 6, 2022
Dr talked at me not with me. Did not seem to like me asking questions. Was dismissive. Was not empathetic.
---
Jul 1, 2022
My perception is the provider is little cold person, rigid when one don't remember exactly or everything about tests, dates. The provider didn't have my chart from my last primary doctor whom I had for years, I did fill out the requesting form at the time I started seeing this provider.
---
Jun 30, 2022
Dr Taher takes time to explain all of my test results in a manner that is easy to understand. He is very patient with me.
---
Jun 30, 2022
I asked for a previous medication that cleared up my problem and I was not given that scrip. It was a cream for my nose. I was told to use Vaseline. I'd have preferred what alleviated the problem in the past.
---
Jun 27, 2022
Dr Taher is a great listener, shows care and compassion and is an excellent primary care physician. He is very thorough. My favorite Doc of all time!
---
Jun 24, 2022
I have been seeing Dr Taher for over three years. It took a couple visits before I felt comfortable talking to him about medical issues ~ and I now feel extremely comfortable discussing any medical issues.
---
Jun 23, 2022
Doing a lot better.
---
Jun 23, 2022
The gal who assisted with the lab work was very courteous.
---
Jun 22, 2022
He was very thorough and had some concerns that we talked about options for.
---
Jun 15, 2022
Very friendly informative doctor whose patient with the patients