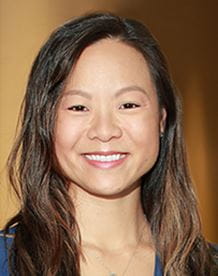 Call to Schedule
Weiya Wysham, MD
My Specialties:
Gynecologic Oncology, Board-certified, Fellowship Trained
My Areas of Focus:
Gynecological Surgery, Gynecological Oncology, gynecologic cancers
Where I see patients
Where I see patients
Compass Oncology Rose Quarter Cancer Center
Compass Oncology Vancouver Cancer Center
About Me:
Dr. Wysham specializes in gynecologic oncology, with advanced expertise in complex pelvic surgery and minimally invasive/robotic surgery. Dr. Wysham's practice philosophy is to provide exceptional care by creating partnerships with her patients through respect, compassion, clear and open communication. She believes in a personalized approach to care throughout the treatment journey, incorporating a multi-disciplinary care team and clinical trials when appropriate. Outside of her practice, she enjoys cooking, cycling, taking her dog on long walks, and traveling with her husband and two children.
Training: Medical School: Doctor of Medicine, With Honors, University of Washington School of Medicine, Seattle, WA Internship & Residency: Obstetrics and Gynecology, Oregon Health Sciences University, Portland, OR Advanced Training: Fellowship in Gynecologic Oncology, University of North Carolina, Chapel Hill, NC Galloway Fellow, Memorial Sloan Kettering Cancer Center, New York, NY
Certification: Board Certified Gynecologic Oncology Board Certified Obstetrics and Gynecology
Hospitals Served: Legacy Emanuel Medical Center, Legacy Good Samaritan Medical Center, Legacy Meridian Park Medical Center, Legacy Salmon Creek Medical Center
No reviews are available at this time.