Hospice and grief support
Volunteering and giving
Volunteering and giving
Volunteering your time with Legacy Hospice can change your life and the lives of others. Whether it's a gentle smile, holding a patient's hand or giving a much needed break for the family, hospice volunteers are rewarded with the appreciation of those they serve. We offer a free comprehensive training program several times each year that includes information on understanding hospice, symptom management, communication, grief, and body mechanics. All volunteers are expected to make a one year commitment to volunteer service.
If you are interested in volunteering, please contact:
Legacy Hospice (in Portland metro area and McMinnville): Lori Cannon, 503-225-6385
Download the application for volunteering.
Volunteer opportunities
Respite and friendly visitor volunteers
Offer comfort and reassurance
Read to patients
Care for patients so caregivers can take a break
Help patients continue favorite activities
Offer a listening ear to patients and families
Prepare a meal
Help patients with household tasks
Help patients take walks


Pet Pals Program
Transport animals to and from the veterinarian or groomer
Pick up and deliver supplies
Change litter boxes or cages
Walk animals
Pet photography
Vigil volunteers
Volunteers provide a calm presence whether they are sitting with the patient, talking and listening, sharing silence, providing healing touch, reading religious or inspirational text, helping with rituals, telling stories, lighting candles or sharing inspiration music.
We Honor Veterans volunteers (http://www.wehonorveterans.org/)
Veteran volunteers offer veteran patients support, reassurance and building a bond at end of life.
Parent to Parent
Parents who have lost a child on hospice provide support to parents who have children coming onto hospice.
Administrative volunteers
Work in the office
Telephone bereaved families
Special events and groups
Therapy volunteers
Art therapy
Massage therapy
Pet therapy
*You need to be licensed or certified in these areas to provide these specialized services.
Donations
Donations help Legacy Hospice Services provide services to the terminally ill and their families. These funds are also used to provide medical equipment and supplies to those without resources.

When a loved one dies, many families like to donate in their memory and to recognize hospice services through memorial gifts in lieu of, or in addition to, other tributes. You may donate to our Pet Peace of Mind program, Care Champions or other Legacy programs.

All donations are tax deductible. To donate, visit our Foundations page or call 503-415-4700.
The Office of Philanthropy P.O. Box 4484 Portland, Oregon 97208
Stories
Our People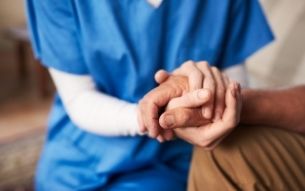 Congratulations to our R.N. Nursing Residency Program for 10 years!
Read More >
Our People
Finding my footing as a year-1 pharmacy resident
Read More >
Our People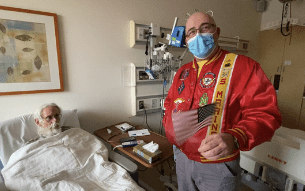 Legacy Salmon Creek offers special recognition for veterans
Read More >