Legacy News
What parents and caregivers should know about RSV
November 22, 2022
The dedicated staff at Randall Children Hospital are caring for a record number of young children and babies this fall for RSV, or respiratory syncytial virus.
It is a common respiratory virus that almost all children have by age 2, with mild symptoms the same as a common cold. Most children get better on their own. But this year, many of them are developing symptoms that require a visit to a doctor, urgent care or emergency room. Except when emergency care is needed, we urge families and caregivers with concerns to first call their primary care provider.
Here are a few facts on RSV and recommendations from the care team at Randall Children's. Learn what we're doing to respond in our operations and with other health care organizations in the region.

RSV symptoms
RSV symptoms are similar to a common cold and can include a cough, runny nose, sneezing, wheezing, decreased appetite, chills, and a fever for up to five days. Symptoms are often worse on days four to six of infection. Most cases resolve in a week or two without medical care.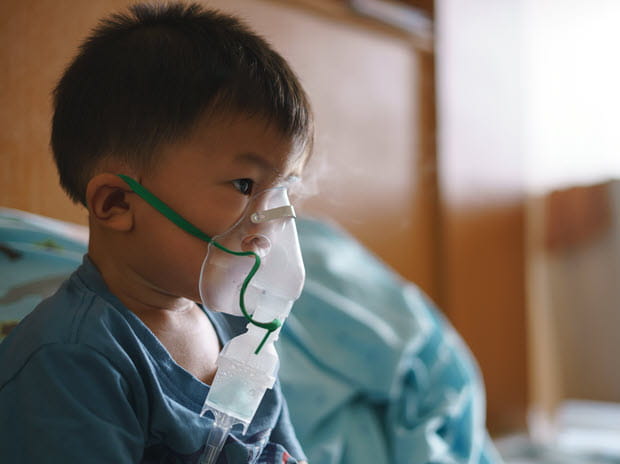 How to care for a sick child at home
You're not likely to know if a child is sick with RSV, COVID-19 or a common cold. Most children will get better without medical care. If your child is sick, monitor their breathing, hydration and alertness to help you decide if a visit to the doctor is needed.
Help your sick child hydrate and rest at home. It's best to keep your child home from school when they are sick and until they are clear of symptoms
Use a thermometer to monitor temperature and a humidifier to increase the amount of moisture in the air.
For pain and fever, give children over six months old acetaminophen or ibuprofen. A cooling bath may help reduce fever.
For congestion, use a nasal suctioning bulb with saline drops. Avoid using cough suppressants.
Keep the number of your primary care physician or pediatrician, nearby urgent care centers, or an afterhours line nearby.

When to seek medical care
It's important to seek medical care if your child is:
Having trouble breathing or if your baby is grunting.
Trouble eating due to rapid breathing.
Intensely wheezing.
Dehydrated or lethargic.
If your child is more than 2 months old, don't seek medical care just for a fever. Fever is a normal symptom of a viral infection and in most cases can be treated at home with acetaminophen, ibuprofen and a cooling bath.
Please be aware there may be longer-than-normal waits at pediatric clinics, urgent care clinics and emergency rooms in our region due to the increase in patients.

Stay safe at home and prevent the spread of RSV
Be sure everyone in your family washes their hands thoroughly and frequently, and covers mouth and nose with inner arm when sneezing or coughing.
Be cautious with your young children around large groups of people, particularly indoors. If possible, avoid crowded indoor settings and close contact with sick people.
Clean and disinfect shared surfaces frequently.
Mask up more frequently. Masks are effective at reducing the spread of this virus.
Stay up to date on flu, COVID-19 and all routine childhood vaccinations.
Sign up for our email newsletter