Patient Stories
Columnist remains grateful for her care following coma
January 16, 2019
While in a coma after suffering a traumatic brain injury in a ski accident in 2011, Elizabeth Hovde had dreams of menacing Star Wars characters, but awoke to find "good people" caring for her.
"I woke up knowing I was in a hospital and thinking the doctors, therapists and nurses were good people who were there to help me."
Treated initially by the team of experts in traumatic brain injuries at Legacy Emanuel Medical Center, she was later transferred to the Legacy Rehabilitation Institute of Oregonat Legacy Good Samaritan Medical Center.
A columnist for The Oregonian, Hovde wrote about her gratitude in a column shortly following her rehabilitation.
"Such a thankless and hard job these people have," she adds. "At best, they care for people who may not even remember them. I worried I wouldn't remember them. I kept a cheat sheet and wrote down the names of whoever helped me each day so that the next day I would be reminded that they had helped me before. I was so grateful for all they were doing that the least I could do was say hello properly."
Hovde still has some short-term memory issues and her right side does not always cooperate, so playing darts is out. But she's come a long way from the days she had to write herself calendar reminders to eat. Her childhood memories are back, but knowing when to pick up her boys from school or finding her car keys can still be a challenge.
Hovde is careful, but remains active. Going fast on skis or down black diamond runs is out, but she still paddles, bikes and swims. She wears a helmet on her bike and skis and says the one she was wearing during her accident likely saved her life.
She says as a mother, she was especially grateful to the staff at RIO and Legacy Emanuel for caring for her family. She says her two small boys, then just three and five, now 13 and 11, were given "momma dolls" which they still have today and the staff was supportive of her family, giving them clear and honest information. "People were so good to my family and that's who needs it at that time."
Learn more about out trauma care and inpatient rehabilitation programs.
For media inquiries, contact Ashley Stanford Cone.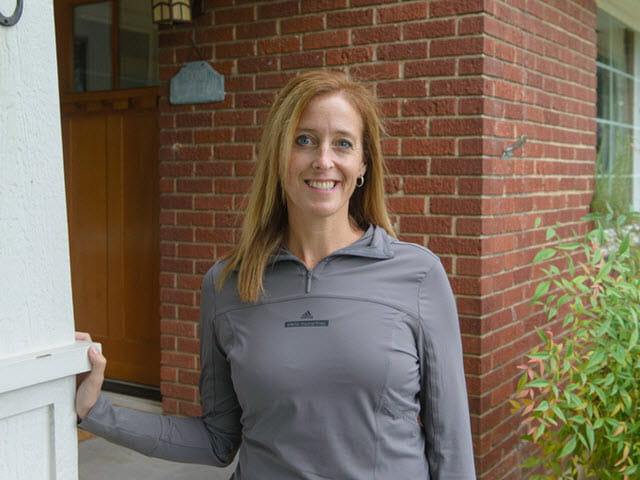 Sign up for our email newsletter