Patient Stories
Legacy Rehabilitation Institute of Oregon: Elevating Patient Care for 75 Years and Counting
July 14, 2023
A few months ago, Sayer Jones fell while walking on the slick ice of the parking lot at Timberline Lodge. He suffered a bruised and swollen spinal cord and was entirely paralyzed for a month. His condition stabilized, and he was eventually diagnosed with incomplete quadriplegia: He was paralyzed from the shoulders down. The road to recovery would be long and winding. Sayer wasn't hopeful at the time.

"I had no clue, no vision of what could be done," says Sayer, a business consultant. "But the team that was curating my recovery provided almost sherpa-like services and led me into recovery. I had no idea: Would I be able to walk, dance or play the guitar again?"

That team of health care professionals was Legacy Rehabilitation Institute of Oregon (RIO) at Legacy Good Samari­tan Medical Center. Legacy RIO has been treating patients like Sayer for 75 years. This includes conditions ranging from strokes and burns to spinal cord and brain injuries. Over the next few weeks, the team at Legacy RIO helped Sayer gain functionality and confidence, one movement at a time, one day at a time: Stretching a deltoid, using a fork, tilting his head.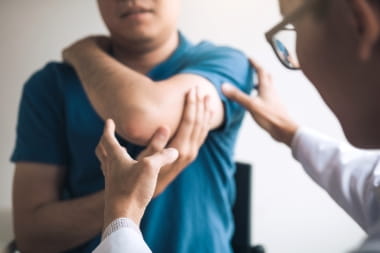 "Frankly, I thought it was impossible," says Sayer. "I didn't have movement (at first). But I trusted the process. And the staff was so experienced and thoughtful about what the progression would be."
After 48 total days in the hospital and in rehabilitation, Sayer is now living at home and finding a "new normal." He moves freely using a power wheelchair and other adaptive equipment that RIO and other staff taught him how to use. He works from home, too. Greater movement, however, will take more time, a year or two or more, he says. While he hopes to make further progress, Sayer says his prognosis will always remain uncertain.
"I am regaining a standard of living and independence," he says. "I can see that now. I may not be the exact same person as before. But I will make it work."
For Legacy RIO, Sayer's story is an example of what it has always done.

Medicine has evolved since Legacy RIO's inception 75 years ago, and it has changed, too, grown in many ways over the decades. But now, Legacy RIO has become the region's largest and most complete post-acute inpatient rehabilitation facility. Its expert care, interdisciplinary team approach and state of the art equipment and technology separates it from others. Simply, it's the area's rehabilitation facility of choice.

"We're the largest inpatient rehabilitation facility in Oregon," says Traci Hutchins, Legacy RIO's rehabilitation manager. "We take the most complex patients, even patients that are dependent on ventilators."

That reputation has been earned and reflect Legacy's values as a health system. At Legacy RIO, for example, patients receive 24-hour rehabilitation nursing care. The entire team is patient centered. And the staff is a similarly comprehensive one. It includes board-certified physiatrists, certified rehabilitation nurses, certified stroke therapists, rehabilitation neuropsychologists, physical, occupational and recreational speech therapists, social workers and more. There's also an internationally renowned horticultural therapy program.

Then there's the technology on hand, technology that is the region's most sophisticated. This includes a Zero G Gait and Balance body weight support system, Indego Robotic Exoskeleton, ArmeoSpring arm support and training system and more.
All of these elements come together into a team approach that allows staff to meet often and regularly to review then revise patient plans and outcomes. What's more, patients and their family members are proactive members of the team approach. Their input is valued and taken seriously.
"A big piece of what we do is to work together as an interdisciplinary team," says Hutchins. "And to put together an individualized plan of care for the patient, which includes the patient and family as part of the planning process because their input, feedback and goals are of the utmost importance to us in tailoring a program."
"What can I say?" says Sayer. "Everyone, to a person, from nursing to custodial people to professional staff — particularly the recreational, physical and occupational therapists — and schedulers and social workers, they were so lovely, so thoughtful. They worked hard on treating me as an individual. I imagine it's some of the most intense work you can do in a hospital. To care for someone who can't do anything is a 24-hour job. And I was one of those high need patients."
Sign up for our email newsletter