Raising The Quality Standard
Legacy Cancer Institute delivers exceptional care for colon and rectal cancers.

How our program compares
Our program for treating gastrological cancers such as colon and rectal cancer is among the top in the nation when measured by our quality of care. We not only exceed our peers in the region, but we also are better than national averages in terms of providing recognized standards of cancer care. Our performance in these accreditation programs tells you that we provide the highest level of rectal and colon cancer care available.
The numbers tell the story
Through a review process from independent groups, the quality of our cancer program is measured against standards developed by national experts. The results show how often Legacy Cancer Institute exceeds our peers in reaching the ultimate target goal of 100 percent.
Chemotherapy for colorectal cancer that has spread to the lymph nodes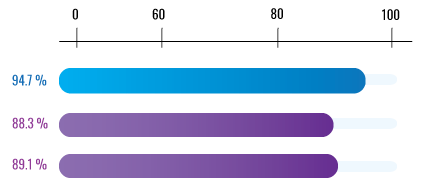 Legacy: 94.7 %
Pacific Northwest: 88.3 %
Nationwide: 89.1 %

Quality measure details: Adjuvant chemotherapy is recommended or administered within four months of diagnosis for patients under age 80 with AJCC Stage III (lymph node positive) colon cancer.

Enough lymph nodes are removed and examined in patients who have surgery for colon cancer–– among the top 5% nationally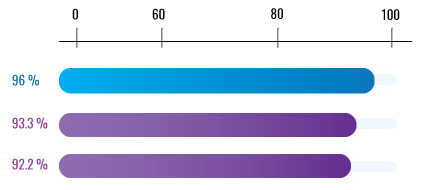 Legacy: 96%
Pacific Northwest: 93.3%
Nationwide: 92.2 %

Quality measure details: At least 12 lymph nodes are removed and pathologically examined for resected colon cancer.
Chemotherapy and radiation therapy for certain patients who have surgery for rectal cancer––among the top 5% nationally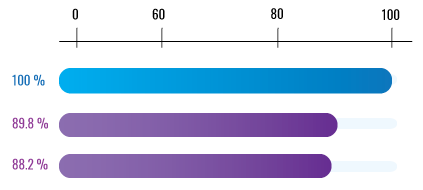 Legacy:100%
Pacific Northwest: 89.8%
Nationwide: 88.2%

Quality measure details: Preoperative chemotherapy and radiation therapy are administered for clinical AJCC T3N0, T4N0, or Stage III; or postoperative chemo and radiation are administered within six months of diagnosis for clinical AJCC T1-2N0 with pathologic AJCC T3N0, T4N0, or Stage III; or treatment is recommended; for patients under the age of 80 receiving resection for rectal cancer.

The most recent American College of Surgeons Commission on Cancer quality indicators, showing how Legacy ranks against our peers. Table shows the proportion of colon and rectal cancer patients treated according to nationally recognized standards of care. Data is the most recent available, 2015.