What is a doula?
A doula is a personal, non-medical caregiver who provides physical, emotional, and informational support to birthing families during pregnancy, labor and birth, and in the postpartum period. Doula support is recommended to improve maternity care and outcomes.
How doulas help:
• Working with a doula means you are less likely to go into pre-term labor, which is healthier for everyone.
• Having a doula by your side often results in shorter labors—by almost one hour!
• A doula can help labor feel more relaxed and calmer with less need for medications.
• Doulas help decrease the risk of needing a c-section.
• Doulas also help your support team feel better supported.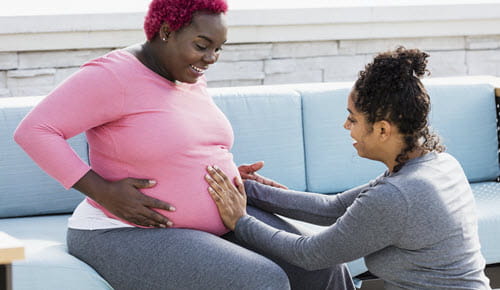 Why work with a doula?
A doula can help explain your options during your prenatal care, develop a birth plan and be by your side providing support during labor, birth, and right after delivery, too. Doulas provide support after you go home from the hospital to help you and your family adapt to life with a new baby.

Why I Had a Doula Help With My Delivery
Who is eligible for a Legacy doula?
For pregnant patients covered under Oregon Medicaid/OHP or CAWEM+ who receive care at Legacy, this service is free.
For pregnant patients covered under Legacy+ Employee Plan, there is a small co-pay. See your Legacy benefits for details.
For pregnant patients covered under another insurance plan, call your insurance company to see if your plan covers doula care.
Not eligible for the Legacy doula program? Check here for more information and options.
Choose your Legacy doula
We want to match you with a doula who will make you feel safe, someone who will respect you, your family, and your birthing experience. We want you to feel positive about being a parent—whether it's your first or fifth time!
Fill out the form below to get started: