Legacy Emanuel Internal Medicine Residency Program
About the program
Our Internal Medicine residency program offers 18 categorical positions per year for our three-year training program. We have 2 chief medical residents who are selected in their 2nd year and spend a 4th year with the program serving in that role.
View a sample curriculum schedule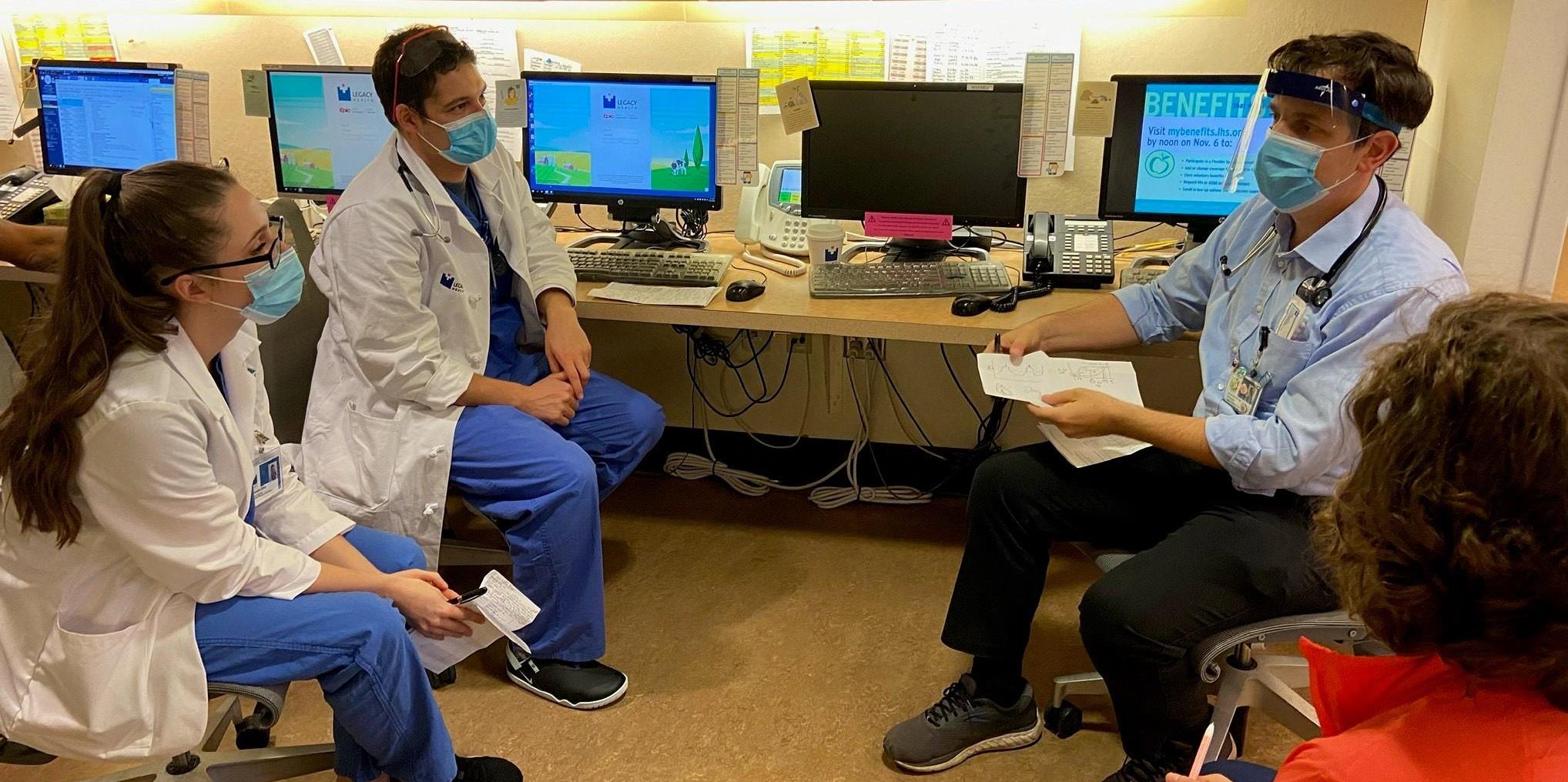 Learning Environment
Inpatient teaching is an integral part of our two downtown Portland hospitals, Legacy Emanuel Medical Center and Legacy Good Samaritan Medical Center. They are conveniently located just minutes from each other and are fully connected with EPIC. Core inpatient rotations include inpatient wards and intensive care (ICU). Resident teams manage high acuity patients, complete procedures and gain evidence-based medicine education. Our inpatient rotations are formative educational experiences that prepare residents to become excellent internal medicine physicians.
Our two outpatient teaching clinics, Good Samaritan Clinic and Emanuel Clinic, each serve a unique patient population. Both clinics use a medical home model for patient care, which includes a clinic pharmacist, RN's, MA's, social workers and mental health providers. Our clinics offer a strong team approach to provide continuity and optimal patient care. Residents are provided the opportunity to rotate in other Legacy Clinics to increase the breadth of outpatient exposure. This includes internal medicine, cardiology, geriatric and musculoskeletal clinics.
Selective (required mixture of inpatient and outpatient specialty experiences) and elective rotations provide experiences in a variety of medical sub-specialties throughout all three years of residency. Required selective rotations include Emergency Medicine, Cardiology, Pulmonology, Gastroenterology, Nephrology, Hematology/Oncology, Rheumatology, Geriatrics and Transitions of Care.These are done on-site at our two teaching hospitals with Legacy Specialists. We are an unopposed residency, so residents work directly with the specialist during selective rotations.
Elective rotations are offered on or off-site with a variety of physicians at Legacy Health, as well as in the greater medical community. Residents also have the opportunity to complete out of area electives at an institution of their choice. This includes global health experiences, future job opportunities or potential fellowship placement sites. Common Legacy elective choices include on-site Infectious Disease, Palliative Care, Pain Management, Neurology, Radiology, Point-of-Care Ultrasound, and Evidence Based Medicine.
Graduated Responsibility in Training

(GRIT)
The transitions from Intern to 2nd year senior resident and from 3rd year resident to attending are historically the most difficult transitions in a career. To smooth that transition, we have implemented a ward structure to provide support and graduated responsibility in the final wards month that interns and 3rd year residents are scheduled.
Intern-Intern pairs are meant to co-manage an inpatient team and assume the role of a senior resident while having the support of one of their peers under the supervision of an attending physician.
Third year residents are to manage a full inpatient service independently with the supervision of an attending physician and gain additional guidance on the business of medicine including billing and coding.
"I was grateful for GRIT last year. My first week of my real job felt exactly like GRIT, and I feel I was better able to handle it because of it…I am so grateful I was at Legacy!" – Graduate

"GRIT is a wonderful opportunity during intern year that provided me the autonomy I needed to grow to prepare me for my role as senior resident." – Intern

Graduated Responsibility in Outpatient Training (GROT)
In response to residents interested in a graduated responsibility experience in the primary care setting, we developed a parallel GROT experience for PGY3 residents pursuing outpatient careers.
In their final outpatient blocks, these PGY3 residents are acting preceptors in the resident clinic. They also rotate through other outpatient experiences such as dermatology, sports medicine, and endocrinology.