Safety
COVID-19 Pediatric Vaccines: Important FAQs to Know
January 04, 2022
Getting a COVID-19 vaccine will be the most important thing people do to keep themselves and their families safe during the current pandemic. Vaccines are the most proven way to protect people from severe illness, hospitalization and death due to COVID-19 virus infections.
Still, getting children vaccinated has not been an automatic decision for many parents who have questions about newly available vaccines for children ages 5 to 11.
"Pediatric infections are surging with the omicron variant," says Dr. Brad Olson, medical director at Randall Children's Pediatric Clinic. "There have been 2.5 million children who have been infected with COVID-19 in the last four months alone. Hospitalizations are increasing as a result of this recent surge. The best way to keep our children safe is through vaccines."
The following FAQs may help explain some myths and misunderstandings surrounding COVID-19 vaccines.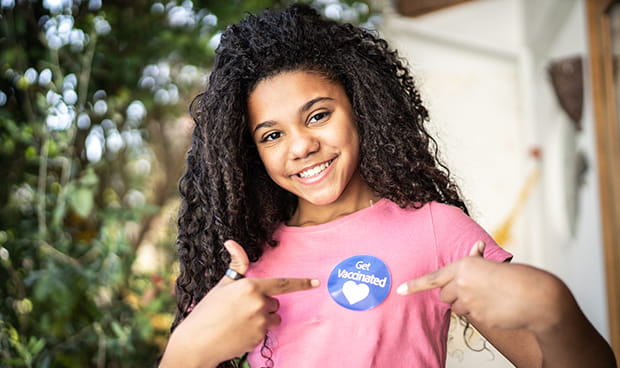 Are COVID-19 vaccines safe for children?
COVID-19 vaccines used for children are safe and effective and have been developed and tested in the same way as COVID-19 vaccines used for adults. That means they have passed thorough evaluations by both the Food and Drug Administration (FDA) and the Centers for Disease Control and Prevention (CDC). Even after being approved for use, the vaccines will continue to be intensely monitored and evaluated by these agencies.
What did clinical trials reveal?
In clinical trials, side effects in children were shown to be mild — similar to the side effects in adults. The most common side effect was a sore arm. A sore arm may affect your child's daily activities but should also go away in a few days. Some children experienced no side effects. (Those who do should take a non-aspirin pain reliever.)
Speaking of side effects: Aren't side effects really a bad sign?
No, they're not. Side effects are signs that a body is building protection against the virus. Not every child will experience side effects. But, again, any side effect should disappear in a few days.
Isn't it easier to achieve immunity through infection?
Getting children vaccinated against COVID-19 is the best way to protect them from the COVID-19 virus. Nothing is as proven or as effective as getting vaccinated.
Also, no child should get exposed to COVID-19 on purpose. COVID-19 infections can affect a child in the same way it does adults. That means unvaccinated children who get COVID-19 are at risk for severe illness, hospitalization or death. Even in mild cases of infection, children could be sick for several days and miss school — that's time away from friends and crucial social interaction.
Can't COVID-19 vaccines affect fertility and other reproductive issues?
There is absolutely zero evidence that any COVID-19 vaccine causes fertility issues in women or men.
Further, there is zero evidence that vaccine ingredients or antibodies developed after receiving a COVID-19 vaccine will affect someone's ability to get pregnant in the future. There is also zero evidence that a COVID-19 vaccine affects puberty in any way.
Can't COVID-19 vaccines affect a child's DNA?
That is not true. The COVID-19 vaccines developed and made by Pfizer and Moderna contain a genetic material called mRNA. This material tells the body to make the COVID-19 spike protein, which the immune system then recognizes as foreign. This is how the vaccine teaches the immune system to fight the coronavirus if it is encountered in the future. The mRNA material remains in the outer layer of the cell and never enters the nucleus — that is where DNA is stored. It does not interact with DNA.
I appreciate the assurances. But on the whole, the minor side effects and risks associated with COVID-19 vaccines don't make getting one worth it.
For children, the benefits of getting a COVID-19 vaccination far outweigh any minor side effects and perceived risks associated with the vaccine. A vaccine is the best way to protect children from severe disease, hospitalizations or long-term complications from a COVID-19 infection. Some of those long-term complications include multisystem inflammatory syndrome (MIS-C), which causes different body parts to become inflamed. According to the CDC, since the COVID-19 pandemic started, more than 2,300 cases of MIS-C have been reported in children ages 5 to 11.
The following numbers also are sobering: As of October, there have been more than 8,300 children hospitalized because of COVID-19 infections. More than 800 children have died from COVID-19 infections, making COVID-19 one of the top 10 causes of death for children ages 5 to 11. Read more from the CDC.
Want more information on where to get a vaccine for your child? Check out the Get Vaccinated website for Oregon, and the vaccine locator website for Washington.
Sign up for our email newsletter