Legacy Health Partners - News & Updates
Delivering value and improving health
Oregon Health & Science University and Legacy Health combining to better serve our patients, communities
Oregon Health & Science University and Legacy Health announced on August 16 that they have signed a nonbinding letter of intent to combine and create a comprehensive, integrated health system that will offer high-quality, essential health care services to patients throughout Oregon, the Pacific Northwest and beyond.
OHSU and Legacy's complementary expertise will create a high-impact health care system driven by a mission of public service. OHSU brings experience serving complex patient needs, administering statewide health care training and education programs, and conducting leading-edge research. Legacy brings deep roots in providing high-quality, community-based care through its comprehensive system of hospitals, primary and specialty clinics, and outpatient facilities.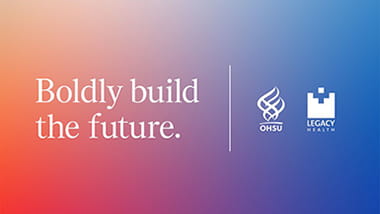 The combined system — with more than 32,000 employees and 100-plus locations, including 10 hospitals, and more than 3 million patient visits a year — will be the largest employer in the Portland metro area, and will focus on amplifying the region's leadership in patient- and community-focused health care, education, research and innovation.
The letter of intent, which is the first step in a transaction process by which Legacy will become part of OHSU, was unanimously approved by the boards of directors of both OHSU and Legacy. The organizations are working toward reaching a definitive agreement in the coming months. Leadership from both organizations will participate in the strategy development of the combined system. The transaction is expected to close in 2024 and is subject to regulatory review and customary closing conditions.
Read the full announcement and access resources at the bottom of the page including a video and frequently asked questions.
Help lead LHP and apply for a Board or Committee seat
LHP is accepting applications (due Oct. 31) for seats on the board of managers and all three board committees: Clinical Collaboration and Performance Improvement; Finance and Contracting; and Quality and Membership.

Help lead LHP in our next phase of growth and fulfill our vision to be the preferred choice for our providers and our community. LHP believes we can improve the health of our communities and more effectively serve our region if we more accurately reflect those we serve. The LHP board of managers and board committees strive for diversity in representation of primary care providers and specialists, and employed and independent providers, small and large practice providers, as well as leaders who represent different races, ages, and genders. With this goal in mind:
We encourage applications from people of color, women, and those in the LGBTQI+ community.
The responsibilities for each role are outlined within the application packet and board and committee members receive an annual stipend for their service.
Meetings are a hybrid with both in-person and virtual attendance options.
We are grateful for your time and consideration. If you would like to speak with someone about exploring what it's like to serve, email
LegacyHealthPartners@lhs.org
, and we will connect you with LHP staff or current board and committee members to share more information.
Introducing Aetna Whole Health
Legacy Health Partners collaborated with Aetna to create their new product, Aetna Whole Health. The product is available to employers in Multnomah, Clackamas, and Washington counties in Oregon, and Clark County in Washington. Patients can be seen by any LHP provider regardless of the county they practice in, provided they have a direct fee-for-service (FFS) contract with Aetna, AND at least one office footprint in the Aetna Whole Health counties it is sold in. (For example, a patient could go to any Legacy Medical Group office, regardless of the county).

LHP practices do not need to take any action. Aetna Whole Health is a LHP network-specific commercial offering, and if the practice has an FFS arrangement directly with Aetna, like they do for the LHP ACO agreement, they are included in the Whole Health product.

We are excited about this partnership as patients who use this product will get higher benefits level for care from participating providers. Practices will easily be able to identify an Aetna Whole Health member by the ID card, which includes the LHP logo!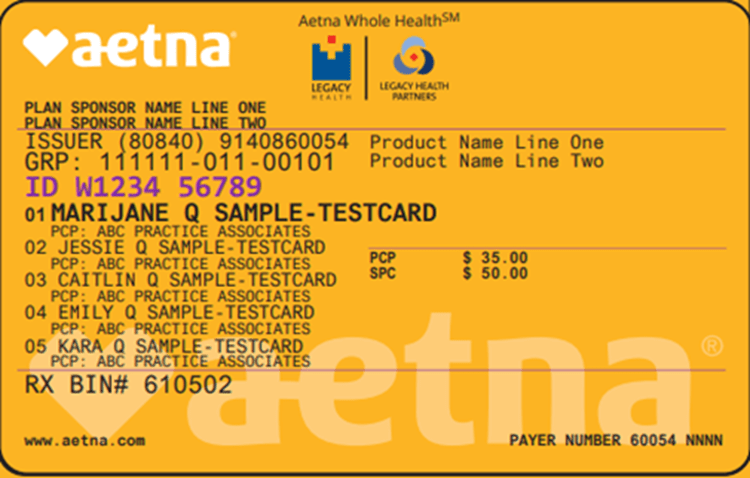 Your Provider Outreach and Engagement Adviser will keep you updated about when you can expect to start seeing these patients in your clinics as Aetna contracts employers to the product. If you have any additional questions, please reach out to your Provider Outreach and Engagement Advisor.
Quality Corner: Medication adherence tips from Pharmacy
Are you familiar with adherence measures and eager to ensure high-performance results? Improving patient outcomes and maintaining performance ratings through medication adherence is the ideal fusion between positive clinical outcomes and quality performance. Delve into what adherence measures entail and explore some tips to guarantee your success by clicking the button below.
Utilization Corner: New toolkit available to help prevent avoidable ED visits
This year, LHP enhanced the measure in our Clinical Integration program to focus on avoidable emergency department (ED) visits rather than an overall rate of ED visits for our population. Click below to learn more and access our toolkit.
Network spotlight: Dermatology Providers in your LHP Network
We are highlighting different specialties in our network each month to help with awareness and build community across our network.

Did you know that Legacy Health Partners has a robust network of Dermatologists in our network?

Did you know a condition like diabetes can cause symptoms that impact your skin's appearance? A dermatologist may be the first healthcare provider to recognize the signs.

Skin checks are an important part of early detection for malignant moles, tumors, and other skin diseases. These dermatology exams are an essential part of healthcare. Skin checks should be performed regularly by a trusted and trained dermatologist.

No matter where your patients live, we have them covered with our robust network of quality dermatology providers!

Click below to see our LHP dermatologists' websites with providers and locations:

Announcements, deadlines, and reminders
LHP is sending final reminder emails directly to providers who still need to complete the 10-minute Clinical Integration Education video by Sept. 30, which is fast approaching. Thank you to everyone who has completed this requirement already this year. You do not need to login to access the videos this year and can conveniently view them from anywhere from a phone, tablet, or computer. Providers can also earn points toward their clinical integration score by viewing

one

provider learning module from our growing list of topics by December 31st.


Practice administrators should complete this year's attestation form for your practice before Sept. 30. If you have questions, please contact your outreach advisor.


For primary care: Be sure to review the Member Attribution report in Power BI for a list of the LHP patients attributed to you. If you believe a member is attributed to you in error, download the Reattribution Request Form from the LHP Team Site and include the patient's correct PCP and email the form to LegacyHealthPartners@lhs.org before Sept. 30.


Primary care and specialty practices are encouraged to submit an application documenting an improvement project to be considered for an LHP Quality Award this year. Download the application form and submit by Friday, October 27. LHP scores the applications and provides financial awards to the top three winners ($1000, $750, $500 respectively).


Check out the new events calendar on the LHP Team Site. Recent and upcoming events include: